SIEM REAP, Cambodia — Lori Carlson skipped town just before first lady Michelle Obama's motorcade rolled in over the weekend.
And as much as she welcomed the Obama's backing for educating girls, the visit seemed a world apart from her own decade-long effort to keep girls in the classroom in Cambodia.
"School has to be the most exciting thing going on" in girls' lives, she said, standing in a school playground. "And they'll come — and they do."
As she spoke, a boy began striking a metal tire rim hanging from a nearby tree, signaling the end of break. Scores of laughing and shouting children started to make their way back to class at the remote Knar Primary School, which sits beyond the vast Angkor Wat temple complex.
It was a visit to those same temples in 2005 — where she met a teacher-turned-tour guide — that triggered Carlson's passion.
Ponheary Ly, the tour guide, was using her tips and other donations to support local education — which had suffered under the genocidal Khmer Rouge regime.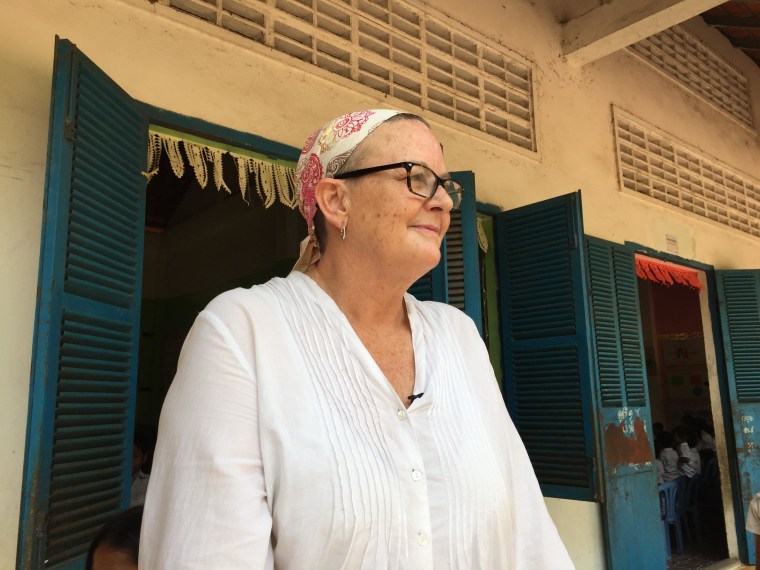 By one estimate, barely 20 percent of Cambodian children make it through high school and only one in four of them are girls. The figures are worse in rural areas.
Carlson was so moved by Ly's efforts — and the sight of scrappy kids selling souvenirs around the temples — that when she got back to her Austin, Texas, home she set up a foundation in the guide's name.
Two years later she left her home and publishing company to move to Siem Reap and work full time with Ly. Their foundation — which now supports four primary schools, one high school and a couple of dormitories for high school kids — helps some 2,500 children.
"If a girl by the time she reaches grade six is just on fire with the need to learn...she'll create a ruckus in the family, and the family will say 'alright.'"
Funded largely by foreign donations, the foundation supplies the basics like uniforms, pens and notebooks, as well as breakfast and simple necessities. It also tops up salaries for teachers has also supplied solar panels and water filtration in places where there is no electricity or running water.
Carlson said that the big challenge educators face is convincing local families of the value of girls' education.
"First we have to get them access, get them here," she said. "Then it's how to keep them here."
Building a passion for education, she said, is critical to keeping young girls enrolled past achieving basic literacy.
"If a girl by the time she reaches grade six is just on fire with the need to learn, then she'll push through that membrane. She will resist. She'll create a ruckus in the family, and the family will say 'alright,'" she said.
The second strategy is to demonstrate that education has value.
"Once the community starts to see a few examples of girls doing well, going to university, getting well paid jobs, marrying better, then they'll say, 'Hey, this is really good,'" she said.
What Carlson tries to avoid is becoming the well-intentioned foreigner trying to persuade local villagers about the folly of their traditional beliefs.
"That's not going to work," she says. "If we can get the girls motivated enough at this stage, they will do it for themselves."
One small group of girls sitting in the shade of a tree are shy when asked what they want to do when they grow up.
"A doctor," said one.
"A teacher," said another.
"The lessons are good," says a third.
And Carlson looks on with some satisfaction.