An American father of three detained in Yemen since 2010 is being held in an unknown location and hasn't been seen in court for almost a year, according to his wife and lawyer.
Sharif Mobley, 30, was arrested after having contact with New Mexico-born militant cleric Anwar al-Awlaki, but was never charged with terrorism. Al-Awlaki was a prominent member of Al Qaeda in the Arabian Peninsula until he was killed in a U.S. drone strike in 2011.
Before being fatally shot by police, Charlie Hebdo gunman Cherif Kouachi told a French journalist by telephone that he "was sent by Yemen's Al Qaeda" and had been financed by al-Awlaki. AQAP later claimed responsibility for the massacre, saying the attack was orchestrated as "vengeance" after the satirical magazine published cartoons of the Prophet Muhammad.
Mobley has not appeared at a series of court hearings since last January. Another hearing is scheduled for Wednesday.
Attorney Cori Crider told NBC New that Yemeni officials would not reveal the New Jersey native's whereabouts. "It's hard to believe that we are no closer to the Yemini government admitting where they have taken our client and why he disappeared on the eve of a crucial hearing," she said.
A Yemeni security source told NBC News Sharif Mobley had been transferred in co-ordination with the U.S. and that American officials have participated in his interrogation. The State Department did not respond to a request for comment but previously told The Guardian newspaper that it would not discuss Mobley's case, citing "privacy considerations."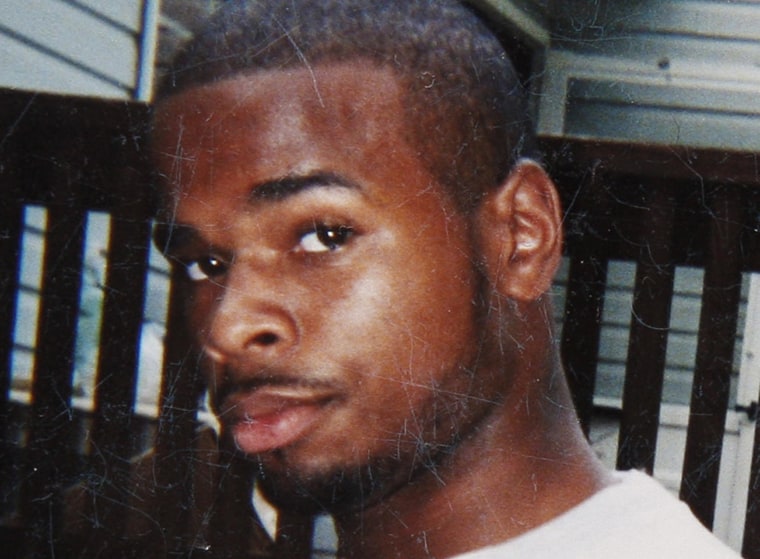 Mobley managed a rare phone call to his wife Nzinga Islam just before Christmas — but only after he went on hunger strike, she said. The family hadn't spoken to him for months and the call lasted less than 20 minutes.
"I love you. How are the children? Give them kisses from me," Mobley told her.
"He's a family guy," Islam added. "Even though his conditions are tough he always makes sure to mention the family. The toilets are overflowing and they are forced to walk in their waste. He's being forced to drink out of bottles he'd previously urinated in."
Mobley told his family he is sprayed with Mace if he asks to speak to the U.S. Embassy.
He assured his daughter that he would be home soon, but Islam fears he fears he may never see his family again.
Mobley was detained in the street by masked security forces in Sanaa, Yemen, in January 2010.
Islam says her husband is innocent of any link to terrorism and had been planning to return to America. "Sharif and I went to Yemen to experience an Arabic-speaking country," she said. "We were happy, we were learning."
"I feel like if he was a white American he would not be there still"
Mobley is being represented by lawyers with the British campaign group Reprieve. They group says that during his detention he was beaten, dragged down stairs, had a catheter forcibly removed and was chained to a bed.
He is now thought to have been charged with murdering a guard during an alleged March 2010 escape attempt from the hospital where he was being treated for bullet wounds sustained while he was detained. However, his lawyer has never formally been notified of the charges against him.
"I feel like if he was a white American he would not be there still," Islam said. "The U.S. government could be doing more. He is born and raised in America, back for generations. He deserves a fair and speedy trial."
Attorney Crider believes Mobley's continued detention is part of a U.S. operation in Yemen to target anyone linked to al-Awlaki.
Yemeni journalist Abdulelah Haider Shaye, who interviewed al-Awlaki, was sentenced to five years in prison in 20011. The White House said it was "concerned and disappointed" at the journalist's early release.
Two senior U.S. counterterrorism officials told NBC News earlier this month that one of the two brothers behind the Charlie Hebdo massacre traveled to Yemen in 2011 for several months of training with AQAP.
Al-Awlaki has been the inspiration behind a series of terrorist attacks including the Nov. 2009 Fort Hood shooting in Texas and the attempted bombing of Northwest Airlines Flight 253 from Amsterdam to Detroit on Christmas Day 2009.
In 2011, al-Awlaki became the U.S. citizen to be killed by an American drone strike but his online preaching continues to inspire jihadis.
In response to questions from NBC News, the Yemeni Embassy in Washington said Mobley's case "is before the court."
Yemen's Ministry of Interior did not respond to requests for information on Mobley's status.