BEIJING — The wife of an American graduate student who is behind bars in Iran pleaded with the Trump administration on Tuesday to do more to secure his release.
In an exclusive broadcast interview with NBC News, Qu Hua revealed that her husband, Xiyue Wang, has attempted suicide during his almost 16 months in prison.
"Only the U.S. government can sort this out, only the U.S. government can help us," she said. "I hope President Trump can open up a dialogue with Iranian authorities to discuss a resolution of my husband's case."
Wang, 36, is a Chinese-born naturalized American citizen. He and his wife have a 4-year-old son.
Wang, a Princeton student, was arrested in August 2016 while carrying out research on Iran's Qajar dynasty for his Ph.D., according to the university, his wife and the U.S. government.
For months, his wife and Princeton worked quietly toward winning his release without making a public statement.
The case came to public attention this July after Iran announced that Wang had been sentenced to 10 years in prison. He was convicted of "spying under the cover of research," according to the Mizan Online News Agency, the Iranian judiciary's news service. A spokesman for the judiciary alleged Wang had been "directly guided by America." Wang was also accused of seeking to access confidential areas of a library and "assisting a hostile government."
He was kept in solitary confinement for 18 days before being transported to Evin Prison, the Tehran facility that houses most of the country's political prisoners. The Washington Post reporter Jason Rezaian was also kept there before being freed in January 2016.
His condition has recently improved, but he is still "very desperate," his wife added. "He is extremely stressed, he has depression and he attempted to commit suicide, and he had multiple diseases."
Wang was last home when his son was 2, and he has been away for more than half of their child's life. Qu asked that her son not be identified by name.
"My son told his teacher that, 'When I grow up, my daddy will come home,'" Qu said.
She had not seen her husband for more than a year until Iranian state TV aired footage Monday showing Wang and accusing him of trying to steal 4,500 documents.
"I was shocked and I was extremely upset that my husband is misrepresented on Iran's state television," Qu told NBC News. "He went to Iran with all the required approvals. He openly and honestly disclosed his interests in looking at the historical documents."
"I will never give up because he's innocent"
Qu, 35, said she believes Iran knows that her husband is an legitimate scholar and that he was only targeted because of his nationality.
"He's innocent and he is just a student. He has no connection with any government agency, he's not doing any secret project for any agency, for any secret institution," she said. "He was criminalized because of his citizenship."
She called her husband's arrest a "sacrifice of the political situation."
Advocates for Americans imprisoned in Iran have warned that President Donald Trump's hardline stance toward the country would make the captives' release more difficult.
Wang is one of seven U.S. citizens or permanent residents currently detained by Iran, according to The Associated Press.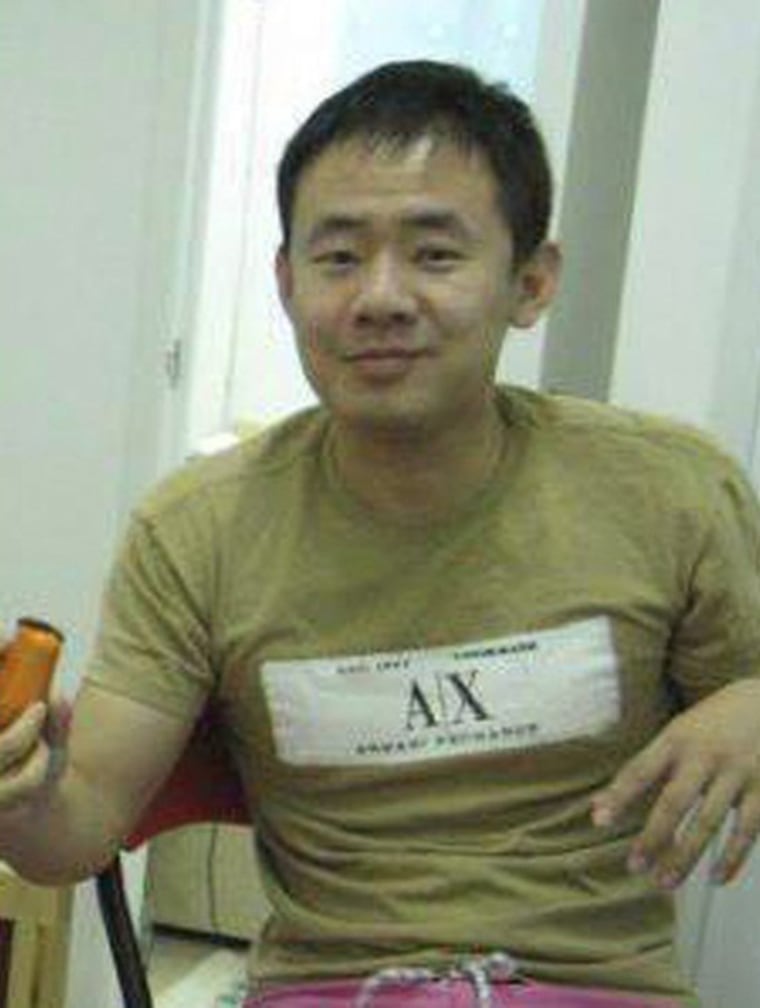 Following Iran's announcement of the charges in July, the State Department called on the Tehran government to release Wang "and all other unjustly detained U.S. citizens, so that they can be reunited with their families."
The State Department said that it was "deeply concerned" about reports of his and other captives' deteriorating health and that "Iran should immediately release all of these U.S. citizens" on humanitarian grounds.
The White House last month denied the Iranian government's claim that Trump asked to meet with his counterpart from the Islamic republic in September but was turned down.
Trump has branded Iran's government a "murderous regime" and warned of its "sinister vision for the future."
In 2013, President Barack Obama and President Hassan Rouhani of Iran spoke by telephone, the highest-level contact between the two countries in decades, prompting an outcry from Iranian hardliners.
Related: Iran vows to send warships to America's backyard
Since then there has been no such communication between the heads of state in Tehran and Washington, which officially severed diplomatic ties after the Iranian Revolution in 1979.
Qu said that the past year has tested her belief that her husband will return.
"I don't know how long this will last, but every month I have hope that he can come home at any time, that they would automatically release him quietly," she said. "But my hope of his return has been shattered time and time again throughout the past year because all of this."
She added: "I will continue. I will never give up, because he's innocent."
Shanshan Dong reported from Beijing, and Alexander Smith from London.