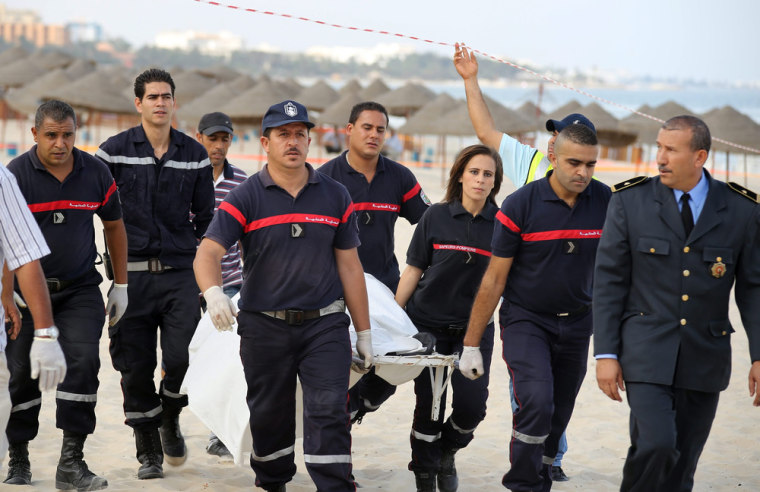 An American tourist told NBC News that her family was "lucky to be alive" after a suicide bomber blew himself up in the Tunisian resort of Sousse early Wednesday -- no more than 50 meters away from them.
Along with her three children and husband Nader, Juliette, who did not want her last name to be used, said they were going for their "last dip in the water" before returning home when the blast happened.
She said she noticed a guard turn away a man with a suitcase or bag as her family made their way through the lobby of the Movenpick Hotel.
He was also refused entry to the neighboring Riadh Palms, a security source told Reuters, at which point he ran onto the beach and blew himself up.
As they enjoyed the sunshine, Juliette's family was jolted by an enormous explosion and saw a huge plume of black smoke.
"We were no more than 50 meters away from the explosion," she said. "But we're feeling pretty calm. When we learned that the bomber exploded a kamikaze vest, we were just so glad to be alive and feel so lucky."
"People were in a state of panic after the explosion and the staff – trying to calm people down – told them that a scuba tank has exploded in the diving area next to the beach," she added. "That's what we told the kids."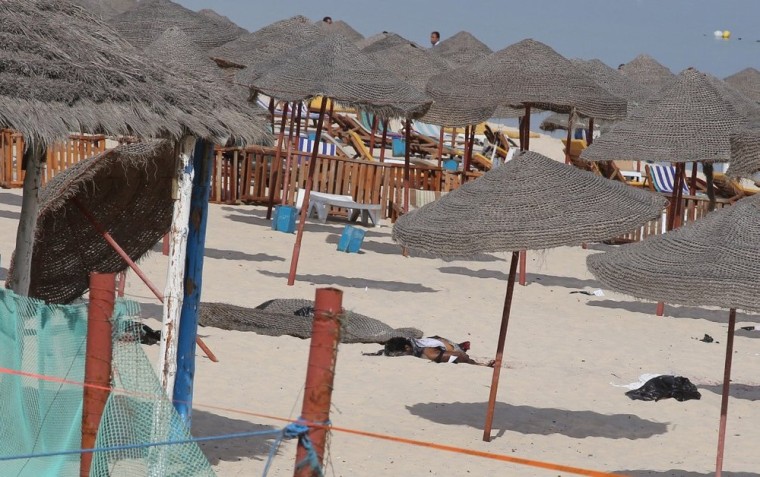 Police foiled another attack when they arrested a would-be suicide bomber at former President Habib Bourguiba's tomb in the seaside town of Monastir, security sources said. 
No group has claimed responsibility for the attacks, but the moderate Islamist-led government has been combating Ansar al-Sharia extremists it says are tied to al Qaeda's North Africa affiliate. 
"The two suicide bombers are radical Islamist jihadists. They are Tunisians, but they had been in a neighboring country," interior ministry spokesman Mohammed Ali Aroui told Reuters, without specifying the country. 
The bombing was bound to bad news for the country's struggling tourism industry that attracted 5.8 million mostly European visitors to its Mediterranean beaches and desert tours in 2012.
"We don't know what the consequences will be right now, but in 24 hours we will find out. Whatever happens it will be negative because this is the first time they attack a hotel," Mohamed ali Toumi, the head of Tunisia's federation of travel agencies told Reuters.  
Tourism is still recovering from the 2011 uprising that toppled the North African country's autocratic leader Zine al-Abidine Ben Ali. Tunisia's stock market also dropped 0.95 percent after the bombing. 
Since the 2011 toppling of Ben Ali, Islamists have pressed for strict Sharia law to be imposed in one of the Muslim world's most secular countries, which has strong ties to Europe. 
Oppressed and jailed under Ben Ali, conservative Salafists -- followers of a puritanical strain of Sunni Islam -- have had more freedom to express their fundamentalist views since 2011.
But violent, hard-line Islamists have also attacked alcohol sellers, art shows and theater plays they say are against Islam, and have taken over mosques. 
The rise to power of an elected Islamist-led government has fueled fears of many secular Tunisians that women's rights and liberal educational traditions may be eroded. 
Meanwhile Juliette said her family will return to their home in Paris, France, soon. 
Reuters contributed to this report. 
Related: