KABUL, Afghanistan — Militants armed with a car bomb, grenades and automatic weapons killed at least 14 people during the 10-hour attack on the American University of Afghanistan, police said Thursday.
Most of staff and students fled but around 160 were forced to hole up in classrooms during Wednesday's brazen assault on Afghanistan's most prestigious college, according to the country's Interior Ministry. They were later rescued by special police units.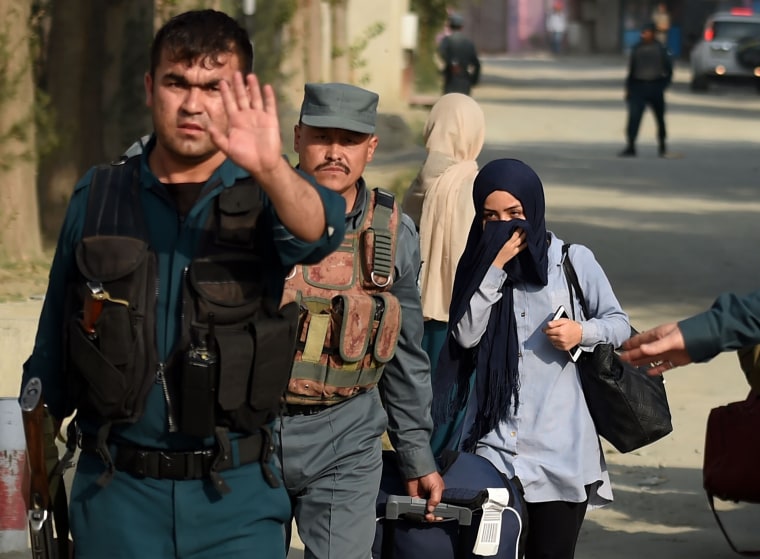 Seven students, one professor, three police and two security officers were killed at the university, according to the Interior Ministry. A caretaker at a nearby school for the blind also died in the attack. Around 35 students and police were wounded.
No Americans appeared to have been killed or injured in the attack, according to Elizabeth Trudeau, a State Department spokeswoman. "Our thoughts are with the families and friends of Afghan students, staff and security personnel who lost their lives," she added in a statement.
Secretary of State John Kerry said in a statement that the United States "condemns in the strongest terms" the attack against the university.
"This was a cowardly assault on talented and motivated scholars — students and faculty alike — dedicated to a better and more prosperous future for Afghanistan, as well as the police and security staff who help make that future possible," Kerry said in the statement. "Though it took and altered innocent lives, this attack will ultimately fail to change that path or deter the cause of peace in that country."
One attacker died in the initial car bomb blast and two gunmen were killed by police early on Thursday, according to Kabul Police Chief Abdul Rahman Rahimi. There was no claim of responsibility for the attack.
Located on the edge of Kabul, the university was established in 2006 to offer liberal arts courses modeled on the U.S. system. Around 1,000 students are enrolled there.
Massoud Hossaini, a photographer for The Associated Press, was in a classroom with 15 students when he heard an explosion.
"I went to the window to see what was going on, and I saw a person in normal clothes outside. He shot at me and shattered the glass," he said. Hossaini later fell on the glass and cut his hands.
The students then barricaded themselves inside the classroom, pushing chairs and desks against the door, and stayed on the floor. Hossaini said several people were wounded when at least two grenades were thrown into the classroom.
Hossaini and about nine students later managed to escape through an emergency gate.
"As we were running, I saw someone lying on the ground face down, they looked like they had been shot in the back," he said.
The attack comes two weeks after two university staff, an American and an Australian, were kidnapped from their car by unknown gunmen. Their whereabouts are still unknown.
American University of Afghanistan opened in 2006 and is Afghanistan's only private, not-for-profit and co-educational university. About 1,700 full- and part-time students are enrolled with undergraduate classes in business, science, political science and law.
In 2008, then-first lady Laura Bush helped to raise $42 million in funding for the school from USAID.
"Their dreams of progress and peace in Afghanistan will not be stifled by cowards who use violence in an attempt to instill fear," Bush said in a statement Thursday about the students. "Armed with their education, these young men and women will continue to transform their country."