TEHRAN, Iran — While many Americans view Iran as a shadowy and perhaps even dangerous place to travel, others see the opportunity for a vacation.
Officials in Iran have heralded the maiden voyage of the first private passenger train to travel from Europe to the Islamic Republic as part of a wider tourism boom in the country. However, with tickets going for as much as $40,000 per head it's unclear how many tourists will take to the tracks.
Operators of the luxury tourist train — majestically named the Golden Eagle Danube Express — said they were surprised to discover the most common nationality among their passengers was American.
Marnie Shultz, a senior citizen from Kansas who was on the maiden journey, said her friends back home were perplexed about her plans to visit a country that once described the U.S. as "The Great Satan."
"They think I am absolutely nuts," she told NBC News about her family's reaction, during a stop-off in Iran's ancient city of Isfahan. "There is no reason not to come to Iran, don't let what is perceived to keep you home."
Golden Eagle Luxury Trains, the U.K.-based company which runs the service, admitted it was caught off guard by the demand from America. Of the 109 passengers who traveled on the east or westbound legs of the two-week journey, 26 were American citizens. For the eight near-sell-out journeys scheduled for next year, 45 percent of bookings came from the U.S.
"It was a bit of a surprise," said Natasha Baker, a sales executive at Golden Eagle Luxury Trains. "We wanted customers from America, but because of the history we were just seeing how it went."
"When American tourists first came to Iran they would tell locals that they were Canadian, but not today"
The 14-day trip takes tourists on a winding, 4,000-mile journey from Hungary's capital of Budapest through Romania, Bulgaria, Turkey and finally to Iran — or the reverse, for a return route. Stop-offs in Iran include visits to Tehran's Grand Bazaar — whose corridors stretch for miles — a holy shrine in Mashdad and Isfahan, the ancient city that served as Persia's capital until 1722.
"Generally speaking our passengers tend to be more adventurous and well-traveled," Baker said. They also appear to have deep pockets.
The lavish experience is modeled on the 19th-century indulgence of the Orient Express, with prices ranging from $14,695 to a staggering $39,995 per person. In the lounge car, passengers can enjoy drinks and champagne receptions — except for when the train travels through conservative Iran. The train's restaurant car serves upscale Hungarian and Persian cuisine on crystal glassware and brass lamps dot the tables.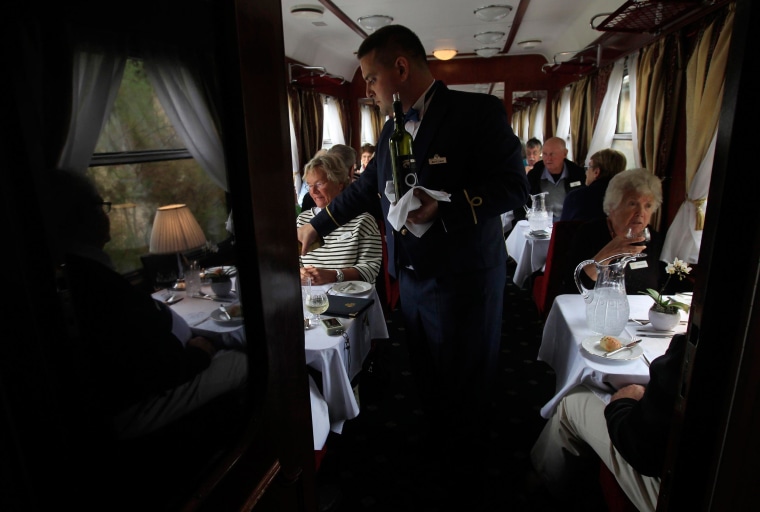 Some in Iran insist the train service's popularity is part of a wider tourism boom not reserved for wealthy globetrotters.
Bahman Zenhari, a marketing executive with Iranian tour operator Pasargad Tours, said Americans have been visiting Iran for years — but numbers surged after the more-moderate President Hassan Rouhani was elected last year and replaced hardliner Mahmoud Ahmadinejad. He claimed there has been a 350 percent increase for tour demands in Iran since the election.
"When American tourists first came to Iran they would tell locals that they were Canadian, but not today," he added.
It's hard to measure the purported post-Rouhani boost: the latest figures from the United Nations World Tourism Organization (UNWTO) only go up to 2013. But the UNWTO's figures do show that since 2009 the number of tourists to Iran has more than doubled, from 2.1 million to 4.7 million. Between 2009 and 2013 the number of Americans coming into the country remained around 1,500 per year.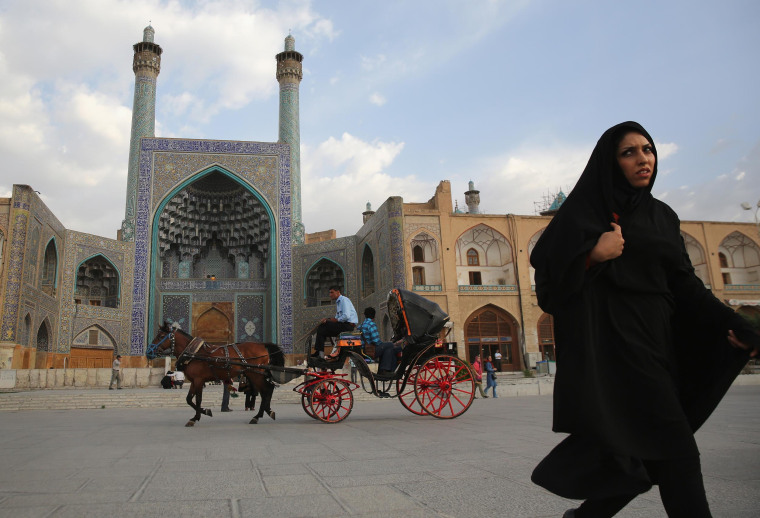 "For as long as I can remember the Islamic Republic has been trying to improve its tourism, which it regards, rightly, as a potentially lucrative foreign-exchange earner," said Ali Ansari, an Iran expert at the U.K.'s University of St. Andrews. But like many aspects of Iran's ailing economy, tourism had been sorely underdeveloped, Ansari said.
"Strict application of Islamic laws, including the insistence on headscarves for women, can act as a deterrence for all but the most dedicated cultural tourists," he added. "And this latter group is at the end of the day quite a small number of the potential visitors that could come."
Joseph Cheavens, a Houstonian traveling with his wife, said his friends were shocked by his decision to take his chances on the Golden Eagle Danube Express.
"I just had an email before I left from a business colleague saying, 'You are going to a dangerous part of the world,'" he said. "Well, it's not dangerous."
While he acknowledged the cultural differences — "it has more obvious religious observance" and "all women have to wear the headscarf" — he noted that Iran is not all that different from home.
"The one thing that's the same is the people are very friendly," he said.
Alexander Smith reported from London.