Three Americans held in North Korean labor camps were free and back in the U.S. Wednesday afternoon, the State Department said.
Kim Hak-song, Kim Dong-chul and Kim Sang-duk, who is also known as Tony Kim, were released by Kim Jong Un's regime after spending up to two years in detention, President Donald Trump confirmed in a tweet earlier in the day.
Two planes, one carrying the former detainees and another with Secretary of State Mike Pompeo aboard, landed in Anchorage, Alaska, Wednesday afternoon, en route to Join Base Andrews. Trump said in a tweet that he was "looking forward to greeting the Hostages (no longer) at 2:00 A.M."
In a statement provided by the State Department, the men expressed "deep appreciation to the United States government, President Trump, Secretary Pompeo and the people of the United States for bringing us home. We thank God, and all our families and friends who prayed for us and for our return. God bless America, the greatest nation in the world."
Pompeo was in Pyongyang, the North Korean capital, to finalize a date and place for historic face-to-face talks between Trump and the North Korean leader.
"The three Americans appear to be in good condition and were all able to walk on the plane without assistance," Pompeo said in a statement. "All Americans look forward to welcoming them home and to seeing them reunited with their loved ones."
Their release was confirmed to Pompeo only two hours before his plane took off, after a day of talks.
A North Korean official came to the Koryo Hotel at 7 p.m. local time (6 a.m. ET) to say Kim had granted the three detainees amnesty. The official told Pompeo that he should make sure they "do not make the same mistakes again," according to a U.S. official who was present.
The detainees were collected 45 minutes later from another hotel and taken to the Pyongyang airport, where the entire entourage took off at 7:45 a.m. ET.
Pompeo told reporters on the plane that the Trump-Kim summit date would be announced "in short order."
Vice President Mike Pence credited Trump's "tough-minded diplomacy" for the release and said pressure on Kim's regime would not cease until Pyongyang gives up its nuclear program.
"This is a proud and memorable moment for America," he said in a statement.
Tony Kim's family said they were grateful to "all of those who have worked toward and contributed to his return home," and also thanked Trump "for engaging directly with North Korea."
"We ask that you continue to pray for the people of North Korea and for the release of all who are still being held," they said in a statement.
Detaining — and then releasing — U.S. citizens has given Pyongyang leverage in negotiations with Washington in the past.
North Korea last year released Otto Warmbier, a 22-year-old University of Virginia student who was convicted of "hostile acts" in 2016 after visiting Pyongyang. However, he was left in a coma after his labor camp ordeal and died days after returning to Ohio.
In a statement, Warmbier's family said they were "happy for the hostages and their families," adding, "We miss Otto."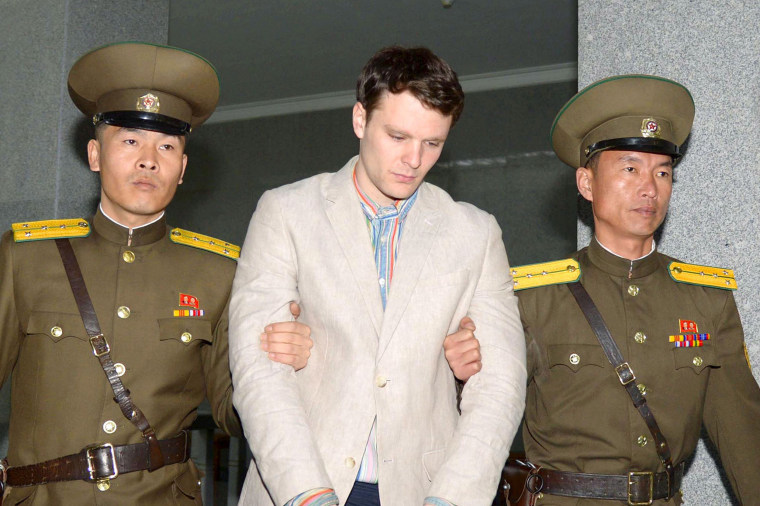 Tony Kim, 59, was detained at Pyongyang Airport in April 2017 as he was preparing to leave the country. The Korean-American accounting professor had been working at the Pyongyang University of Science Technology, an institution privately funded by Christian groups in the West.
Kim Hak-song, who was also working at the Pyongyang Science and Technology University, was held in May 2017 for "hostile acts against the republic." The institution said Kim was doing agricultural development work not connected with the university.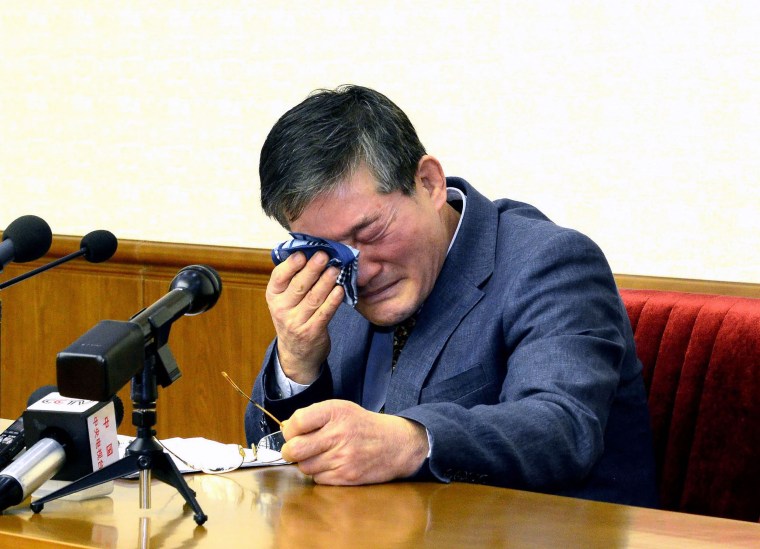 The longest-held was Kim Dong-chul, who was sentenced to 10 years in prison with hard labor in April 2016 for espionage and subversion. Paraded before cameras ahead of his trial, he said he had spied for South Korean intelligence authorities in a plot to bring down the North's leadership and had tried to spread religion among North Koreans. However, South Korea's National Intelligence Service said his case wasn't related to the agency in any way.
Despite the imminent release of the three, the U.S. last week slammed the North Korean regime over human rights.
"North Koreans face an almost complete denial of fundamental freedoms by their government."
In a statement marking North Korea Freedom Week, an annual event used by South Korean and international activists to raise awareness of abuses by North Korea, State Department spokeswoman Heather Nauert said: "We must not forget the millions of North Koreans who continue to suffer under one of the most repressive and abusive governments in the world."
She added: "For more than 60 years, the people of North Korea have faced egregious human rights violations in virtually every aspect of life. In addition to the roughly 100,000 individuals, including children and family members of the accused, who suffer in political prison camps, North Koreans face an almost complete denial of fundamental freedoms by their government."
Pompeo, who first traveled to North Korea as CIA chief in early April, is only the second sitting secretary of state to visit the reclusive nation. The first was Madeleine Albright, who went in 2000 as part of an unsuccessful bid to arrange a meeting between President Bill Clinton and Kim Jong Un's father, Kim Jong Il.
"For decades, we have been adversaries. Now we are hopeful that we can work together to resolve this conflict," Pompeo said in Pyongyang, adding, "There are many challenges along the way."
In a meeting with Kim Yong Chol, vice chairman of the central committee of North Korea's ruling party, Pompeo discussed the agenda for a potential leaders' summit. The two toasted each other after a dinner of duck and poached fish.
According to South Korea, Kim Jong Un is willing to give up his nuclear weapons if the U.S. commits to a formal end to the Korean War and pledges not to attack the North.