LONDON — American students struggling to get out of Morocco were among the many travelers stranded abroad on Wednesday as airlines continue to ground flights and countries close their borders to stop the spread of the coronavirus.
Standing in line at the coastal city of Agadir's airport, Genevieve Serna, 20, said applause broke out when a luggage drop-off counter opened. After a more than three hour wait, Serna found herself boarding a flight to London.
"We have made it on the plane!" she told NBC News.
Serna was among a group of a dozen students and two instructors from Lewis and Clark College in Portland, Ore., who were stranded in Morocco after the global pandemic was announced. She said she lost track of the number of times she tried to rebook her flights home after the program was canceled last week.
But even after getting to London her ordeal might not be over as it remains far from clear whether a transatlantic flight will be available.
"We are living in this constant state of chaos and uncertainty and every time we get our hopes up, we're disappointed," she said.
Full coverage of the coronavirus outbreak
While relieved to be beginning her journey back to the U.S., she said one student and one professor in their group weren't able to secure seats on the flight.
The Morocco's government began imposing bans on international travel in and out of the country on Sunday.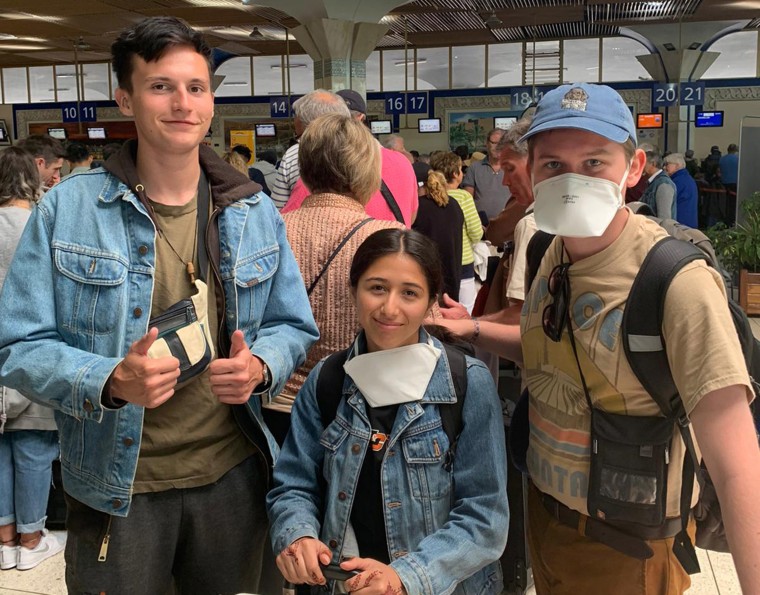 Serna and other students had been staying up late every night trying book flights that could connect them to the U.S. and repeatedly returning to the local airport hoping flights were still going ahead.
The U.S. Embassy in Morocco has advised American citizens to check the availability of the remaining 30 flights bound to the United Kingdom that will continue to operate through Thursday, but it could not guarantee seats.
Airlines around the globe have been grounding their fleet in response to the pandemic. American Airlines has announced a 75 percent decline in its international operations between March 16 and May 6 while United Airlines announced an 85 percent reduction in international flights for April.
The remaining flights from Morocco outlined by the U.S. Embassy are operated by British and European carriers.
Getting to London wouldn't guarantee that the group would find themselves on American soil soon, Serna added, as restrictions have also been imposed on transatlantic flights.
Serna said two students, one of whom has pre-existing medical concerns, decided to drive to the Moroccan capital Rabat to try and secure a spot on a U.S. rescue flight.
Download the NBC News app for full coverage of the coronavirus outbreak
While being stranded in a warm country doesn't sound that bad, Serna and her peers haven't been able to relax on the beach amid fears of catching or spreading the virus.
"It's getting threatening," Serna said. "Tensions are very high, especially toward foreign tourists."
Morocco reported its first death related to the coronavirus on March 10. The Moroccan news agency Map Express reported five new confirmed cases of coronavirus on Wednesday, bringing the total in the country to 49.
A spokesman for Lewis and Clark College told NBC News some students had already managed to get out of Morocco and college staff were working with the Oregon Governor's office and Portland Mayor's office to look at diplomatic channels to help the students that remained in the country.
Serna said the college confirmed long-term housing was secured for the group if they weren't all able to leave.