SHANGHAI — When Megan See was looking for somewhere to study international relations, China seemed like a good place to start.
"It was just totally different than anything I'd done before," See, who arrived at New York University's Shanghai campus in August 2019, told NBC News. There were also "obvious benefits to being exposed to a place that clearly has a lot of importance in U.S. foreign policy," she added.
But as with the broader relationship between the world's two largest economies, Covid-19 would soon complicate ties between this American and China — exacerbating a trend that many fear is representative of a deeper lack of mutual understanding helping to fuel their growing rivalry.
See's studies were disrupted by the pandemic, which prompted China to close its borders for almost three years and impose other strict controls that included a grueling two-month lockdown last year for Shanghai's 26 million people.
But when China finally reopened at the start of this year, she was ready to return.
"There was a lot of unknowns, but I thought it was worth the risk to come back and to be here again," said See, 22, who is from suburban Washington, D.C.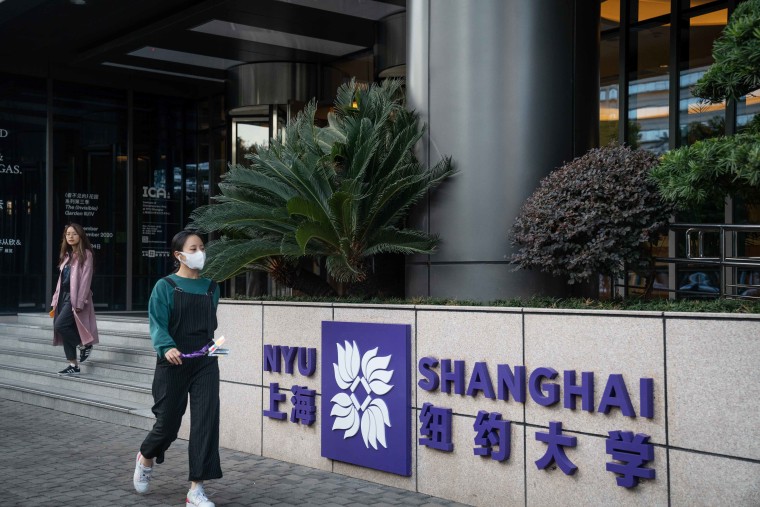 Students like See have been slow to return to China, where there were only about 350 Americans studying in the most recent academic year, according to State Department figures.
That compares with about 300,000 Chinese students at schools and universities in the United States.
That imbalance could have long-lasting implications for relations between the two countries, which are already at their worst in decades, said Nicholas Burns, the U.S. ambassador to China.
Young people from the U.S. and China "need to have a familiarity with each other," he said in an interview last month at an embassy event in Beijing for students heading to the U.S.
"American students need to speak Mandarin and learn to be comfortable here so whether they're in the private sector or the public sector, they have an understanding of how this place works."
Senior U.S. officials have been publicly warning China that a lack of high-level communication risks dangerous incidents "spiraling out of control," and while students won't be the answer to any immediate clash, they could prove central to managing relations in the future.
Increasing the number of American students in China is crucial for cultivating the U.S. government's "next generation of China experts," Burns said.
"You want the two countries' people to be talking to each other, and 20-year-olds probably do that best," he said. "They achieve a degree of familiarity and expertise in a country that is lifelong."
It wasn't always like this. 
A decade ago, there were almost 15,000 American students in China, according to the State Department, following a surge in international interest in China ahead of the 2008 Beijing Olympics. In 2009, President Barack Obama announced plans to encourage 100,000 Americans to study abroad in China by 2014, a goal his administration said was reached. 
When the seriousness of Covid-19, which was first detected in China, became clear in early 2020, academic exchange programs were swiftly canceled and international students left the country in droves. But the number of Americans studying in China, like the number of Americans studying abroad generally, was declining even before the pandemic.
The drop in numbers comes as U.S.-China relations have soured over a range of issues including trade, human rights and the status of Taiwan. 
That is reflected in public opinion, with 83% of respondents expressing negative views of China in a Pew Research Center survey of U.S. adults in March. Similar polls conducted in China have also found a majority hold negative views of the U.S.
The dearth of American students also contrasts with China's growing popularity among students from Africa, Latin America and elsewhere in Asia, who are drawn by Chinese-funded scholarships and world-class universities.
"It just seems like China is knowing a lot more about the rest of the world, but the U.S. is not getting to know much more about what's going on outside of the States," said NYU Shanghai student Cindy Li, 21.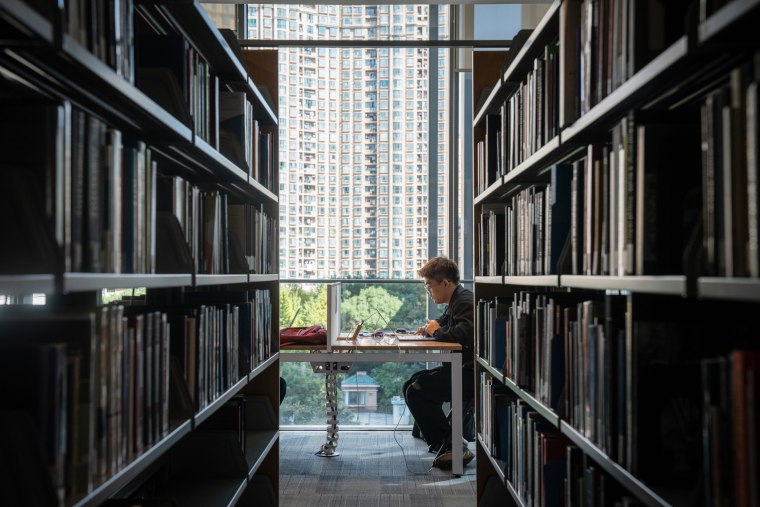 The decline has been noticeable at NYU Shanghai, which was established in 2012. The student body is roughly split between Chinese and international students, with Americans making up about half of the latter group.
"There are fewer Americans in terms of enrollment," said Marcel Daniels, a senior lecturer. "It's tough for me to say [whether] there are fewer due to the inability to get back or maybe the hesitance to come back due to the situation on the ground here."
Burns said he was working with U.S. universities to resume the flow of American students, but that the Chinese government also had a role to play. 
"They're going to have to give the visas and create the atmosphere that would be receptive to American students coming back," he said.
Students at NYU Shanghai say U.S. tensions with China only make it a more appealing place to study.
"I think it's more of a time than ever to really understand that relationship," See said, "and form connections with people just to understand what's going on."
Janis Mackey Frayer reported from Shanghai, and Jennifer Jett reported from Hong Kong.