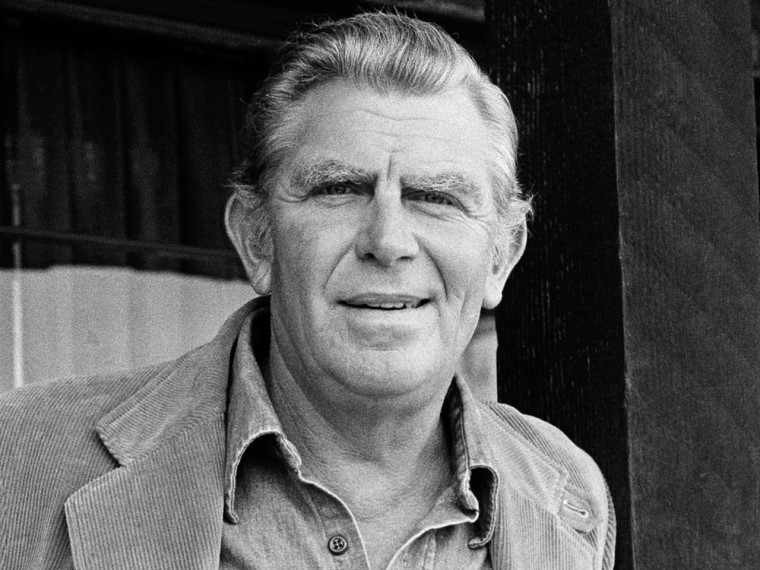 Actor Andy Griffith, who won the hearts of 1960s TV viewers with his role as gentle Sheriff Andy Taylor in "The Andy Griffith Show," then returned as a folksy 1980s lawyer in "Matlock," died Tuesday at his home on Roanoke Island, N.C., at age 86, according to WITN-TV.
The news was first reported to the North Carolina television station WITN by Bill Friday, former president of the University of North Carolina and a Griffith friend. The Dare County, N.C. sheriff later confirmed Griffith died at approximately 7 a.m.
"Andy was a person of incredibly strong Christian faith and was prepared for the day he would be called Home to his Lord," Griffith's wife, Cindi, said in a statement. "He is the love of my life, my constant companion, my partner, and my best friend. I cannot imagine life without Andy, but I take comfort and strength in God's Grace and in the knowledge that Andy is at peace and with God."
Actor Ron Howard, who played Griffith's son, Opie, on "The Andy Griffith Show," told Deadline.com that Griffith "has not been well for some time."
"His love of creating, the joy he took in it whether it was drama or comedy or his music, was inspiring to grow up around," Howard told Deadline. "The spirit he created on the set of The Andy Griffith Show was joyful and professional all at once. It was an amazing environment."
"North Carolina has lost its favorite son," North Carolina governor Beverly Eaves Perdue said in a statement. "In an increasingly complicated world, we all yearn for the days of Mayberry. We all will miss Andy, and I will dearly miss my friend."
Griffith began his entertainment career with comic monologues and moved into movies, debuting in 1957's "A Face in the Crowd" with Patricia Neal. But it was as the widower sheriff Andy Taylor on "The Andy Griffith Show" that he really made his mark. The show, which also starred comedian Don Knotts as bumbling Deputy Barney Fife, ran from 1960-1968. Its setting, in the fictional small-town of Mayberry, became almost as famous as any one episode.
While both Knotts and co-star Frances Bavier, who played Aunt Bee on "The Andy Griffith Show," both won Emmys for their roles, Griffith never did.
Griffith returned to TV stardom in 1986 as Ben Matlock, a Southern lawyer. That show ran until 1995 and was seized upon by comedians as a punchline for its popularity with older Americans. In one "Simpsons" episode, a highway is renamed the Matlock Expressway so a town mayor can win the elderly vote.
Griffith won a People's Choice Award in 1987 for "Matlock," and said at the time that the lawyer role was his favorite.
Griffith was awarded a Presidential Medal of Freedom in 2005. A statue of Griffith, in character as Andy Taylor, and holding a fishing pole and the hand of Ron Howard's Opie, stands in Raleigh, N.C.
Griffith was born in North Carolina in 1926. He earned a degree in music from the University of North Carolina at Chapel Hill.
One of Griffith's earliest hits was a 1953 comic monologue about college football. You can listen to it here.
The actor was married three times. He is survived by his wife and his daughter Dixie. Son Andrew Jr., known as Sam, died in 1996.
Related content: