Call it the "Kevin Bacon Theory of Politics."
The beginning of the general election has spurred the onset of the "silly season," a generally substance-free point in the cycle when rival campaigns lob attacks at each other, in hopes that one sticks. Look no further than the recent countervailing demands by the Obama and Romney campaigns that the other apologize for the words and deeds of its supporters.
It's reminiscent of the parlor game, "Six Degrees of Kevin Bacon," where a player tries to trace their path to the actor in the fewest possible steps. At this point in the 2012 campaign, politics has turned into an effort to dig up a controversial statement made by a figure and tie them to the rival candidate in as few steps as possible.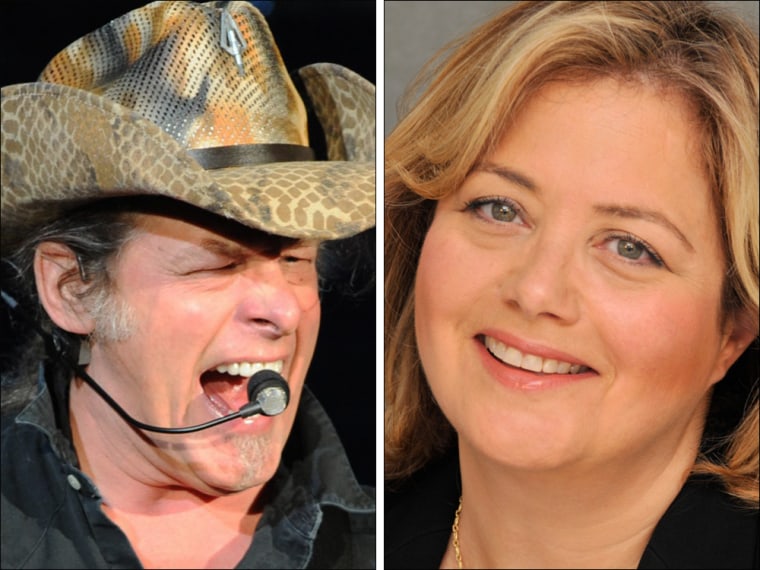 In short, the "Kevin Bacon Theory of Politics" is that the success of a campaign's efforts to tie a rival candidate to a controversial supporter depends on the number of perceived steps between the two, even if that degree of separation is a result of spin.
The manufactured controversies that have overtaken the presidential campaign in recent weeks seem to depend on the strength of each campaign's efforts to tie their opponent to whatever bone-headed thing a supporter or surrogate has said.
Witness Democrats' furious effort on Tuesday to tie Mitt Romney to incendiary comments made by rocker Ted Nugent, who told a National Rifle Association audience that if President Barack Obama wins a second term, he'll "either be dead or in jail by this time next year." He also urged Republicans to "ride into that battlefield and chop their heads off in November."
The Democratic National Committee circulated a video and a slew of press releases describing Nugent as a surrogate for Romney, and demanding the former Massachusetts governor's condemnation of the musician.
"Divisive language is offensive no matter what side of the political aisle it comes from," Romney spokeswoman Andrea Saul eventually told TPM. "Mitt Romney believes everyone needs to be civil."
It was a page straight out of the Romney playbook; last week, the Boston-based campaign successfully forced the president himself to disavow the comments of a Democratic consultant -- whose direct ties to Obama are scant at best -- who said that the GOP candidate's  wife, Ann, had "never worked a day in her life."
But the DNC's attack Tuesday has largely fallen flat, even though the Secret Service acknowledged a routine inquiry into Nugent's comments, and -- as Democrats were eager to point out -- Romney had courted the "Cat Scratch Fever" writer's support. Democrats also pointed to Romney son Tagg's celebratory tweet about Nugent's endorsement.
The reality is that each campaign's efforts to tar the other with the comments of supporters largely involves a (usually willful) distortion of reality.
"There is clearly a connection between Ms. Rosen and the Obama administration," Republican Washington Rep. Cathy McMorris Rodgers said on a conference call last week, referring to the Democratic operative whose comments toward Ann Romney sparked the initial controversy.
(In reality, Hilary Rosen maintained no contracts with the Obama campaign or DNC, though her firm, SKDKnickerbocker, had other ties to the administration. Republicans pointed to Rosen's visits to the White House, though those were hardly eye-popping in total for a Washington, D.C., consultant.)
The attempts to bind Romney to Nugent's remarks have fallen short because the relationship between the two is nebulous at best. To describe the Motor City Madman as a Romney "surrogate" is a specious assertion at best. By contrast, it was Romney aide Eric Fehrnstrom's likening of his boss's pivot from the primary to the general election to erasing an Etch A Sketch so politically potent for the Obama campaign and rival Republicans.
So what are the limits? The first lady's office didn't hesitate to call "inappropriate" a joke made by actor Robert De Niro's comments at a fundraiser -- in the presence of Michelle Obama -- that America wasn't again ready for a white first lady.
And Mitt Romney long ago denounced the "birther" theories that had been vocally espoused by Donald Trump, who's now ironically supporting the former Massachusetts governor, and hosting a fundraiser on his behalf on Tuesday. When conservative radio host Rush Limbaugh -- who wasn't exactly an effusive supporter of Romney's -- used incendiary language to describe Georgetown student and contraceptive access advocate Sandra Fluke, Romney distanced himself anyway, saying "it's not the language I would have used." (Democrats nevertheless spun this as a failure to condemn.)
But a pro-Obama super PAC run by a former administration spokesman hasn't budged in the face of Republican demands that it return a $1 million donation from comedian Bill Maher, who used colorful language in reference to both Ann Romney and former Alaska Gov. Sarah Palin.
But if the silly season tests anything, it will be the number of degrees of separation between Obama or Romney and one of their supporters it will take before a condemnation or apology is rendered unnecessary.
The actor Kevin Bacon might also be well-advised to watch his words, too; after all, he donated to the Obama campaign in 2008.