JERUSALEM — Sirens wail in Jerusalem and people reach for their cellphones.
It's on Twitter feeds and Facebook pages that they find quick answers to their questions about the latest attack. Where was it? Who was hurt? What weapons were used?
In two weeks of bloodshed which has seen seven Israelis and 30 Palestinians killed, information whips across this ancient city faster than it ever has, and it feeds an atmosphere of fear and suspicion.
As a reporter arriving at the scene of an incident, witnesses can now do more than just tell you what happened. They can show you. Israelis hold up their cellphones to display terrifying pictures of a man with a knife running down the street. Palestinians share grim footage of police officers firing volleys of bullets at an individual they say posed no threat.
If this bout of violence is being played out on social media, it's being driven by it too. But the underlying reasons for the stabbing attacks have nothing to do with cyberspace, and they are two-fold.
First, the perception among Palestinians that the Israeli government is trying to change the very delicate arrangements which govern worship at the al-Aqsa mosque compound, or Temple Mount as it's known to Jews. This was sparked during the Jewish high holidays in September, when Palestinians and Israeli security forces were involved in violent clashes at the site.
Second, Palestinian anger at a July arson attack carried out by Jewish extremists in the West Bank in which an 18-month old baby was killed, and the Israeli authorities' failure to detain those responsible.
The investigation into the arson attack continues, and Israel's government vehemently denies any charge that it's trying to change the rules at the holy sites.
But in the social-media age, Palestinian grievances receive digital amplification. Israel's political leaders see the nature of that discussion as deeply maligned.
"The tension started with terrible incitement, mostly on social media," says Yair Lapid, leader of the Yesh Atid party. "Claiming unjustly that Israel is trying to change the status quo on the Temple Mount, when it is not."
One of the many very disturbing features of this wave of stabbing attacks is the very young age of the protagonists. Many of them are teenagers, some just barely. These newest members of "the Facebook generation" are being motivated to pick up knives, stab as many Israelis as they can, and almost certainly die in the attempt.
For Palestinian commentators, the attackers' means of communication might be very modern, but their motivation is much older, borne of the frustration their fathers and grandfathers have lived with for decades. Half the Palestinian population now is aged under 24, people who have grown up with a military occupation, and a constantly failing peace process.
"They don't see a future, and they don't have any vision about tomorrow," Palestinian political scientist Dr Mahdi Abdul Hadi said. "And they find the Israelis continually suppressing them, controlling them, arresting them. It is dehumanization on a daily basis, so what else do you expect from them?"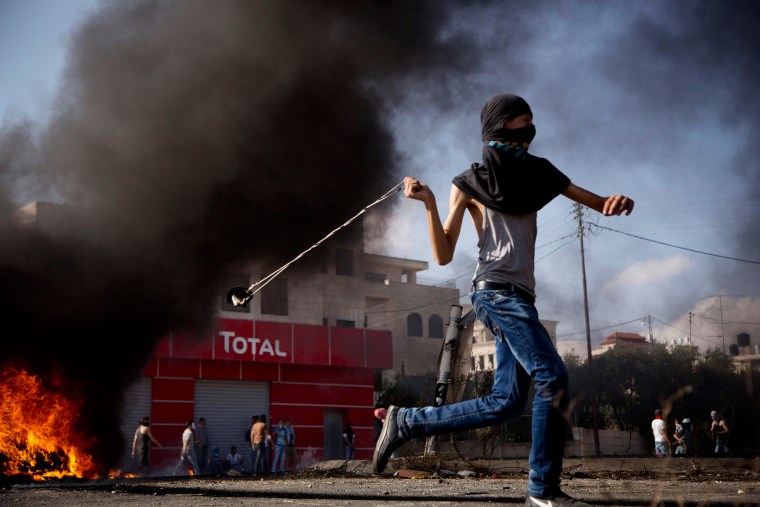 Israel's government, meanwhile, sees itself beset by a new wave of Islamic terrorism, the same kind of extremism which has spawned similar attacks in European capitals.
"What can explain a 13-year-old boy deciding one morning to take a knife and kill another 13-year-old boy?" Israeli Cabinet minister Yuval Steinitz asked. "An overall analysis of the peace process? Of course not. This is about hatred. This is about indoctrination. To hate the Jews and to kill the Jews."
Via social media, he says, Palestinian kids are being fed this incitement "like mother's milk."
Palestinians scoff at that assessment.
"Even if Facebook comes along and says, 'We're going to stop everything that comes out of Palestine', have you solved the problem? No, you haven't," University of Bethlehem sociologist Dr Bernard Sabella said. "The lack of political progress on the political level has led us into this. It has killed us — both of us: Israelis and Palestinians."
The power of social media is something long recognized by everybody who's got a message to push, from advertisers to charities to politicians and music promoters.
But in Jerusalem right now, its potency is very frightening.
People are using their smartphones to find out the latest news, but they're also using them to confirm prejudices, fuel outrage and heighten fears.
Long after the underlying causes of this round of violence have faded into the background, the images people see on the screens in their hands threaten to give it a life of its own.