MOSCOW — Calls to ban Russian athletes from the Rio 2016 Olympics due to the country's doping scandal strike at the heart of what makes Vladimir Putin so popular among his people, analysts say.
The Russian president has called for an internal investigation into the allegations by the World Anti-Doping Agency, which accused Moscow of running a vast state-sponsored doping program for track-and-field athletes.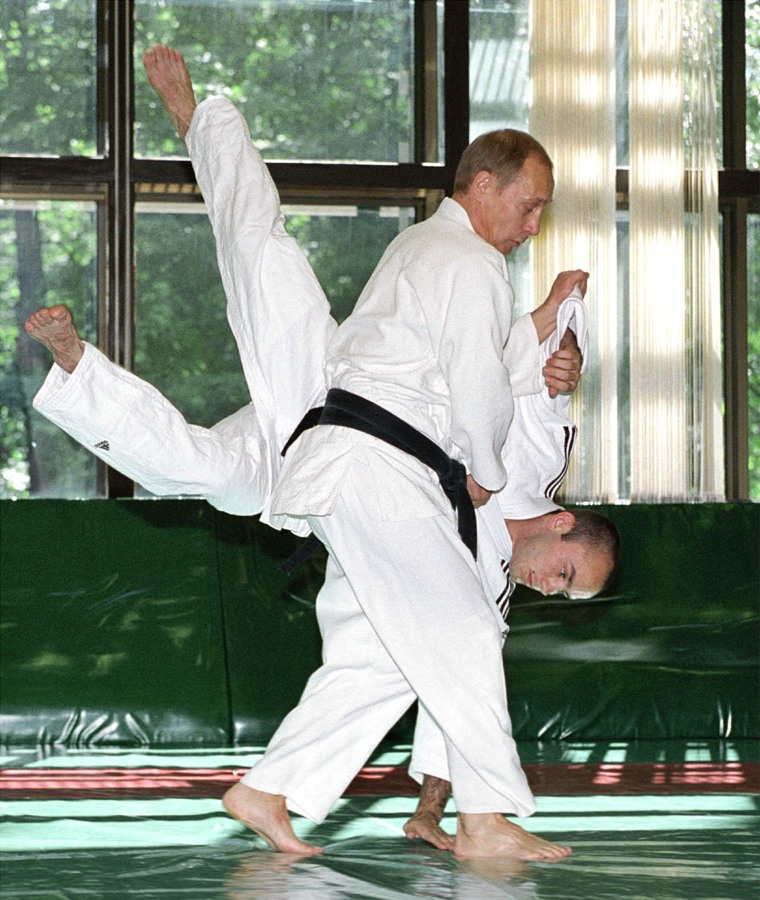 According to analysts, WADA's stunning 323-page report will have hit Putin particularly hard because of the integral role sports play to his domestic popularity — both in terms of his image as a virile sportsman and as the host of marquee global events.
The Russian leader's approval rating stood at 89.9 percent in mid-October, according to state-run pollster VTsIOM. (By contrast, President Barack Obama's approval rating sat at 49 percent last week, Gallup reported.)
"Putin's image as an athlete contributed to his [high] rating from the get-go," Alexander Baunov, a senior associate at the Carnegie Moscow Center, told NBC News.
A former officer in Russia's KGB intelligence agency, Putin was seen as a "young and athletic alternative" to his aging, sickly predecessor Boris Yeltsin, according to Baunov. Yeltsin was 20 years Putin's senior and had been struck down by several bouts of serious illness by the time he resigned in 1999.
As well as his history in the security services, Putin has a black belt in karate and is an expert in judo. Some of his judo partners from the Soviet era have risen to become Russia's most prominent oligarchs.
Furthermore, the Russian president rarely seems to miss an opportunity to publicly further his macho image. He has been pictured riding a horse with his shirt off, swimming in a frigid Siberian lake, diving for sunken archaeological artifacts, hunting with a rifle — again, shirtless — and fixing a GPS tracker to an anesthetized tiger.
Last month he even scored seven goals during a charity hockey game in Sochi on his 63rd birthday.
But the core of Putin's infatuation with sports has been his victorious bids for the 2014 Sochi Winter Olympics and the 2018 World Cup, events whose combined cost will likely spiral to over $70 billion.
"Big competitions like the Olympics put Russia in the global spotlight," said Sergei Shelin, an independent analyst based in St. Petersburg.
And of course it's not just the taking part that counts; Putin rode the wave of sporting success even further after Russia topped the medals table at the Sochi Games.
"Sports victories contribute to [Putin's approval] rating when they happen," Baunov added.
That raises questions about what a Russia-less Rio Olympics might mean for Putin.
Putin's use of sports is linked to Soviet nostalgia, which is the backbone of his presidency.
Olympics and other global sporting events featured prominently in Soviet propaganda as a chance for the country to showcase its power during the Cold War. With the ability to draw athletes from its 15 republics, the success of the USSR earned it the nickname the "Big Red Machine."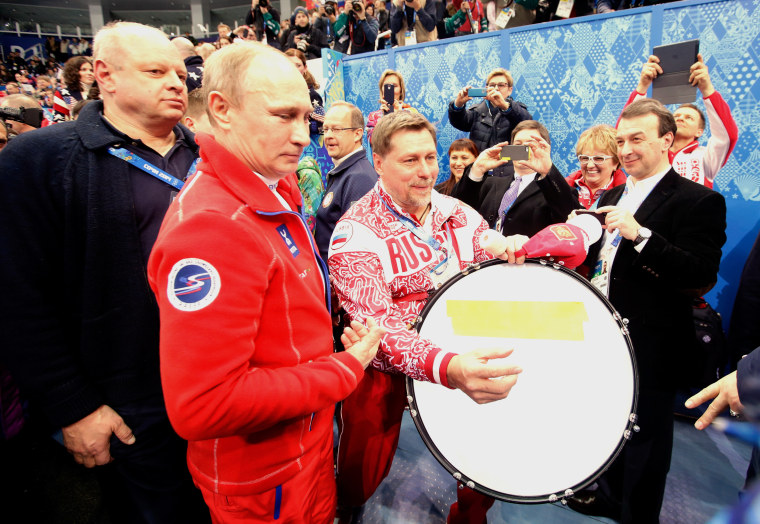 As in Soviet times, Putin's emphases on sporting greatness can be seen as a euphemism for military might and geopolitical strength. "Let's not forget that sport is an imitation of war," Shelin said.
But doping allegations were also rife during that period, particularly in East Germany. WADA's allegation that Russian security services intimidated laboratory staff evoked the dark past of the former East Germany, where the Stasi secret police supervised a program of systematic doping.
Because of the importance of sport as a status symbol for Putin and his Kremlin, some have predicted a backlash if Russian athletes are banned from the Olympics — although analysts declined to speculate what this might entail.
The Sochi games were overshadowed by a political uprising in neighboring Ukraine. Some, Baunov included, have suggested Russia's subsequent intervention in its former Soviet neighbor was Putin's revenge for his party being spoiled.
The doping scandal is not yet big enough to prompt a similar backlash – but it cannot be completely ruled out, both Shelin and Baunov said.
"Political histrionics are imminent if we're suspended from the Olympics," Shelin said.
The IAAF, the governing body of track and field, is expected to rule Friday on whether to suspend Russia from competing, according to The Associated Press.