Yemen returned to the spotlight after a Navy SEAL was killed during a weekend operation targeting al Qaeda in the war-torn country.
His death highlighted how the desperately poor country is a hotbed for militants.
However, Yemen is also the front line of an ongoing proxy war between key U.S. ally Saudi Arabia and regional rival Iran — amid rising tensions between Tehran and the White House.
On Wednesday, National Security Adviser Michael Flynn declared that Iran was being put "on notice" — an apparent threat of retaliation for a recent ballistic missile test. Precisely what he was referring to was unclear, but a senior administration official said a number of options remained on the table.
A top adviser to Iran's supreme leader responded Thursday by saying Tehran "will not ask any country for permission in defending itself."
President Donald Trump has also accused Iran of meddling throughout the region.
And on Friday, the White House hit Iran with sanctions Friday for test-firing the missile.
As the Trump administration ramps up its rhetoric, NBC News takes a look at whether Yemen is in the cross hairs — and what role Iran is playing there.
What Is Iran Up To?
Saudi Arabia, Iran's arch-rival and one of America's most important Mideast allies, has long accused Tehran of stirring trouble and backing Houthi rebels in its neighbor.
"The concrete is drying pretty quickly on Iran's footprint across the region"
In March 2015, it began striking the Houthis — along with the rest of a coalition made up of Bahrain, Kuwait, Qatar, the United Arab Emirates, Egypt, Jordan, Morocco and Sudan — to restore the government of exiled President Abed Rabbo Mansour Hadi.
"Saudi Arabia's whole premise for entering into the Yemen conflict was to contain Iran," said Sanam Vakil, an associate fellow at the Middle East program at London's Chatham House think tank.
On Oct. 27, U.S. officials told NBC News that they believed Iran had supplied weapons to the Houthis — including coastal defense cruise missiles like ones that were fired at U.S. Navy ships in the region earlier that month.
The head of the U.S. Naval Forces Central Command tasked with safeguarding the waters off Yemen said the U.S. and its allies had intercepted five weapons shipments from Iran destined for the Houthis.
American commanders are also convinced that Iran is training the rebels to operate sophisticated weapons and radar systems.
A senior Trump administration official told NBC News that Iran appeared to be seeking "to leverage this relationship with the Houthis to build a long-term presence in Yemen."
The source added: "It's clear that Iran supports the Houthis. They arm them, they train them, they finance them, they guide them."
Vakil said regional governments worry that with Iranian backing, the Houthis will become a Yemeni version of Hezbollah — the militant group that dominates Lebanese politics.
"Both sides [Iran and the U.S.] are testing each other to see how far each side is going to go," she added. "The question is how is that tit-for-tat going to be defined? … Will it be rhetorical or will it result in military conflict?"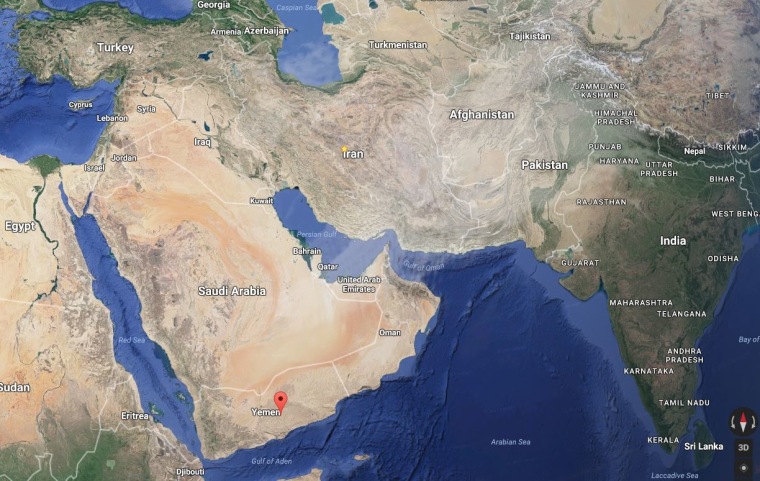 Clement Therme, an Iran research fellow at the International Institute for Strategic Studies, said that Trump is already taking a harder approach than President Barack Obama did.
The new president's approach is that if "you are a friend, you are a friend 100 percent, and if you are an enemy, you are an enemy 100 percent," according to Therme.
He added: "This is a real change in U.S. policy ... Trump will hopefully notice that it is al Qaeda and [ISIS] that are the main threat in the region."
Who Are the Houthis?
The Shiite militants from the north of Yemen aligned with breakaway units of the country's army in 2014, to fight forces loyal to exiled president Hadi.
While Iran is providing training and logistical support to the militants, it does not control them, according to Vakil. The Houthis, who feel they have been long sidelined by the traditional establishment in Yemen, are fighting for a place at the political table, she said.
Still, American commanders have been sounding the bell on the Houthis for months and on Oct. 13, the U.S. Navy launched Tomahawk cruise missiles against radar sites in Yemen. The strikes followed two incidents in which missiles were fired at a U.S. Navy ship from a Houthi-controlled area of the country.
How Bad Is It on the Ground?
The conflict has proved disastrous for the people of Yemen.
Reuters reported on Saturday that the Saudi-led coalition has carried out attacks in Yemen that "may amount to war crimes," according to U.N. sanctions monitors. Some 10,000 are thought to have been killed in the conflict and millions are at risk of starvation, according to the U.N.'s World Food Program.
On Oct. 8, a strike by the coalition killed 140 people at a funeral ceremony in the capital Sanaa, in one of the deadliest single attacks in the country's civil war, according to the U.N.
Complicating the picture is the fact the one of al Qaeda's most powerful franchises — al Qaeda in the Arabian Peninsula — operates in Yemen. The Sunni extremists are no friends of the Shiite clerics in power in Tehran.
Last week's Navy SEAL raid was targeting the group. However, it also ended with the death of the 8-year-old daughter of American-born radical cleric Anwar al-Awlaki — who was killed in a U.S. drone strike on Sept. 30, 2011.
"The bigger picture is containing al Qaeda influence's in Yemen," according to Chatham House's Vakil.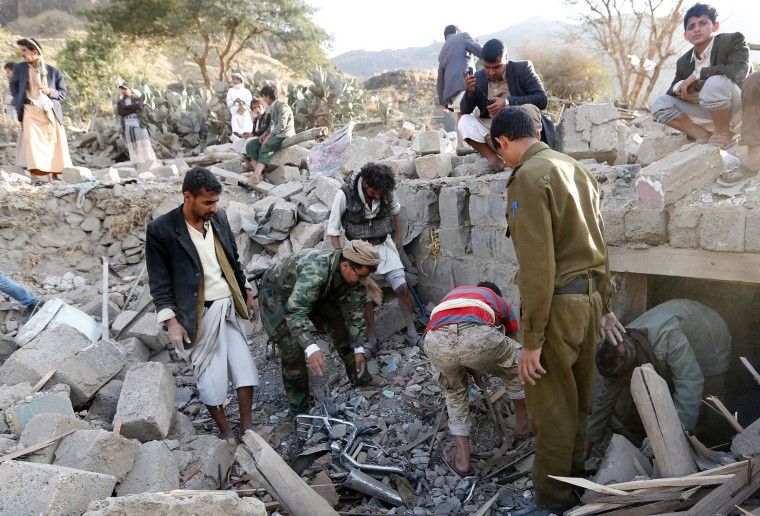 Michael Stephens, a research fellow for Middle East studies at the Royal United Services Institute think tank, cautioned against over-emphasizing Iran's role in Yemen in the way the Saudis have traditionally done.
He said that while a "proxy battle" is an aspect of it of the war — Saudis see their military involvement as a way to stop Iran from exploiting instability in their poorer neighbor — "if you look at Yemen on the list of Iranian priorities it is really low."
What Has the Trump Administration Said About Iran?
During the campaign, Trump stuck to a hardline approach on Iran, and called the 2015 multinational plan to lift economic sanctions in exchange for Tehran's promise not to develop nuclear weapons "the worst deal ever negotiated."
Trump also included Iran on a list of seven majority-Muslim countries whose citizens would be temporarily banned from entering the United States.
On Wednesday, Flynn underlined Trump's disapproval of the President Barack Obama agreements with Iran as "weak and ineffective."
He delivered his remarks in a surprise appearance at the daily White House press briefing. In addition to the ballistic missile tests, Flynn cited other examples of what he called Iran's "destabilizing behavior across the Middle East" — a likely reference to its influence in Syria, Iraq and with Hezbollah militants in Lebanon.
U.N. resolutions currently do not prohibit Tehran from conducting such missile tests — but one states that "Iran is called upon not to undertake any activity related to ballistic missiles designed to be capable of delivering nuclear weapons."
The Trump White House has not accused Tehran of breaching that resolution, but alleges it is acting "in defiance" of it.
What Might Happen Next?
Flynn suggested that the new administration would take a harder line on Iran in the wake of the missile test.
"Instead of being thankful to the United States for these agreements, Iran is now feeling emboldened," Flynn said, an apparent reference to the 2015 nuclear deal with Iran.
While it isn't clear what exactly this means, the new administration's pronouncement represents a sharp escalation in the rhetoric coming out of Washington.
If the desired effect was to get Iran to back down, the White House failed — at least in the short term.
"Iran will continue to test its capabilities in ballistic missiles and Iran will not ask any country for permission in defending itself," said Ali Akbar Velayati, who advises Iranian Supreme Leader Ayatollah Ali Khamenei on foreign affairs. "Iran is the strongest power in the region and has a lot of political, economic and military power and will not pay any attention to threats from America. "
But RUSI's Stephens pointed out that Iran's involvement in Lebanon, Syria and Iraq is much deeper than in Yemen.
"The concrete is drying pretty quickly on Iran's footprint across the region," he added.