The downing of a Russian warplane that set off frantic fearmongering about a potential World War III appears to have been downgraded to a diplomatic ding. Here's why:
An Attack on One NATO Member …
When Turkey shot the Su-24 jet out of the sky on Tuesday for allegedly violating its airspace, the reaction was swift.
Russia's government called it a "criminal" act and vowed retaliation, while NATO quickly backed alliance-member Turkey's version of events.
The incident sparked screaming headlines about a new Cold War and saw "WWIII" rise as a Twitter trend.
That may have been partly because NATO's treaty states that an attack on one member state constitutes an attack on all. That principle of collective defense is enshrined in Article 5 of the alliance's treaty — and previously has been invoked to launch military action.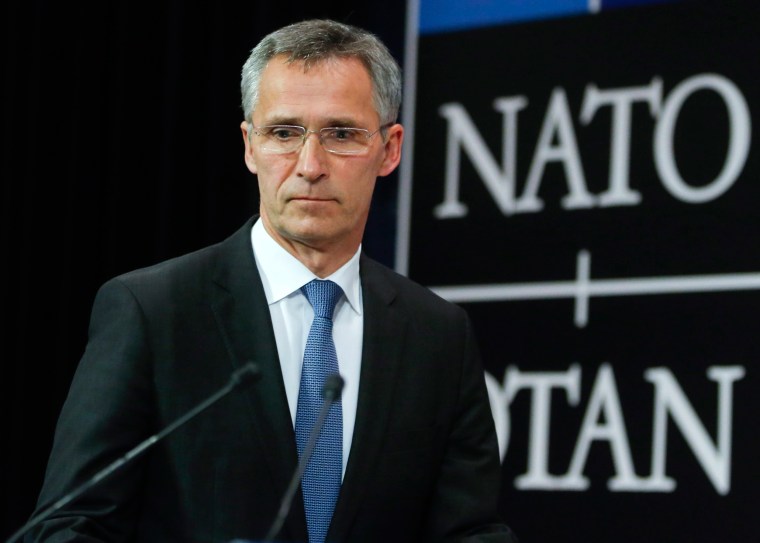 The first time Article 5 was called up was in wake of the 9/11 terror attacks on the U.S. — but analysts say this week's incident involving the Russian jet just doesn't measure up.
Beyza Unal, a research fellow at the London-based Chatham House think tank, said there needs to be an attack on the alliance — involving consequences — to cite Article 5.
"I don't think that would include violating airspace," she said, noting how even France "didn't go that far" as to invoke Article 5 following the recent terror attacks on Paris.
"It's not easy, in a way, to put Article 5 on the table," Unal said. "If you look at the cases where Article 5 has been put forward in history, there are tangible consequences … You can make the claim with 9/11. But here? I don't see any."
Besides, she added, invoking Article 5 would "escalate" the whole issue "and I don't think either Turkey or Russia or any of the European countries would like to escalate it."
Analysts say that's partly because of a bigger and more pressing matter: Syria.
"There's enough going on in Syria," said Sarah Lain, a Russia researcher at London's Royal United Services Institute. "You were starting to see some actual cooperation in Syria between Russia and the West, so Turkey has complicated this obviously."
There are real fears downing of the jet could derail those efforts — which would be a lose-lose situation for all parties, according to Lain.
"There will be genuine desire not forget this or sweep under the carpet but to try to contain" this incident, she said "to maintain the level of cooperation that is happening in Syria between the West and Russia to bring the focus back to Syria."
What Will NATO Do?
NATO already has urged calm and a de-escalation of the situation.
One upcoming option could be for NATO and Russia to sign an agreement — similar to the deal between Moscow and the U.S. — that would lay out rules of engagement and aim to deconflict crowded airspace over Syria.
So That's It?
That doesn't mean there haven't been — and won't be further — non NATO-related repercussions.
Analysts expect Russia to take out its anger over the matter bilaterally against Turkey.
While there's little to suggest Russia will make direct military moves against Turkey, Lain said Moscow could retaliate indirectly by hammering groups in Syria that are allied with Ankara.
A downturn in diplomatic relations between Turkey and Russia also is to be expected, according to Lain, while economic fallout appears likely.
Moscow has advised its nationals not to travel to Turkey — a move which will hit the tourism industry hard given how many Russians vacation there.
Then there's the energy sector — Russia is one of Turkey's largest gas suppliers and could threaten to cut off the flow, according to Lain.
"We've seen in Ukraine that Russia can use gas as a political leverage tool," Lain said, adding that a nuclear-reactor deal between Moscow and Turkey could also be put on hold.
How Bad Could It Be?
The sad state of Russia's economy could work in Turkey's favor and potentially limit fallout.
"Russia can't really afford to lose any economic partners right now," said Lain. "Russia can't really afford at the moment to lose vast revenue, which it would if it cut off gas to Turkey."
However, she said Moscow has shown a willingness to cut off partners rather than "lose face."
So What Happens Now?
In the meantime, President Vladimir Putin said Moscow will deploy an air-defense system to Syria in order to better ensure the safety of its military flights there.
"This is not the only measure we are taking," he said, without elaborating.
However, Russia's Foreign Minister Sergei Lavrov stated clearly that Moscow had no intention to go to war with Turkey — potentially putting to bed those panicked rumors about World War III.
Instead, expect diplomatic channels to be abuzz with bilateral talks and efforts to boost communication between all sides in order to smooth over the situation and refocus attention on Syria.
The priority right now for opponents of ISIS must be on influencing, not isolating, Russia, Council of Foreign Relations President Richard Haas wrote in the Financial Times.
"This is not yet a crisis, and if what took place is allowed to fester — or worse yet escalate — ISIS will be the big winner," he wrote.