Romanian prosecutors asked a Bucharest court Friday to detain Andrew Tate for 30 days, after the divisive internet personality was arrested on suspicion of human trafficking, rape and forming an organized crime group.
"Anti-organized crime prosecutors have notified the rights and liberties judge with the Bucharest court with a proposal to remand the four suspects for 30 days," they said, according to Reuters.
Police detained Tate on Thursday after a search of his property in a high-end neighborhood of Romania's capital, Bucharest, according to an official statement.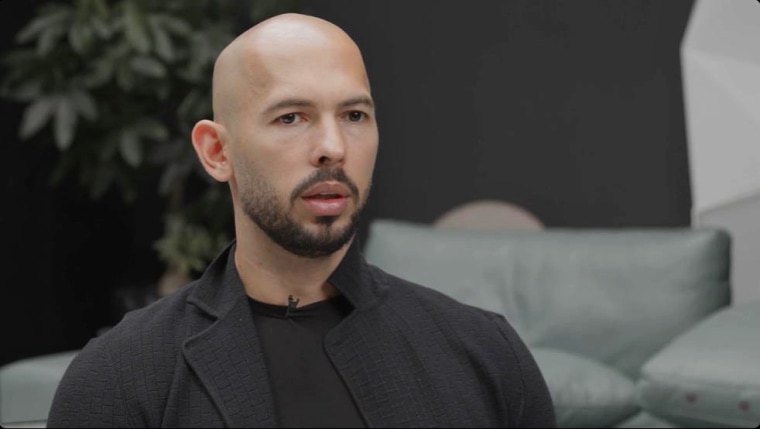 Tate, known for hyper-misogynistic stances on women and modern masculinity, was detained alongside his brother Tristan and two others from Romania.
On Thursday, prosecutors said that they found evidence that six women had been sexually exploited "using physical violence and mental constraint" by members of the group.
The women had been forced into making pornographic content for distribution on social media for financial gain to the group, they said.
Andrew and Tristan Tate were not explicitly named, but video of their arrest released by police has been seen by NBC News.
A lawyer for the Tate brothers confirmed that they had been detained, but declined to comment further saying he was in court representing the pair.
Prosecutors said that the brothers have been under criminal investigation since April, according to Reuters, when Tate's Bucharest mansion was searched by police in connection with human trafficking allegations. 
In an April video posted to Rumble, a video-sharing source popular with right-wing figures, Tate acknowledged that Romanian police had instigated a "high-level police SWAT raid" on suspicions of kidnapping, but said they had found no evidence of wrongdoing.
"If they're the top of the police, and I'm the top level G [gangster], then we're friends," he said in the April video.
Andrew Tate has previously claimed that victims of sexual violence are partially responsible for being raped, and that men prefer to date teenage girls than women so that they can make an "imprint" on them. He has been banned from Facebook, YouTube, Instagram and TikTok since August for promoting hate speech and misogyny.
His account was reinstated to Twitter by Elon Musk in late November, after being "permanently suspended" by the platform in 2017.
Youth climate activist Greta Thunberg responded with characteristic snark to the news that the controversial viral influencer had been detained.
"This is what happens when you don't recycle your pizza boxes," she wrote in a tweet, an apparent reference to reports in the Romanian newspaper Gândul that Tate's social media activity, including a video message posted by the influencer that used pizza boxes from a Romanian takeout chain as a prop, alerted authorities to his presence in the country.
On Wednesday, in response to a message from Tate in which he boasted about his car collection and appeared to make fun of Thunberg, she told him to "get a life."