BERLIN — The first face-to-face meeting between President Donald Trump and German Chancellor Angela Merkel was postponed by a major storm.
For some, the blizzard on the East Coast that delayed Merkel's trip to Washington by three days might be seen as a bad omen. But in Germany, commentators said that the quick rescheduling on both sides was a promising signal.
The fact that Merkel will now travel to the U.S. on Friday shows "how important this trip also is for the White House," according to Ulf Roeller, the Washington correspondent for German broadcaster ZDF.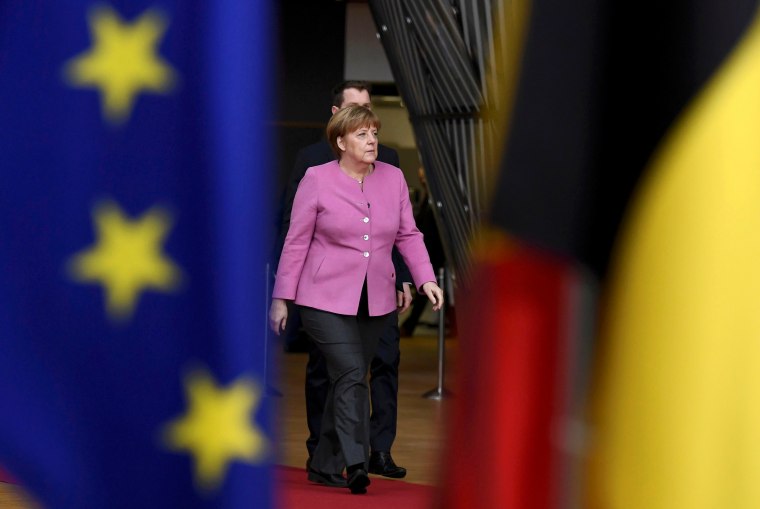 Merkel said she believes "one-on-one conversations are always much better than talking about each other," calling that the "slogan for her visit."
Despite being criticized by Trump in recent months, senior German government officials in Berlin said Merkel will be arriving in the United States with an open mind.
Talks between Trump and Merkel, who last year was ranked by Forbes as the second most powerful person in the world after Russia's Vladimir Putin, comes amid disputes over NATO defense spending.
The president has also threatened to impose import penalties on German carmakers while the U.S. administration's economic adviser has accused Germany of gaining unfair trade advantages through a weak euro.
"I think she has to prepare for a more confrontational style"
Trump's harsh rhetoric against Germany — and particularly Merkel's open-arms refugee policy — during the election campaign — added to European concerns about the future of trans-Atlantic relations when he took office.
"The German people are going to end up overthrowing this woman. I don't know what the hell she is thinking," Trump told his supporters during a speech in Iowa last March, referring to incidents in Cologne on New Year's Eve, where groups of migrants were suspected of mass sexual assaults.
Trump's criticism was even stronger in a 2015 tweet where he said that Merkel is "ruining Germany."
Despite the provocative verbal attacks, Merkel did not deviate from her reserved and calculated stance. Merkel remained silent and did not address Trump's criticism at the time.
Her pragmatic political style is in stark contrast to the approach taken by Trump, who has been described by German media as an "unsophisticated yet self-absorbed political neophyte."
"The German chancellor is known for her ability not to spontaneously react emotionally to provocation and to choose a very moderate tone, even when critical situations occur," said Daniela Schwarzer, director of the German Council on Foreign Relations, a think tank in Berlin.
Merkel has also taken that approach in the past with other leaders such as Putin and Turkey's Recep Tayyip Erdogan.
"But, I think she has to prepare for a more confrontational style," Schwarzer added, saying that Merkel will have to "offer something to the United States, but also take clear positions on what European expectations are."
Trump and Merkel's first phone conversation was described as "cordial."
In a joint statement following the January call, the two leaders stressed the "NATO alliance's fundamental importance," adding that they would "work to stabilize conflict areas in the Middle East and North Africa." Both sides also vowed to cooperate closely on combating terrorism.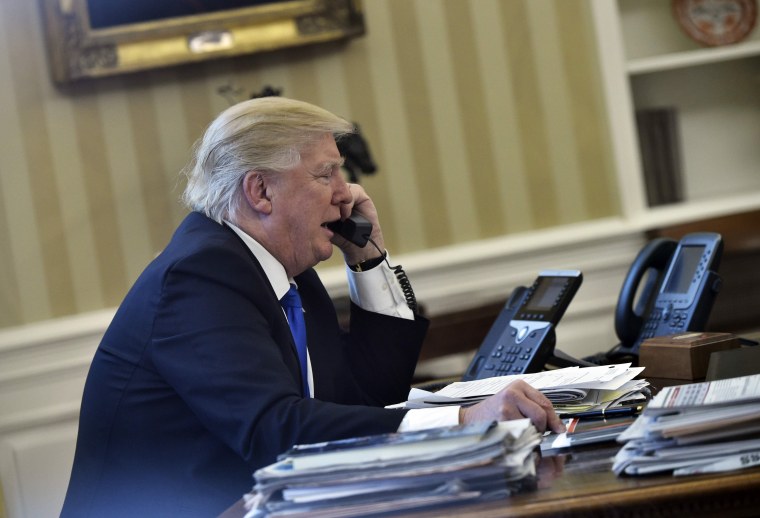 But since then, Merkel has used public appearances to hit out at some of Trump's policies and remarks.
The German leader strongly criticized Trump's entry ban for citizens of seven predominantly Muslim countries and countered Trump's Twitter message in which he called the mainstream press the "enemy of the American people."
"I stand by a free and independent press and have great respect for journalists," Merkel said in a speech during this year's Munich Security Conference, which included Vice President Mike Pence in the audience.
Merkel added that she sees press freedom as a pillar of democracy and that Germany had always done well "with mutual respect for each other."
Mutual respect is also what Merkel is hoping to establish with the new U.S. administration and especially with Trump.
"Most important is that she succeeds in making clear that differences of opinion can be spoken on the basis of partnership, but not out of confrontation," Juergen Hardt, the German government's coordinator for trans-Atlantic relations, told German news agency dpa.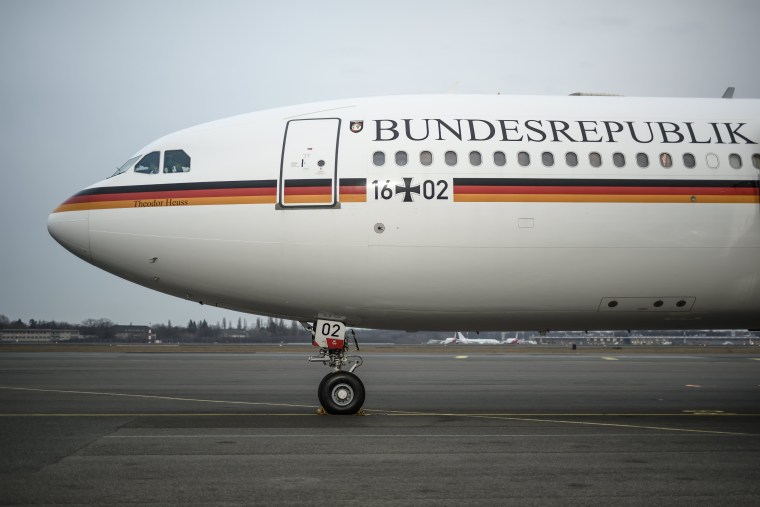 Trump and Merkel's agenda includes a wide range of topics: international relations and security, including NATO; Russia's behavior related to Ukraine; the situation in the Middle East; the fight against ISIS; Afghanistan; North Korea; the European Union as a trade and security partner; the United Nations; and climate policies.
But officials in Berlin noted that time constraints mean it is unlikely that all topics can be addressed.
Because Trump has repeatedly indicated that the U.S. will focus on an "America First" trade policy, Merkel, is also expected to highlight the strong benefits of trans-Atlantic trade and to argue that both sides could gain "from even more economic cooperation rather than rolling back trade," Schwarzer said.
Polls suggest Trump is highly unpopular in Germany, where there is growing sentiment that Merkel will have to position herself as a strong defender of Western values.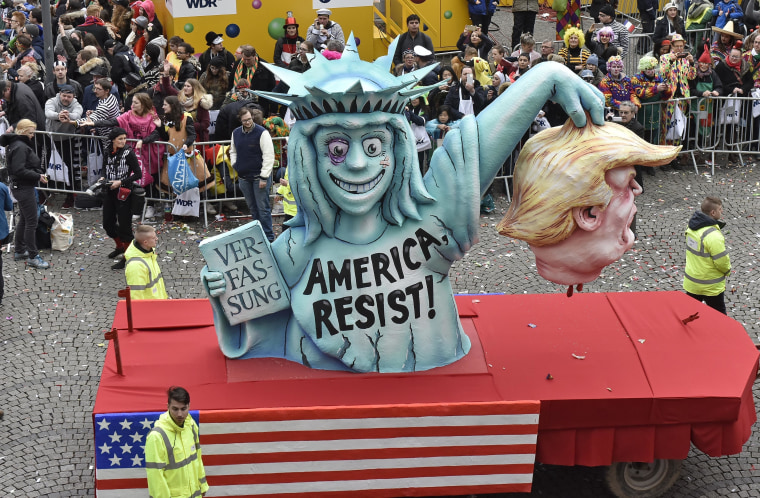 When asked whether the chancellor would comment on Trump's plans for a wall along the border with Mexico, senior German government officials said Merkel — who grew up behind the Iron Curtain in former Communist East Germany — will not address U.S. domestic issues during this trip.
But officials noted that Merkel has been clear and consistent on her views about open borders.
"It is good that the courtesy visit will take place, even if absolutely nothing will come from it," Jan van Aken, the foreign policy spokesman of Germany's far-left Die Linke party told Bild newspaper.
Merkel has to make clear to Trump that "a world with walls, is a world of the last century," Aken said.