It looked like a major victory for populists and a blow for traditional liberals.
But Angela Merkel's decision to leave politics, by first quitting as head of her party and then later as Germany's leader, might not be such great news for Europe's ascendant fringe movements.
The chancellor has become chief antagonist for many on the populist right, largely because of her decision to relax Germany's borders and admit more than 1 million refugees and migrants in 2015.
It was this divisive policy that proved to be political jet fuel for the anti-immigrant, anti-establishment Alternative for Germany (AfD) party, which last year became the third largest in Parliament by winning almost 13 percent of the vote.
After a series of bruising electoral losses, Merkel announced last month that she would stand down as leader of her Christian Democratic Union (CDU) party in December, and as chancellor in 2021. Political instability may force her into a quicker departure.
Once she is gone, experts say, populists will lose a useful arch-villain in their anti-establishment narrative. That could make it tougher for parties such as the AfD to craft a potent message for voters.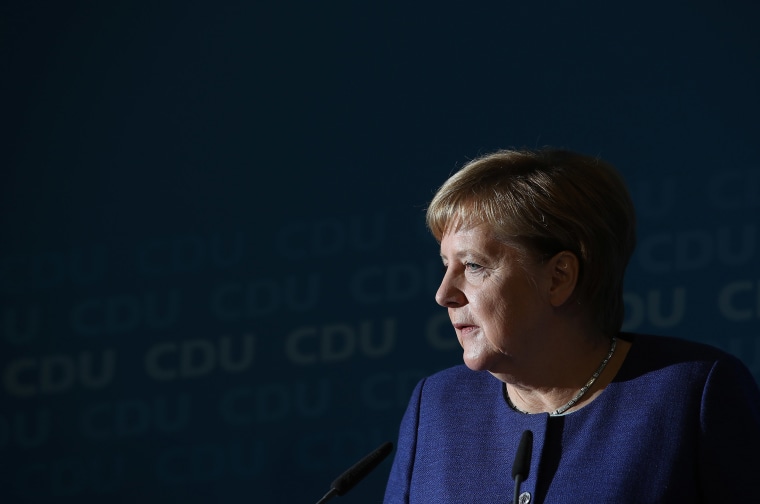 "For all populists around Europe, Germany included, Merkel's departure will be seen as a major victory," said Josef Janning, a senior policy fellow at the European Council on Foreign Relations, a London-based think tank. "But the populists will find that, once she's gone, things are going to get a little more difficult."
Populism pits ordinary people against a self-interested political and intellectual elite. Merkel, the unofficial figurehead of Europe's wealthiest government, has the perfect blend of character traits to be cast as the adversary in this equation.
"Merkel has indeed been a useful, clear target," said Josefin Graef, a postdoctoral fellow at the Dahrendorf Forum research initiative. "But ultimately she is a placeholder for a role that needs to be filled in populist politics: the 'establishment' that the AfD seeks to fight."
Merkel has ruled her party since 2000 and Germany since 2005, winning four terms and dominating European politics in the process.
Her nonflashy leadership style is the antithesis of the larger-than-life personalities, like President Donald Trump, that have emerged in recent years. She has also received significant criticism, even from some usually pro-immigration quarters, about her perceived mishandling of Germany's borders.
In direct opposition to Merkel, the AfD has been able to craft its anti-establishment message.
When she steps aside, that movement "will lose her as a 'target' for their specific way of political campaigning," Graef said. The populists "will find it difficult to 'replace' her and will need to diversify their anti-establishment strategy, which is the core of their success."
Whether Merkel's departure frustrates the AfD largely depends on who is chosen as her successor at the party's congress next month.
"The AfD has publicly acknowledged that their future success will depend on who will succeed Merkel, and what policy changes this may imply," Graef said.
For many observers, Merkel has already stolen a march on her rivals by jumping before she was pushed.
Much is uncertain about how, by staying on as chancellor, she might work with the new leader of her party while holding together the country's ruling coalition. Some argue that, by trying to stay until 2021, she at least has a chance to steward the transition into a new era.
Three candidates for the CDU leadership have emerged so far.
Annegret Kramp-Karrenbauer, 56, was chosen by Merkel as the party's general secretary earlier this year, and appears to be the chancellor's choice. Jens Spahn, 38, currently the health minister, represents the party's more conservative wing.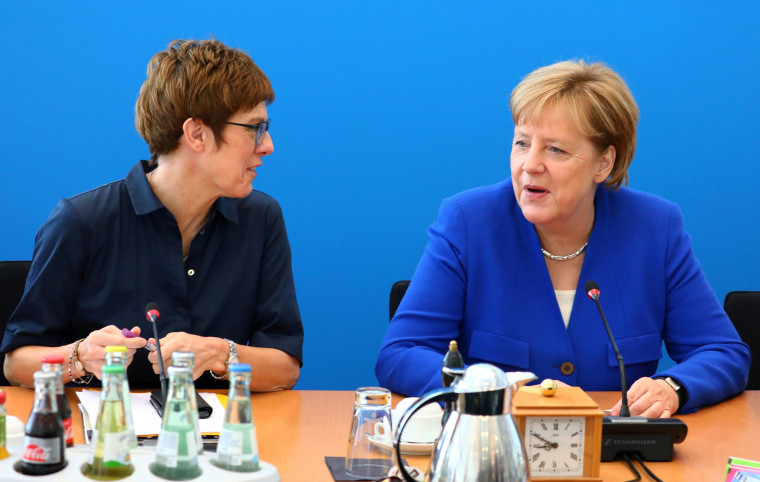 Friedrich Merz, 62, is a rival of Merkel's who recently returned to politics and has described immigration as Germany's greatest challenge.
Each candidate has strengths and weaknesses when it comes to countering the AfD.
Kramp-Karrenbauer — or AKK as she's known — is an experienced political operator but could be tarred with the same brush as Merkel if she is cast too often as the chancellor's preferred heir.
If either Merz or Spahn take charge, they might steer the CDU to the right, occupying some of the AfD's political territory. However, an attempt by Merkel's Bavarian sister party, the Christian Social Union, to outflank the AfD on immigration spectacularly failed during October's state elections. There are also concerns that parroting AfD policy on immigration would amount to capitulation.
There are some tactics the AfD might deploy against Merkel's successor, according to Graef. These include focusing more on specific policy areas rather than personalities, or ramping up the message that the mainstream parties are too similar.
But whoever takes over, they are unlikely to be as synonymous as Merkel is with a pro-immigration policy that has so bitterly divided Europe's largest economy.
"On the one hand, Merkel is a symbol, especially regarding the refugee policy here in Germany," according to Stefan Wurster, a professor at the Bavarian School of Public Policy at Munich's Technical University.
"For the far-right, especially for the AfD, it becomes more difficult to hold this topic in the public arena and also to polarize opinion without the help of this specific person," he said. "But of course, on the other hand, the question is, if Merkel is no longer in office, it depends who is coming next, and what policy the conservatives will have in the coming years."