MAINZ, Germany — German Chancellor Angela Merkel looked pale and tired when she arrived at the EU summit in Brussels on Thursday, but still greeted the waiting press with a friendly smile.
The 60-year old politician was facing tough negotiations with Greece over the country's bailout package and had just flown in from Belarus, where Merkel had been engaged in complicated 17-hour overnight negotiations for a Ukraine cease-fire.
Media outlets in Germany were in awe.
Die Welt newspaper heralded "Merkel's unbelievable marathon program," and news agency dpa described "Merkel's diplomatic week between war and peace" and illustrated her tiring itinerary in a graphic.
Over the course of only one week, the German leader had traveled to Kiev (Thursday), back to Berlin (Friday), then for talks with Russian President Vladimir Putin to Moscow (Friday) before heading to the Munich Security Conference on Saturday. The visit to the Bavarian capital was only an interim stop before heading over the Atlantic to Washington, D.C., (Sunday) for negotiations with President Barack Obama on Monday. Her meeting schedule was kept tight, so that she could include a trip to Ottawa, Canada, that same day, ahead of an evening flight back to Berlin.
But that wasn't enough: On Wednesday, Merkel attended a commemoration ceremony for former German president Richard von Weizsaecker before heading out to Minsk, Belarus, where all-night diplomacy left her without sleep.
In a rare interview about her private life in 2013, Merkel was asked whether she needs only four hours of sleep. "No," the chancellor replied. "But I have a certain camel-like quality. I have a certain storage capacity. But then I have to recharge again."
In an attempt to explain the mystery surrounding Merkel's endurance, Die Welt newspaper wrote that "Merkel's fitness secret has been known for years and is very simple: There is none."
German weekly magazine FOCUS estimated that Merkel traveled nearly 12,500 miles in the past week, describing "Europe's most powerful woman" as being of a "robust nature."
Her "power of concentration rises with the challenges," the magazine quoted a unnamed member of her circle as saying.
"If you promise to not tell Mrs. Merkel, I will admit that sometimes after a trip with her, when I awake from my coma back home, I wake up and see her on the news, already in another town and a different time zone, wondering, 'how does she pull that off?" Thomas Walde, deputy Berlin bureau chief for German public broadcaster ZDF, told NBC News.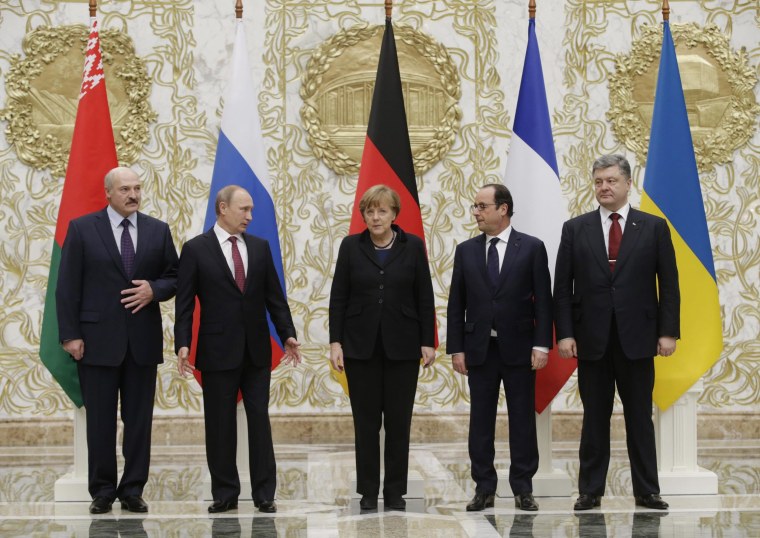 Walde, who often travels with the chancellor on foreign assignments, says that Merkel's trips are usually scheduled to avoid any appearance of downtime or leisure activities and have included "going to the U.S. or China and returning the next day."
Walde added: "She can sleep on the plane, journalists and most of her staff cannot. That does make for some gruesome trips. Sometimes you (well, almost) feel pity for her staff, who you see next to her, fighting to stay awake."
At the beginning of the 2013 question-and-answer session Merkel was asked, "Would you like to talk about 'daily routine' or 'state of emergency'?" After a short pause, the chancellor answered "daily routine," and then added "but sometimes that's identical."