LONDON — When Josephine was raped by a rebel fighter as she collected firewood at a refugee camp in the Democratic Republic of Congo, the trauma of her ordeal was just the beginning of a chain of problems.
She was already five months pregnant, and when her daughter was born, she was ostracized by a community that accused her of having a child of the enemy.
Her isolation and impoverishment remain a disturbingly common tactic of war — one that a major four-day conference this week in London, hosted by actress Angelina Jolie, is determined to snuff out.
Jolie and the British government have convened the conference — drawing political leaders, non-profits and activists — and are drawing much-needed attention to the use of rape as a weapon in conflict.
The Global Summit to End Sexual Violence in Conflict aims to tackle the dark thread that has run through nearly every conflict in history — from the American Civil War through to present-day Syria — and which has claimed hundreds of thousands of women, men and children in the last two decades alone.
"We are trying to do something that has never been done before — to change the entire global attitude towards sexual violence in conflict," said Jolie's co-host, British foreign secretary William Hague. "We want the impact of the summit to be felt around the world, so that far from any court or judge men with guns will think twice before using rape as a weapon of war in the future."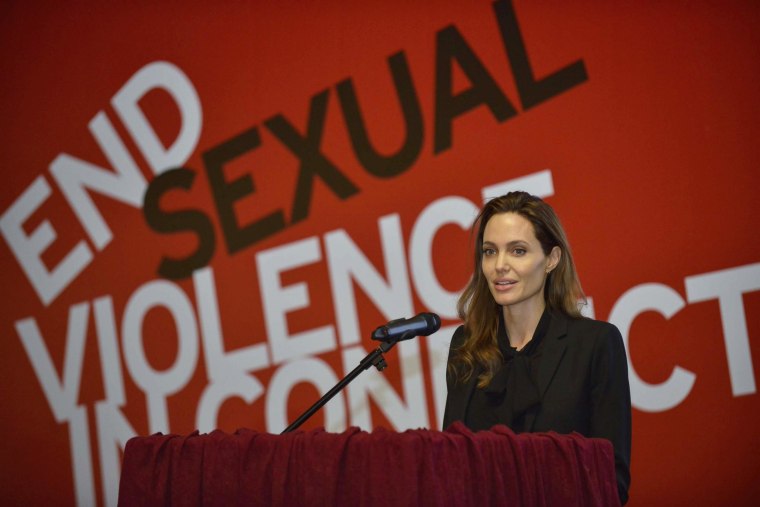 The abduction of more than 200 girls from a Nigerian school in March — by Islamic extremists angry at western education — is a reminder that the problem often has its roots in social attitudes to women.
That was underscored Thursday when a senior minister in India, commenting on yet another gut-wrenching case of gang rape in that country, said of sexual assault: "Sometimes it's right, sometimes it's wrong."
Jolie's presence will add star power to the summit, but is far from a fleeting celebrity endorsement. As a U.N. Goodwill Ambassador for Refugees since 2001, and special envoy since 2012, she has made more than 40 field trips around the world, including a recent visit to Bosnia where she was moved to tears by stories from its recent past, to shed light on the plight of women and children in conflict.
One of the biggest hurdles to eradicating the use of rape as a weapon appears to be ending what UNICEF calls a "culture of impunity," in which acts of collectivized depravity take place on a scale so vast that identifying and prosecuting individuals is almost impossible.
Tuesday's summit will be used to launch a new protocol to standardize the investigation and documentation of sex crimes in war zones, a practical tool to help secure evidence and witness reports that are robust enough to be used in court.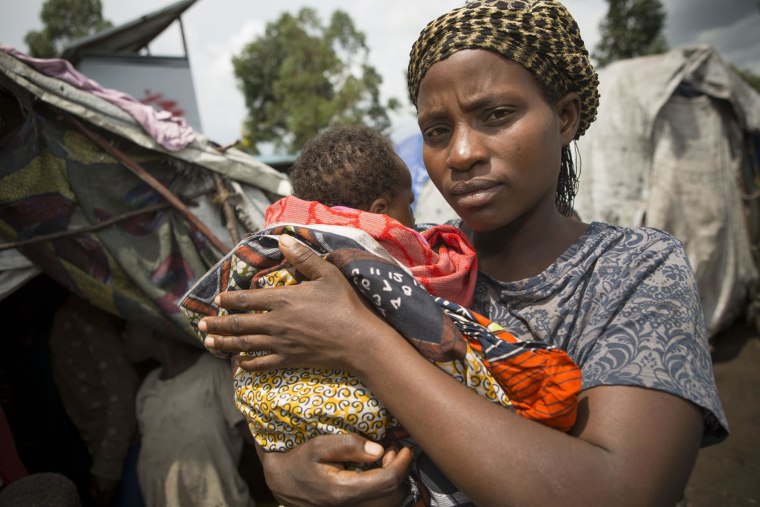 Delegates will be reminded that the problem is not limited to tribal conflict or in areas with limited education.
The scale of the violence is staggering.
In the space of just three years, up to 60,000 women were raped in the former Yugoslavia's conflict of the early 1990s, according to United Nations estimates.
In Syria, more than 38,000 people appealed to the U.N. Nations Population Fund for help after sexual assault or other gender-based violence during 2013, the agency said.
U.N. agencies estimate that more than 60,000 women were raped during the civil war in Sierra Leone (1991-2002), more than 40,000 in Liberia (1989-2003), between 100,000 and 250,000 in Rwanda during the three months of genocide in 1994 and at least 200,000 in the Democratic Republic of the Congo since 1998.
"It is a problem in almost every war — whether the conflict is based on ethnicity or religion, it's always there for one reason or another," said Lauren Wolfe, director of Women Under Siege, a journalism project at the Women's Media Center on sexualized violence in conflict, and an advisory committee member for the International Campaign to Stop Rape & Gender Violence in Conflict.
"In Syria, rape is present because it is an effective tool. It is culturally so powerful, an easy way to make a statement … to humiliate your enemy in a culture where the purity of women is so sanctified."
While most of the attacks are against women, men and children are not immune to the violence.
A U.N. survey in eastern Congo found that 15 percent of male respondents had been victims of sexual violence in the conflict. Wolfe's innovative crowdsourcing project documenting war zone sex attacks in Syria has counted almost 90 incidents against men and boys.
A recent UNICEF report said approximately 1,100 rapes are reported each month in Congo, with an average of 36 women and girls raped every day.
"Horrifyingly, on a visit to the DRC last year, the special representative on sexual violence in conflict found that children as young as six months old have been victims of rape by armed groups," the report said.
"Children as young as six months old have been victims of rape"
Wolfe believes the problem is getting neither better nor worse, but is an endemic and under-reported feature of war right through history.
In the American Civil War, military courts prosecuted at least 450 cases involving sexual crimes, according to recent research by Crystal N. Feimster, an assistant professor at Yale.
Little has changed because there is "often no incentive for anyone to report sexual violence," Wolfe said. "Most victims cannot expect support or to see a prosecution. The most likely outcome would be stigma, even within families."
Another difficulty in quantifying cases is that the victims are often the only witness.
"When it comes to sexualized violence in Syria, 20 percent of the female victims are dead," Wolfe added.
For those who survive such atrocities around the world, there is often no help. A lucky few can get assistance from peacekeepers or non-profits such as CARE International, which helped Josephine in the DRC and shared her story with NBC News.
Its current campaign aims to shift global attitudes to women, teaching boys and young men to challenge stereotypes surrounding what it means to "be a man."
In an opinion article in London's Sunday Times, Hague outlined two of the practical steps that the summit hopes to achieve in light of cases such as Josephine's.
"We will ask countries to bring their laws on rape and sexual violence into line with international standards," Hague wrote. "We will call for all soldiers and peacekeepers to be trained to understand and prevent war-zone sexual violence.
"Simple measures, from installing lighting in refugee camps to accompanying women collecting firewood, can dramatically reduce the number of attacks, and we want these basic protections to become universal."