How badly is Mitt Romney's trip to the UK going? After this morning's difficulties, which were bad enough, the Republican presidential hopeful caused more trouble by acknowledging a discussion he had about Syria with MI6 -- which he really wasn't supposed to talk about.
Actually, let me ask that initial question again: how badly is Mitt Romney's trip to the UK going? This tweet comes by way of James Chapman, the political editor of the UK's Daily Mail: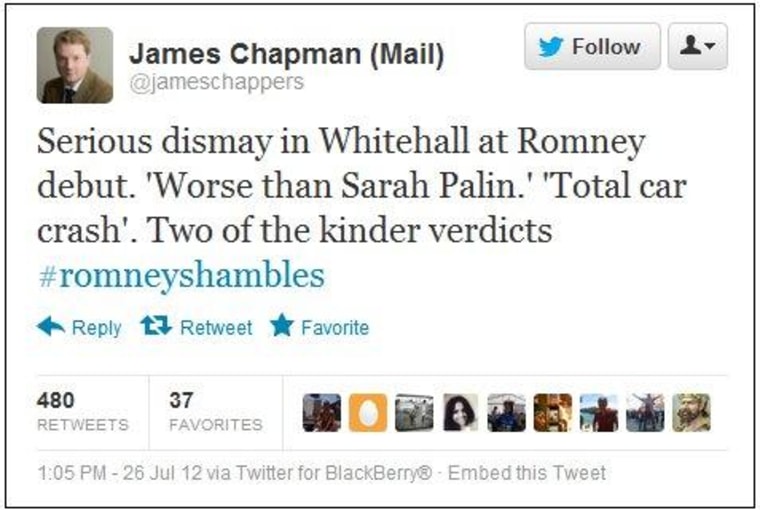 Chapman soon after quoted another British source that said, after meeting Romney, that he's "devoid of charm, warmth, humour or sincerity."
How badly is Mitt Romney's trip to the UK going? London Mayor Boris Johnson, a conservative, openly mocked Romney today at a rally in Hyde Park in front of 60,000 people. The same paper ran a report calling the start of Romney's trip "humiliating."
Romney hoped this trip would make him look like a leader ready for the global stage. So far, it's making him look like he's nowhere near ready to sit at the big kids' table.
The next question, though, is whether any of this matters, at least in a domestic/electoral context.
There's a reasonable case to be made that this apparent debacle won't move a single American vote. Indeed, for many on the right, this might very well be a badge of honor -- if Romney is being mocked in the UK, they assume, he's probably doing something right.
But there's just one angle to this that's nagging me: I've long perceived Romney as a hapless rookie who pretends to be ready for the major leagues, and a successful international trip is supposed to be one of the ways in which he can prove someone like me wrong. Ostensibly, Romney can travel abroad -- taking advantage of his Anglo Saxon roots? -- and prove to Americans that he commands respect. He can be an effective leader of the free world, the argument goes, because international audiences will take him seriously.
How's that argument working out?