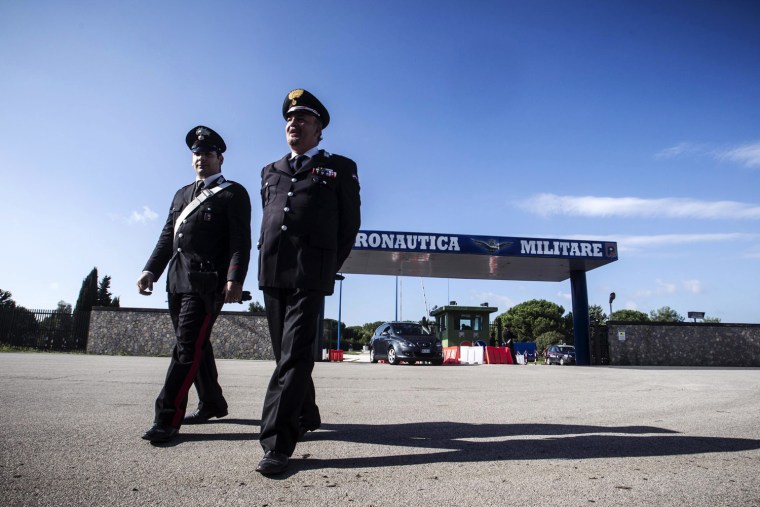 The body of a convicted Nazi murderer was transferred to an Italian military airport Wednesday as authorities across three countries continued to refuse custody of his remains.
SS captain Erich Priebke died while serving a life sentence for his part in the massacre of 335 people in 1944. Aged 100 and under house arrest at the time of his death, Priebke fully admitted his crimes and never apologized.
What to do with the body, however, has become an issue of international dispute.  
Officials in Rome, Argentina and his hometown in Germany have rejected the idea he could be buried there because of fears his grave could become a neo-Nazi shrine.
The situation was made more unclear Wednesday after angry protests at his funeral by both pro and anti-Nazi groups meant the service had to be canceled and his body transported to the Pratica di Mare military base outside Rome.
With Italian authorities officially responsible for Priebke, Rome's mayor Ignazio Marino has said he may turn to Germany for help. However, officials in Hennigsdorf, the German town where Priebke was born, have already rejected the idea he could be buried there.
Priebke's lawyer Paolo Giachini said the Italian authorities have left themselves in an impossible situation over what is turning out to be a body that nobody wants.
"They have made a problem which they cannot now solve," Giachini told NBC News through a translator. "I just wanted to hold a normal funeral and a normal burial and it would be finished, but the Italian authorities would not allow that."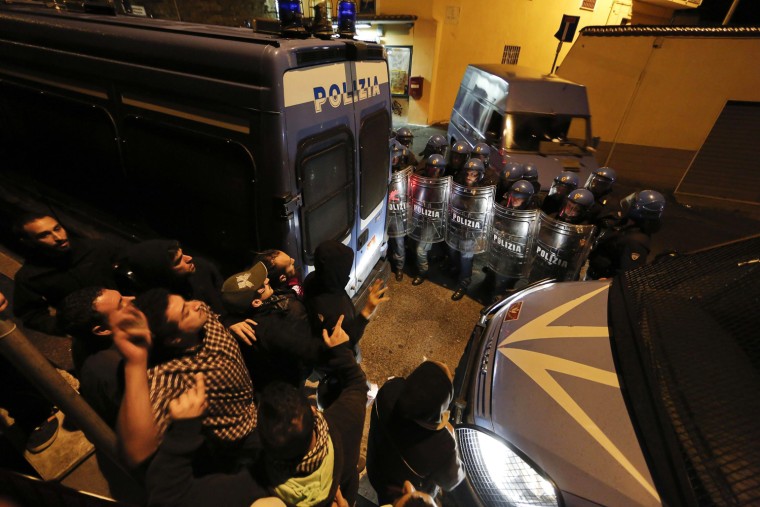 Giachini had called for a regular Mass for Priebke, despite authorities saying the funeral should be held in strict secrecy.
It appeared no church was prepared to handle Priebke's service until a controversial Catholic fringe group, the Society of St. Pius X (SSPX), stepped forward.
The SSPX, which faced controversy when former Bishop Richard Williamson publicly denied the Holocaust, said that every baptized Christian had the right to a proper burial "no matter what his sins," according to a Reuters report.
Local mayor Nicola Marini tried to ban the funeral, but Italian media said this was overruled by the local police chief.
Scores of protesters lined the SSPX headquarters in Albano Laziale, near Rome, Tuesday. Riot police struggled to contain the crowds -- for and against Priebke -- some of whom shouted "Executioner! Executioner!" and kicked the hearse.
Giachini was forced to cancel the service.
He told NBC News he will have nothing more to do with the arrangements for Priebke's body because of what he called negligence by the Italian authorities.
He said the Italian authorities, having voiced opposition to Priebke's funeral and burial, allowed the violent protesters to get out of hand.
"The authorities allowed the protesters to do really, really bad things," he said. "Now the body is at a military airport and it is the problem of the Italian authorities, not mine."
While Roman officials are said to be reaching out to Germany, a spokeswoman from the German Foreign Ministry told NBC News they had no formal request to bury Priebke.
"The body is the responsibility of the Italian authorities," the spokesman said. "We have had contact from Italy regarding the matter, but there has been no formal request."
Asked what Germany's position was regarding a potential burial, the spokeswoman said: "We cannot say what our position will be before we have been asked the question."
Reuters contributed to this report.
Related: