ISTANBUL, Turkey — At least 95 people were killed in twin explosions Saturday outside the main train station in the Turkish capital Ankara where protesters were gathering for a peace march, the government said.
Graphic pictures from the scene showed several bodies covered by flags and placards, with bloodstains visible and body parts scattered in the road. Officials said 248 people were hurt, 48 of them seriously.
There was no immediate claim of responsibility for the attacks, Turkey's deadliest in years. Prime Minister Ahmet Davutoglu said there were "strong signs" that they were suicide bombings, The Associated Press reported.
Hours after the attacks, a ban was imposed in Turkey on broadcasting images which directly showed the bomb blasts. A government spokesman warned media organizations that they could be subject to a "full blackout" if they didn't comply.
The peace rally had attracted busloads of leftist and Kurdish activists, who came to Ankara from other cities to join in.
"There was a demonstration," one eyewitness told local television. "I was walking next to a stage rally truck. Right here, behind two banners, an explosion went off. We lay on the ground. The second bomb went off there. There were two bombs but the one that went off here was a very strong one."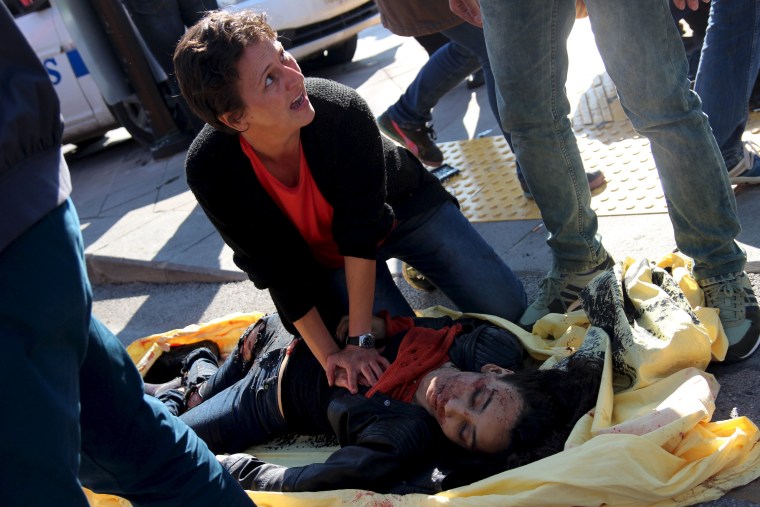 Images: Explosions Rip Through Peace Rally in Turkey
One local reporter said hospitals in the area had appealed for blood donors as they treated a number of seriously wounded patients.
"I heard one big explosion first and tried to cover myself as the windows broke. Right away there was the second one," said Serdar, 37, who was working at a newspaper stand in the station. "There was shouting and crying and I stayed under the newspapers for a while. I could smell burnt flesh."
In the chaotic aftermath of the blasts, the death toll continued to climb. Health minister Mehmet Muezinoglu said 62 people died at the scene while 24 others died after being taken to the hospital. Saturday night, the Turkish government raised the death toll to 95.
The blasts came ahead of a planned political rally by labor unions and aid groups protesting the country's conflict with Kurdish militants in southeast Turkey.
Footage showed a line of young men and women holding hands and dancing, and then flinching as a large explosion flashed behind them, where people were gathered carrying pro-Kurdish HDP and leftist party banners.
President Recep Tayyip Erdogan condemned the attacks, which came during a tense time ahead of Turkey's Nov. 1 general election.
"The greatest and most meaningful response to this attack is the solidarity and determination we will show against it," Erdogan said.
President Obama called Erdogan Saturday to offer condolences.
"The President conveyed his deepest personal sympathies for those killed and injured in these heinous attacks, and affirmed that the American people stand in solidarity with the people of Turkey in the fight against terrorism and shared security challenges in the region," The White House said.
The U.S. State Department urged "all Turkish citizens recommit to peace and stand together against terror."
In recent months, Turkish jets have carried out deadly airstrikes on Kurdish rebels in Iraq, renewing the conflict with the Kurdistan Workers' Party.
Kurdish rebels declared a temporary cease-fire hours after Saturday's attack.
National Security Council spokesman Ned Price called it a "horrific terrorist attack" and said the U.S. stood with the Turkish government and people.
"The fact that this attack occurred ahead of a planned rally for peace underscores the depravity of those behind it and serves as another reminder of the need to confront shared security challenges in the region," he said. "We offer our deepest condolences to the families and other loved ones of the victims."
About a thousand people, mostly Kurds, held an impromptu rally in Paris Saturday evening to show support for the victims, the AP reported. French President Francois Hollande offered his condolences to the Turkish people.
German Chancellor Angela Merkel called the attacks "particularly cowardly acts that were aimed directly at civil rights, democracy and peace."