ROME — Anne Frank's diary will be read aloud at all soccer matches in Italy this week, the Italian soccer federation announced Tuesday after shocking displays of anti-Semitism by fans of the Rome club Lazio.
Lazio supporters on Sunday littered the Stadio Olimpico in Rome with images of Anne Frank, the young diarist who died in the Holocaust, wearing a jersey of city rival Roma. Lazio's "ultras" — hard-core right-wing fans who associate their Roma counterparts with being left-wing and Jewish — had hoped to incite Roma fans, because the teams share the stadium.
Stadium cleaners found the anti-Semitic stickers on Monday, and Italian police have opened a criminal inquiry.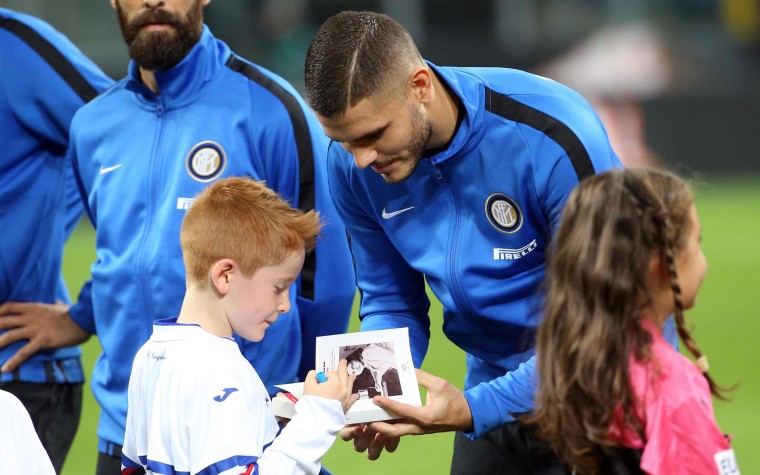 The Anne Frank diary passage reading will be combined with a minute of silence observed before Serie A, B and C matches in Italy this week, plus amateur and youth games over the weekend, to promote Holocaust remembrance, the soccer federation said.
Racism has been widespread for years in many Italian and European stadiums — targeting both players and fans — and measures like banning fans and forcing teams to play behind closed doors haven't solved the problem.
Outrage over the stickers came from a wide variety of officials and rights groups across Europe, from both inside and outside the world of sports.
"Anne Frank doesn't represent a people or an ethnic group. We are all Anne Frank when faced with the unthinkable," Italian Foreign Minister Angelino Alfano said. "What has happened is inconceivable."
Italian Premier Paolo Gentiloni called the stickers "unbelievable, unacceptable and not to be minimized."
The Italian soccer federation will likely open an investigation, which could result in the team's having to play in an empty stadium or being forced to play on a neutral ground.
Lazio's ultra group expressed surprise at the widespread outrage.
"There are other cases that we feel should lead the newscasts and fill newspaper pages," the group said in a statement on Facebook.
Lazio President Claudio Lotito sought Tuesday to disassociate the club from its ultras by visiting Rome's main synagogue. He said the club would intensify its efforts to combat racism and anti-Semitism and would organize an annual trip to the Auschwitz concentration camp to educate young Lazio fans "not to forget."
Still, the club's relations with Rome's Jewish community remain strained.
"We are outraged by what happened in the stadium a few days ago. But we are also outraged by what happens every week in the stadiums," Ruth Dureghello, the president of Rome's Jewish community, told The Associated Press.
Lazio fans have a long history of racism and anti-Semitism.
In the past, a Lazio banner nearly 20 years ago aimed at Roma supporters read: "Auschwitz Is Your Homeland; The Ovens Are Your Homes." Another message honored the slain Serbian paramilitary leader Arkan, who was notorious for alleged war crimes in the 1990s Balkans wars.
But racism and anti-Semitism have also been seen at other European soccer clubs, highlighting the ineffectiveness of campaigns by soccer bodies all the way up to UEFA and FIFA, the European and world organizations.