ROME — Italian Prime Minister Matteo Renzi promised Sunday to rebuild after the most powerful earthquake to strike the country in 36 years toppled ancient buildings and left thousands of people seeking assistance and preparing for aftershocks.
Some injuries were reported, but no deaths had been linked to the 6.6-magnitude quake, which struck northeast of Rome at 7:40 a.m. (2:40 a.m. ET).
"We will rebuild everything — the houses, the churches, the shops," Renzi said at a news conference Sunday, according to The Associated Press. "We are dealing [with] marvelous territories, territories of beauty."
The jolt rattled a country still recovering from a pair of quakes Wednesday and from August's temblor that left almost 300 dead. Seismologists in Italy and Britain told the AP that more could be on the way.
"We cannot exclude the possibility of larger magnitude aftershocks," Margarita Segou of the British Geological Survey said, citing a series of quakes in Japan earlier this year.
On Sunday morning, nuns rushed out of their church in the central town of Norcia as the clock tower appeared about to crumble In Rieti, hospital patients fled into the street and and huddled outside under blankets.
Related: Another Powerful Quake Hits Italy: Why Did No One Die?
The U.S. Geological Survey initially measured the quake at 7.1 but revised it to 6.6. The European-Mediterranean Seismological Center put the magnitude at 6.6 or 6.5, with an epicenter about 100 miles northeast of Rome.
The country's civil protection agency said the epicenter was between Macerata and Perugia, close to the towns of Castelsantangelo, Norcia and Preci, which were most affected by Wednesday's quakes.
Monks in Norcia, who have been raising money to fix up their centuries-old monastery by brewing their own beer, said the building — weakened by recent temblors — had finally been destroyed in Sunday's quake.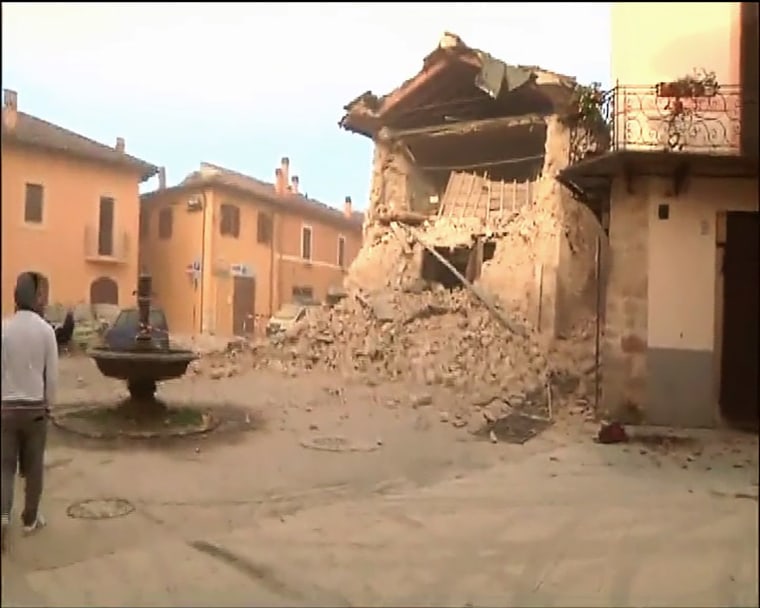 "It's as if the whole city fell down," Norcia city assessor Giuseppina Perla told the news agency ANSA. The city's ancient walls suffered damage, as did another famous Norcia church, St. Mary Argentea, known for its 15th-century frescoes.
The mayor of Ussita said 90 percent of houses in the town had been destroyed, La Repubblica reported.
Many residents in affected areas still were sleeping in cars or had been evacuated to shelters or hotels in other areas following last week's jolts, leaving the most quake-prone historic centers largely empty.
Still, nearly 8,000 people from the region had sought help from the civilian protection agency by Sunday night, the AP reported, and 3,000 more were expected to ask for assistance overnight.
In Rome, cracks appeared and bits of the ceiling fell in the Basilica San Paolo, a historic church and major tourist draw, ANSA reported.
"It is since 1980 that we have had to deal with an earthquake of this magnitude," said Fabrizio Curcio, head of the civil protection agency.
Curcio was referring to a 6.9-magnitude quake in a different region that includes Naples, which killed 3,000 people and caused extensive damage in November 1980.
Alastair Jamieson reported from London.