LONDON — She hasn't been intimidated by ISIS, but President Donald Trump's immigration ban is another matter entirely.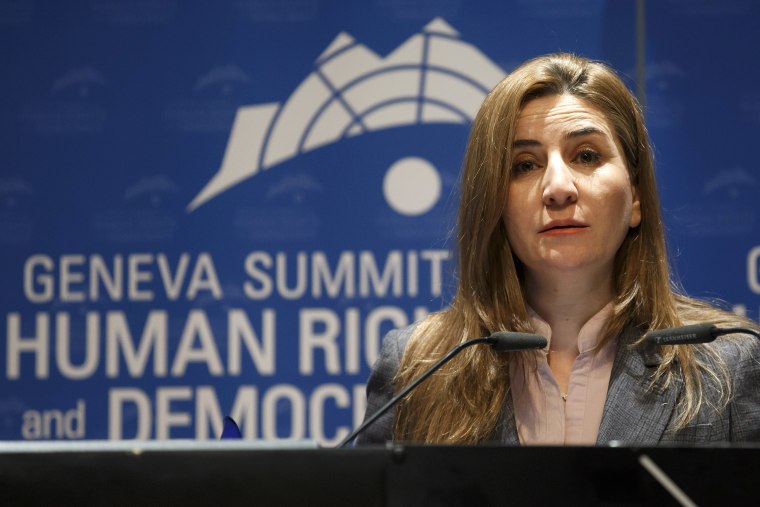 Vian Dakhil, an Iraqi lawmaker and internationally renowned activist who has been called the militant group's "most wanted" woman, was due to travel to Washington, D.C., next week to collect a human rights award.
The prize was honoring her work on behalf of the Yazidi people who have been targeted by ISIS.
But Trump's executive order banning all Iraqis from entering the U.S. for 90 days means that she won't be traveling to the U.S. for the ceremony.
"I have a visa, but it's not clear to me that I will be able to go," Dakhil told NBC News by phone from Baghdad on Tuesday. "I'm afraid someone in the airport in the U.S. will tell me, 'No,' and that I can't enter."
"Not all Arab people are terrorists"
Dakhil said that both the foundation honoring her and the State Department are working to ensure her safe passage to the U.S., but she hasn't gotten any concrete answers yet.
"We will try maybe to find a solution, but for now, I'm staying in Iraq," Dakhil said.
Dakhil is the recipient of the highest award offered by the Lantos Foundation for Human Rights and Justice — the Lantos Human Rights Prize for 2016.
Related: ISIS Sells Women 'for Just $10, or 10 Cigarettes'
She is being recognized for "her courageous defense of the Yazidi people as they faced mass genocide two years ago at the hands of the [ISIS] and for her ongoing rescue mission on behalf of enslaved Yazidi women," according to the foundation's website.
The Yazidi people are part of an ancient religious minority who are particularly reviled by ISIS. They were driven from their historic homeland on Mount Sinjar in August 2014.
At the time, the militants captured thousands of women and children — more than 2,000 of them are still believed to be enslaved by ISIS.
During the ISIS onslaught in 2014, Dakhil made an unrehearsed, tear-filled plea to save her people.
Video of her emotional appeal went viral and caught the world's attention.
Three days after her impassioned speech, President Barack Obama authorized targeted airstrikes in Iraq and a humanitarian effort to help save some of the Yazidi civilians targeted by ISIS.
The prize she is due to receive on Feb. 8 honors the legacy of the late Congressman Tom Lantos, the only Holocaust survivor elected to the U.S. Congress. Previous recipients include the Dalai Lama and Israeli President Shimon Peres.
Dakhil is the only Yazidi lawmaker in the Iraqi parliament. When not advocating for her people in Baghdad, she spends time in Irbil working to secure the release of women and girls captured by ISIS.
Trump's executive order announced on Jan. 27 bars U.S. entry to refugees from anywhere in the world for 120 days and from Syria indefinitely. It also blocks visitors for the next 90 days from seven countries: Iraq, Iran, Libya, Somalia, Sudan, Syria and Yemen.
Asked how she feels about Trump's immigration ban, Dakhil replied: "I feel very bad. Not because I can't go and receive this award. I feel bad because Trump's decision does not distinguish between victims, regular people and terrorists … Not all Arab people are terrorists."