LONDON — Britain's Labour Party is riding high in the polls, but some of its most loyal members find themselves wavering in their support because of what they see as an increase in anti-Semitism that they consider to be linked to the party.
Take Steve, who voted for Labour in every election since coming of age, campaigned for the party many times and helped run his local branch.
Still, the 45-year-old psychologist says his hand hesitated over the ballot as he got ready to vote in the last election in June.
"This was the first time in my life that I've struggled to vote for Labour — I've been a proud member of the party my entire life," said Steve, from the northern town of Derby, who asked that his full name not be used for fear of retaliation in his local party.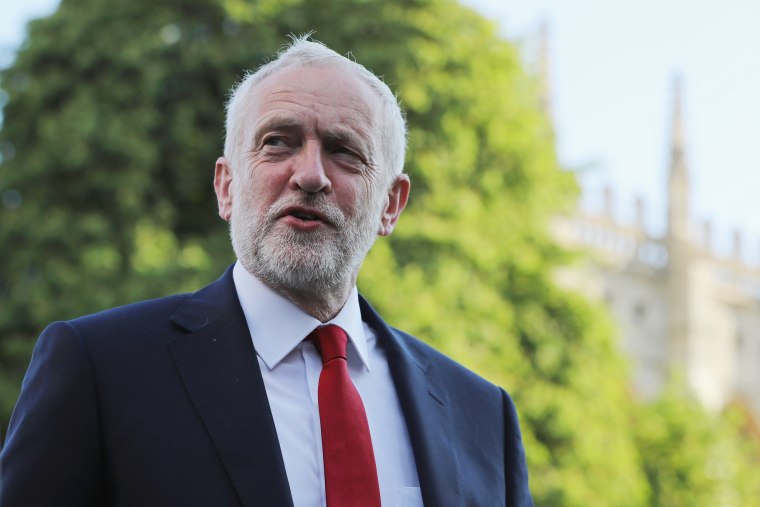 Steve paused before voting for Labour because of what he sees as an increase of anti-Semitism both online and in real life under the leadership of Jeremy Corbyn, a socialist who has seen newfound prestige thanks to his party's better-than-expected results in the summer's national election.
"There are members of my local branch that now won't speak with me because they know I'm Jewish," he said. "This was never the case and only started in the last two years."
Related: U.K. Election 2017: Socialist Jeremy Corbyn Throws British Politics Into Chaos
A survey conducted just before the election by polling company Survation and The Jewish Chronicle newspaper found that Labour held the backing of only 13 percent of British Jews. In recent years, the party has come under criticism for its leader's past ties with anti-Israel groups, and what they say is light discipline of members who have made anti-Semitic comments.
Corbyn's office didn't respond to requests for a comment for this article.
'An occasionally toxic atmosphere'
"There's a certain section of his supporters, not all of them, that really struggle to understand that you can be a Jew and in the party and also support Israel without being a supporter of the right wing," said Hannah, who asked that her name not be used for fear for her safety. "It's black and white to them. If you have any sympathy for Israel, they are triggered and can't control themselves."
Hannah said that since Corbyn became the Labour Party's leader in 2015, she has received "countless" anti-Semitic messages on social media, including a particularly distressing photo of a man with a knife in his back and the caption, "Serves him right, he trusted a k---," using racial slur for someone of Jewish descent.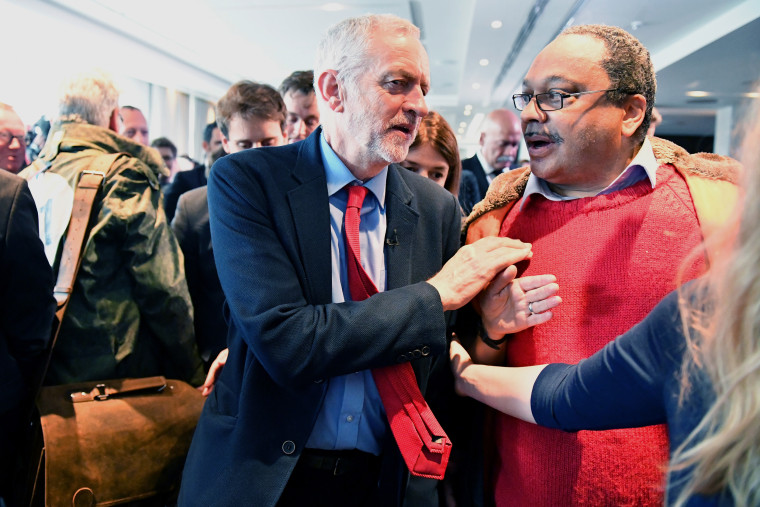 The party itself appears to be taking these fears seriously, commissioning a report into anti-Semitism in April 2016. It found that there was "an occasionally toxic atmosphere" in the party, but that it "is not overrun by anti-Semitism, Islamophobia or other forms of racism."
Yet the concerns are persistent, marking a sharp departure for Labour, which has repeatedly sponsored legislation promoting equality in the U.K., including on pay, gender and religion.
For most of its history, Labour was the most pro-Jewish and pro-Zionist of all the major political parties in the country, according to Daniel Allington, a professor of sociology at Leicester University who researches the rise of anti-Semitism on the left.
However, over the past three years, its leadership has been more critical of Israel's policies, and Corbyn has said that he would immediately recognize a state of Palestine if he became prime minister, which some see as dangerous if it came with no political conditions attached.
Corbyn's controversial 'friends'
Corbyn himself used to be a millstone around the Labour Party's neck — in June 2016, a majority of his own legislators in Parliament passed a motion of no confidence in the vain hope that he would quit.
Now, the opposition leader, who is strongly against nuclear weapons and who believes in the re-nationalization of the railways and other public services, has helped his party overtake the Conservative Party in the polls. The most recent YouGov poll showed an 8-point lead for Labour.
Related: Punks vs. 'Maylennials': Corbyn, May Chase Britain's Youth Vote
In addition to accusations that Corbyn hasn't cracked down hard enough on hostility to Jews, he himself has a mixed history with the Jewish community. Reading through his past comments about Israel — which plays a strong role in the identity of many British Jews — is jarring in comparison to comments by other political leaders, past and present.
At the unveiling of the report into anti-Semitism in the Labour Party, Corbyn seemed to compare Israel to the ISIS terror group, shocking many of his own Labour legislators.
"The Jewish community was seeing [anti-Semitic incidents] as a course of conduct and Labour was seeing it as isolated events"
"Our Jewish friends are no more responsible for the actions of Israel or the [Israeli Prime Minister Benjamin] Netanyahu government than our Muslim friends are for those various self-styled Islamic states or organisations," he said at the event.
A bigger issue for many was Corbyn's invitation to representatives of Hamas and Hezbollah to an event in Parliament in 2009, when he was a rebellious Labour MP and not in the government of Prime Minister Gordon Brown. Both groups are classified by the U.K. and U.S. as terrorist groups, and have repeatedly called for the destruction of the State of Israel.
At the time, he called the groups "friends," while also commenting that they're "dedicated toward the good of the Palestinian people and bringing about long-term peace and social justice and political justice."
After becoming Labour leader he said he regretted calling them "friends."
In addition, his paid appearances before he became leader on Iran-owned Press TV, a station now banned in the U.K., have won him few admirers in the Jewish community.
"I don't believe for a minute that Jeremy Corbyn is an anti-Semite," said Harry Fletcher, a former Corbyn adviser who helped with his 2015 leadership campaign. "It's an institutional thing. It's not conscious. It's mixed up with the left of the party, which has complete antipathy to State of Israel and many would say that it shouldn't exist."
Tumultuous time for party
Corbyn's newfound popularity comes after a tumultuous two years in the party, including the suspensions of high-profile Labour politicians, such as powerful former London Mayor Ken Livingstone.
In April 2016, Livingstone insisted that Adolf Hitler supported Zionism. He was suspended from holding office in the party for two years, angering some who felt the punishment was too lenient and who wanted him expelled.
Related: UK Election 2017: Youth Turnout Hits May, Boosts Corbyn
Meanwhile, in February 2016, the head of the Oxford University Labour Club resigned, describing "poisonous" attitudes among certain members of the club. He recounted members of the executive "throwing around the term 'Zio,'" a slur for Zionists, and a former co-chair saying that "most accusations of anti-Semitism are just the Zionists crying wolf."
A Labour Party investigation into the club found that there had been "some incidents of anti-Semitic behavior."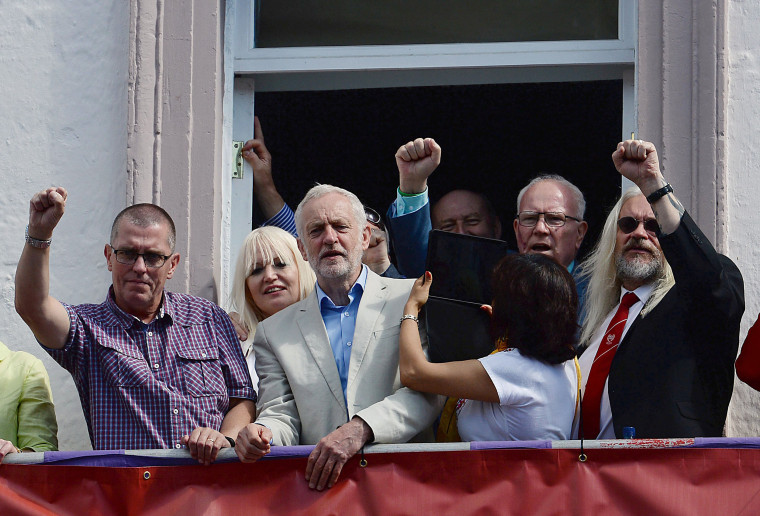 Among those reporting anti-Semitic abuse were several Jewish members of Parliament, including Louise Ellman, who represents Liverpool Riverside. Not long after Corbyn took power, Ellman faced rowdy meetings in her district, with pro-Corbyn party members reportedly making anti-Semitic remarks and attacking her position on Israel.
She said the party is investigating the events.
"There are some individuals engaging in traditional anti-Semitism, such as making references to Jews financing slavery, and others who are anti-Zionist to the degree that they become associated with people who denigrate Jews as a whole," said Ellman on the phone from her office in Parliament.
"Anti-Semitism is of concern, but there are many in the party who are outraged about what's happening," she added.
Influential voting bloc
To understand how extraordinary it is for a particular group to feel alienated from Labour, one must look at the party's history.
Labour has traditionally stood against discrimination and many of its most influential members and vocal supporters have been Jewish. There are scores of former and current Jewish Labour members of Parliament, including former party leader Ed Milliband, who has Jewish heritage, but grew up an atheist.
And while there are only around 250,000 Jews in Britain today, their influence at the ballot box may be significant when no political party has an outright majority in Parliament.
According to an analysis by Allington, the sociology professor, there was a statistical relationship between a constituency's Jewish population and its swing to the Labour candidate in this past election, belying trends in similar areas.
"The higher [an area's] Jewish population, the lower the rise in the Labour vote this election," he said. "If just two seats had gone the other way — with things being so finely balanced — it would have been much harder for the Conservative Party to form a government."
The Conservative Party is eight seats short of a majority in Parliament and needed to secure the agreement of a small party from Northern Ireland to get their governing agenda through Parliament last month.
One of the main problems, according to Fletcher, is that Corbyn acknowledges individual incidents of anti-Semitism but does not see them as part of systemic problem.
"The Jewish community was seeing [anti-Semitic incidents] as a course of conduct and Labour was seeing it as isolated events," said Fletcher. "They saw it as a pattern which led them to conclude that there must be deep-rooted anti-Semitism with Corbyn and the Labour Party, and he saw it as incidents he dealt with."
'A lot more needs to be done'
With Corbyn and his left-wing of the party looking firmly entrenched for the foreseeable future, there does seem to be a desire to find a new working relationship between Labour and the Jewish community.
"Since the election the [inter-Labour] factional fight has died down a bit, and hopefully that will open space for trust, engagement and reconciliation on both sides," said Alex Nunns, author of the upcoming book "The Candidate: Jeremy Corbyn's Improbable Path to Power."
The Jewish Leadership Council, as well as the office of Shadow Minister Dawn Butler, who is responsible for interacting with minority communities on behalf of the Labour Party, declined to comment — noting that while discussions are ongoing they aren't ready to speak publicly yet.
Despite what seems like a public détente between Corbyn, his supporters, and the Jewish community at the moment, Ellman notes there is still a lot of work to do to fight anti-Semitism in the party.
"There is a greater understanding of the nature of the problem," said Ellman. "It's an ongoing issue. It is changing slowly, but a lot more needs to be done."