LONDON — Tens of thousands of protesters assembled in the streets of London on Tuesday against President Donald Trump's state visit to the United Kingdom.
It is the largest of more than two dozen anti-Trump protests planned around the U.K. this week. Trump spent Monday meeting the Queen, insulting London's mayor, and toasting his hosts (without controversy) at a lavish banquet at Buckingham Palace. On Tuesday he met British business leaders and held a joint news conference with Prime Minister Theresa May.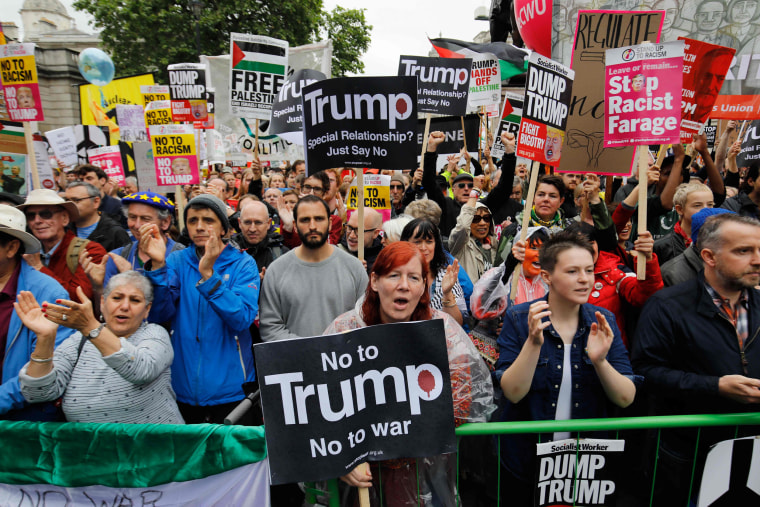 And even if the president doesn't meet any angry protesters, he will almost certainly hear them.
"Let's show him what we think of his divisive, hateful policies," said the Stop Trump Coalition, which is organizing Tuesday's protest. "Trump and his politics aren't welcome in the U.K."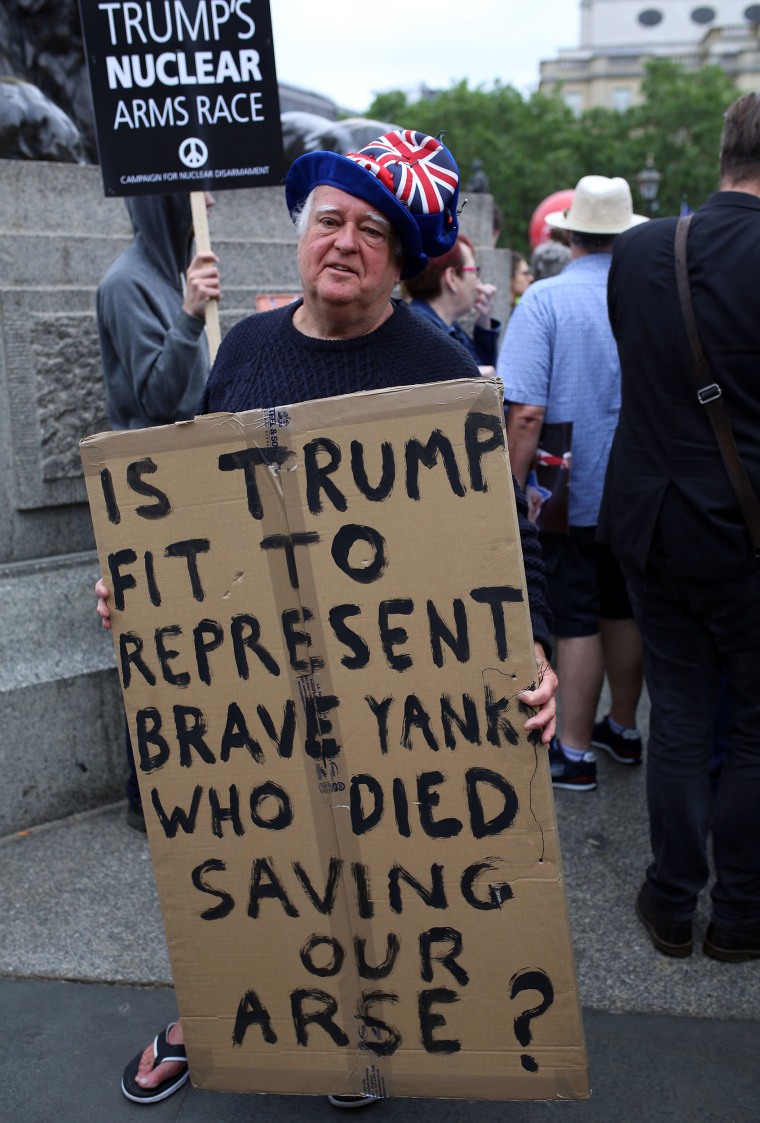 Douglas Gray, 71, from Brentford, a suburb of west London, was holding a sign saying: "Is Trump fit to represent brave yanks who died saving our arse?"
"The fact that Trump is over here commemorating D-Day is just so wrong," the retired electrician said.
"He's a poor representative for America. I'm not very political, but the man just comes across as a fool. I'm sorry for the poor souls who died over here."
"I think he's the worst American president at least since Richard Nixon," said Tom Rivers, 78, a retiree from north London. "There's a long list of things that I think any rational European is entitled to be dismayed about."
He and his wife, Isabel Rivers, 75, lived in the U.S. for four years. "We are absolutely not anti-American at all," she said.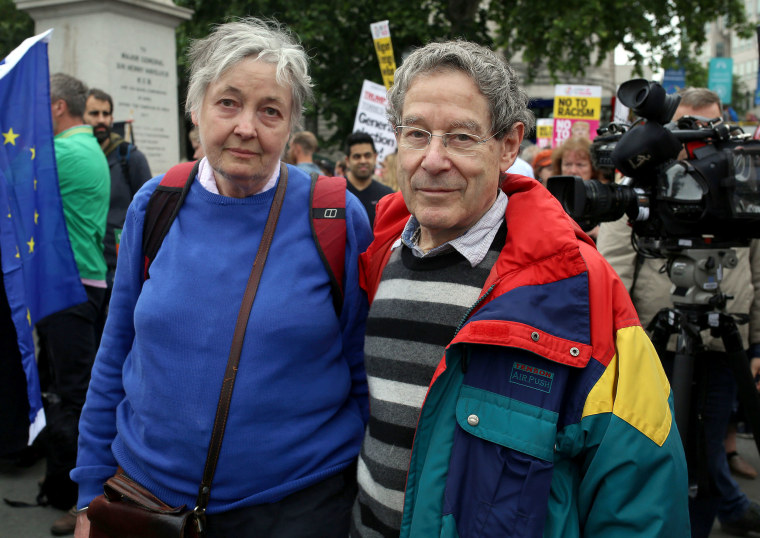 Keith Martin, 55, was carrying a sign reading: "Trump is worse than my cancer." He made the sign after receiving a terminal diagnosis for bladder cancer last year. "Worst case scenario, this will kill me, but Trump's policies will kill lots of people," said Martin who lives in London. He has reacted well to treatment and although his diagnosis was terminal, scans show he appears to be cancer free.
As gray skies gave way to spits of rain, the protesters were undimmed, chanting "say it loud, say it clear, Donald Trump's not welcome here." A diverse crowded included many colorful anti-Trump banners and flags, many simply urging the U.S. public to "dump Trump."
Shana White, 41, who holds dual British and American citizenship and lives in Kent, said Trump did not merit a state visit.
"Now we've invited him to our country, the U.K., it's disgraceful, and why? Because we want a trade deal after Brexit?" White asked. "I don't think he's the right kind of president: He's very divisive."
The mother of three said there were so many policies she disagreed with she didn't know what to put on her placard, which read "Stop Family Separation."
Protesters came from far and wide. Some 18 buses are listed on the official campaign website, ready to bring in demonstrators from as far as Newcastle, 280 miles to the northeast, and Swansea, in Wales, about 165 miles to the west.
Some came from even farther afield.
"What's going on in Alabama and Missouri, the laws over abortion rights, we think it's very bad and that's why we're here," said Sophie Pascale, 20, a law student from Italy studying in London.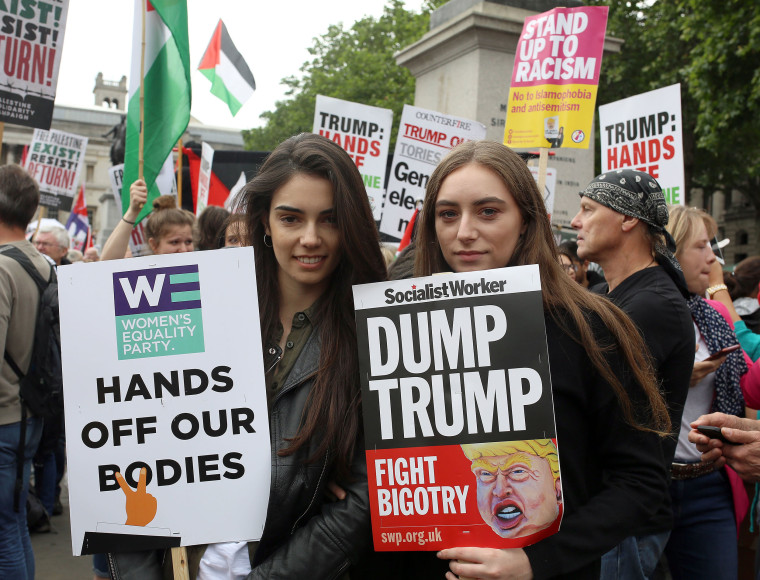 "This march represents a huge range of issues: women's rights, climate change, big business interests. You can see so many different flags here," said her friend Nika Gorod, from Russia, who is also 20 and studying law in London.
"He's horrid. He's a misogynist, a racist, a sexist," said Laura Barnard, 62, a former elementary school teacher from Massachusetts in London on vacation.
"And those are the nice things," interjected her husband, Rick 64, an entrepreneur. "This guy is affecting the world," he added, explaining why it was important for people to protest the president in Britain.
Nilufar Ashtari, 47, said she had traveled from Belgium to protest Trump's foreign policy, because she was afraid that the U.S. might go to war with Iran."That's the reason why I'm here — to tell him not to even consider bombing Iran," she said. "Look what Iraq showed us," she added. "We have no idea how Iran would react. … It's playing with the lives and future of people, of the world, and as a Belgian this concerns me as well. It concerns everybody."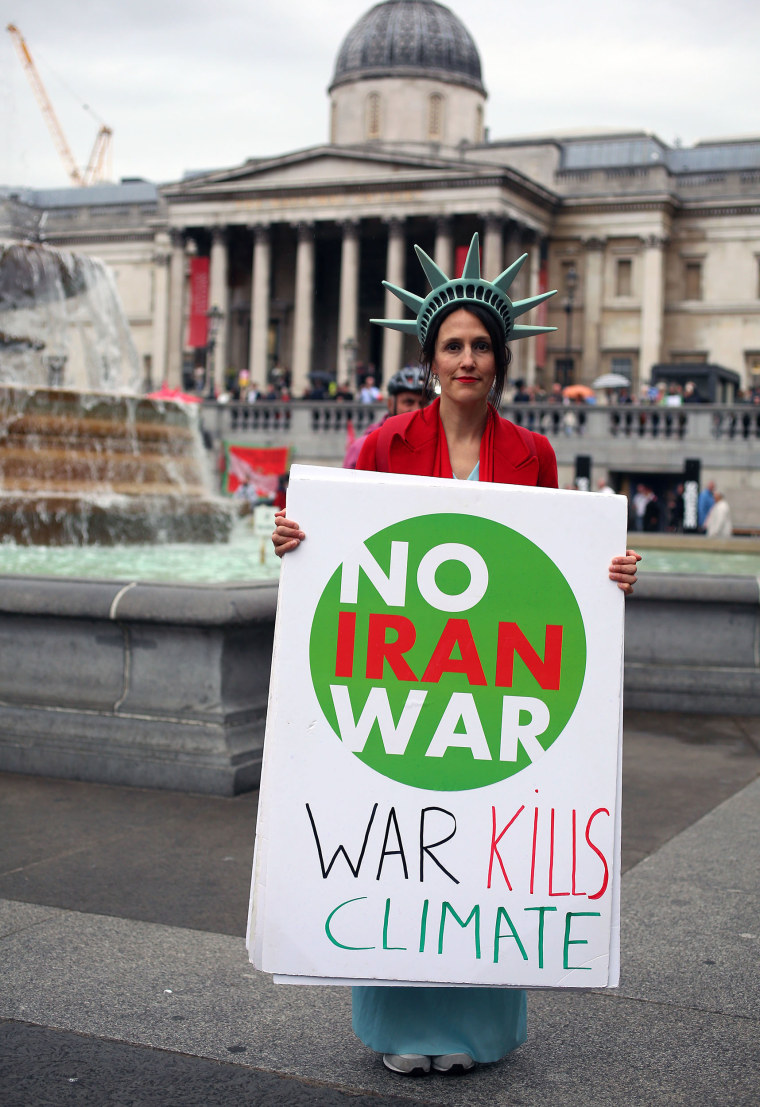 Flying above the demonstrators was a 20-foot blimp depicting the president as a bawling infant in a diaper. It first took to the skies during the president's working visit to the U.K. in 2018, which drew upward of 250,000 protesters. This trip, however, the balloon's owners could only get permission to fly it for a few hours.
Gemma Walker, the campaign coordinator for the Stop Trump Coalition, said the aim of the protest was to "disrupt Trump's visit."
"We know he's a Twitter user, so there's no way that he's not going to be clear that he's unwelcome in the U.K.," she said.
Walker, 35, said the coalition also wanted to send a message to the British government that people reject "Trumpisms" going on in the U.K., such as attempts to dismantle Britain's beloved publicly funded health care system or the so-called hostile environment put in place to dissuade migrants from settling in the U.K.
Jeremy Corbyn, leader of the opposition Labour Party and an outspoken Trump critic, spoke at a rally following the protest, having snubbed his invitation to the state banquet at Buckingham Palace on Monday night.
He reiterated that he wouldn't support any trade deal with the U.S. that threatened the government-run National Health Service, while criticizing Trump's record on refugees.
At the news conference with May later on, Trump claimed that Corbyn had requested a meeting with him but he refused.
The Stop the Trump group estimated that some 75,000 people joined the protest Tuesday — but what did Trump himself made of it?
"We left the prime minister, the queen, the Royal Family, there were thousands of people on the streets cheering," he said at the news conference. "Even coming over today, there were thousands of people cheering. Then I heard that there were protests and I said: 'Where are the protests? I don't see any protests.'"
"I did see a small protest today when I came, very small. A lot of it is fake news, I hate to say it," he said.
Elsewhere in Britain there was a constellation of marches, including in Glasgow, Exeter, Sheffield and Belfast.
After London, Trump will travel to Portsmouth and then Normandy, France, to commemorate the 75th anniversary of the D-day landings. This will give the protesters an added grievance this year.
"It is an insult to all those who died fighting fascism that Trump, who has done so much to encourage fascists and the far-right, has been invited to the D-Day commemorations in Portsmouth," said Together Against Trump, one of the other groups organizing the events.
As in most of Europe, Trump is widely disliked in the U.K. Just 21 percent of Brits have a positive opinion of him, compared with 67 percent negative, according to pollster YouGov.
By contrast, 72 percent of people in the U.K. have a positive opinion of former President Barack Obama, who had a state visit to the U.K. in 2011.