TEHRAN — An ultraconservative cleric has been elected leader of Iran's Assembly of Experts, the powerful religious body that chooses the nation's Supreme Leader.
Ahmed Jannati has been a stalwart of the regime since the 1979 Islamic Revolution, and is known for his hardline views. His election was confirmed by state-run news agencies IRIB and IRNA.
The 89-year-old is staunchly anti-American. He regularly leads chants of "death to America and Israel" during Friday prayers, and takes a hardline stance on the conservative dress for women and domestic political dissent.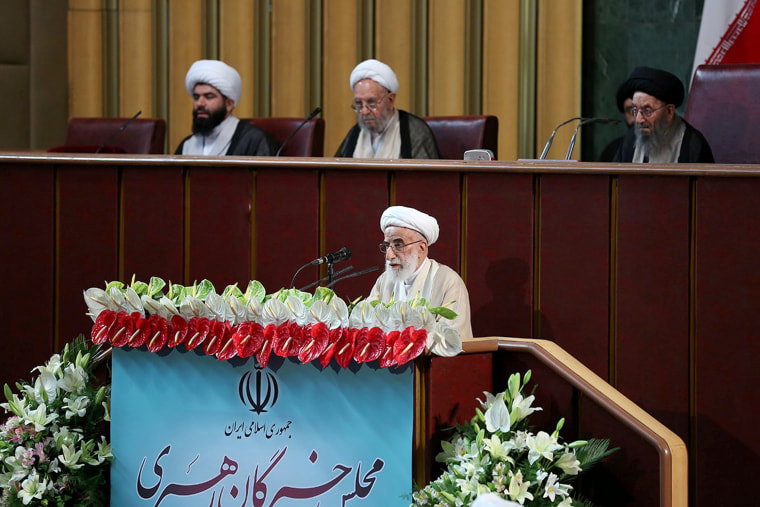 He also pushed hard for other Muslim countries to support a 1989 fatwa calling for the assassination of Salman Rushdie, the author of the novel "The Satanic Verses" which the regime deemed to be blasphemous.
According to the reports in state-run media, Jannati was backed by 51 members of the 88-seat body, beating two other candidates. He will serve as the body's speaker for two years.
During the 2009 disputed presidential elections he urged the judiciary to come down hard on protesters, saying that opposition activists should be executed. He also firmly supported former hardline president Mahmoud Ahmadinejad during the 2009 elections.
Related: Iran Reformists Cheer Election Gains, Hardliners Play Down Shift
Jannati's ascension shows that conservatives still have a firm grip on some of the most important and influential institutions in Iran even after recent elections that boosted the moderate politicians. However, his appointment is not a surprise as he is very close to the Supreme Leader Ayatollah Ali Khamenei who wields enormous power in the Assembly of Experts.
He also serves as secretary of Iran's powerful constitutional watchdog, the Guardian Council, which is in charge of vetting candidates for the Assembly of Experts, as well as those running in parliamentary and presidential elections.
The Assembly has replaced the Supreme Leader only once since the Islamic Republic's inception — when the current Supreme Leader Ayatollah Khamenei replaced the revolution's founder, Ayatollah Rouhollah Khomeini, in 1989 upon his death.