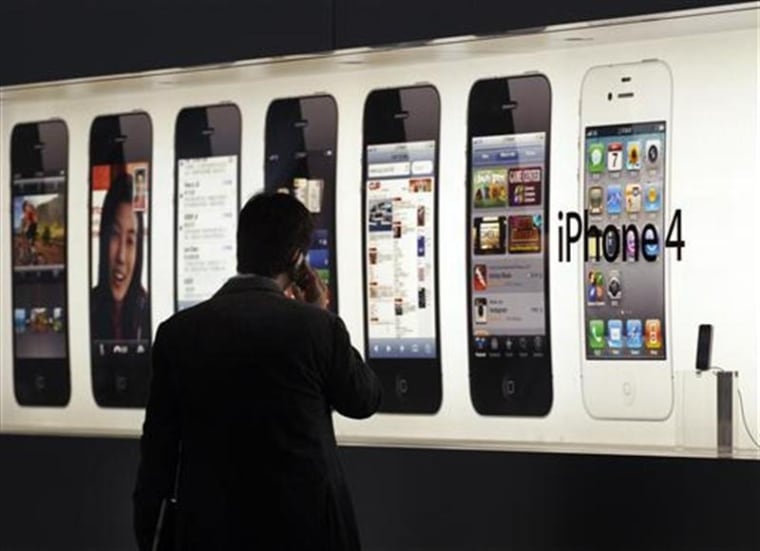 If you bought shares of Apple as they slid over the past two weeks, you're probably feeling pretty smart this morning.
Shares of the widely-held technology company were up 8 percent in morning trading Wednesday after Apple reported Tuesday that its profit almost doubled in its latest quarter, driven by a jump in iPhone sales, particularly in China.
The earnings results blew past Wall Street's expectations and eased fears that the device was past its best days for strong growth. Those concerns have weighted heavily on shares of the world's most valuable technology company over the past few weeks, dragging them down as much as 13 percent from a record high of $644, hit April 10.
Tuesday's outstanding earnings report has removed a shroud of doubt that has weighed on the company in recent weeks, analysts said Wednesday, suggesting the company's share price can continue to move higher.
"It's hard to figure where they're going to go, but they just keep delivering every time we get doubters out there," Dan Morgan, a fund manager at Synovus Securities who owns Apple, told CNBC. "There's another great quarter and we just keep moving forward."
Shares of Apple hit the $600 mark for the first time ahead of the mid-March release of the new iPad, having closed above $500 for the first time on Feb. 13. Just before Christmas, on Dec. 23, Apple closed above $400 for the first time.
Morgan said the challenge ahead for Apple is to maintain the company's strong growth rate. Apple needs to keep putting out new and enticing products, such as iPads, to maintain the strong interest of consumers and investors in the stock, he said.
Analysts expect Apple to soon roll out new versions of the iMac and MacBook Pro computers, and also launch a new initiative for streaming television, rumored to be called "iTV."
It now seems the strongest engine for Apple's future growth is China, said Peter Misek, an analyst at Jefferies & Company.
China was "spectacular for iPhones," Misek told CNBC. "No one thought it would be that big. We certainly didn't. They beat our most bullish estimate by 3 million units."
The accelerating growth in sales in China is likely to lead to a halo effect, analysts said. Appreciation for iPhones could lead to growth in sales of Mac computers and other Apple products, and Apple has the potential for strong growth in iPhones -- China Mobile is China's largest cell phone carriers with over 700 million customers, but it is not yet an official iPhone carrier.
Perhaps the most bullish call on Apple on Wednesday came from Topeka Capital Market analyst Brian White, who said the company's stock price could hit $1,111 over the next year. The prediction follows his forecast earlier this month that Apple shares should reach $1,000 in a year or two, propelled by emerging markets growth and new products.