TEL AVIV — There was resounding silence in the Arab world at the news that Nobel Peace Prize winner Shimon Peres had died Wednesday.
Palestinian President Mahmoud Abbas called Peres' passing "a heavy loss for all humanity and for peace in the region" but more than eight hours after the official announcement, no other Arab leader had reacted publicly.
As the world remembered that Peres shared the 1994 Nobel Peace Prize with the late Palestinian leader Yasser Arafat and late former prime minister Yitzhak Rabin, many Palestinians recalled that the so-called Oslo Accords have never turned into a lasting treaty or enduring peace.
Related: World Remembers Shimon Peres, 'the Face of Israel'
According political analyst Mahdi Abdel Hadi, Israel's former president and twice prime minister had only pretended to pursue peace and an independent Palestinian state.
Hadi called Peres a "fox" who strengthened Israel by "lying, deceiving, changing cards, playing games."
Prominent Palestinian activist and politician Mustafa Barghouti accused Peres of "deceiving the cause of peace."
Barghouti added: "He is now presented all over the world as a peacemaker, but he is the one who created … nuclear power in Israel, an Israeli [defensive] power that was used against the Palestinians and many Arab countries."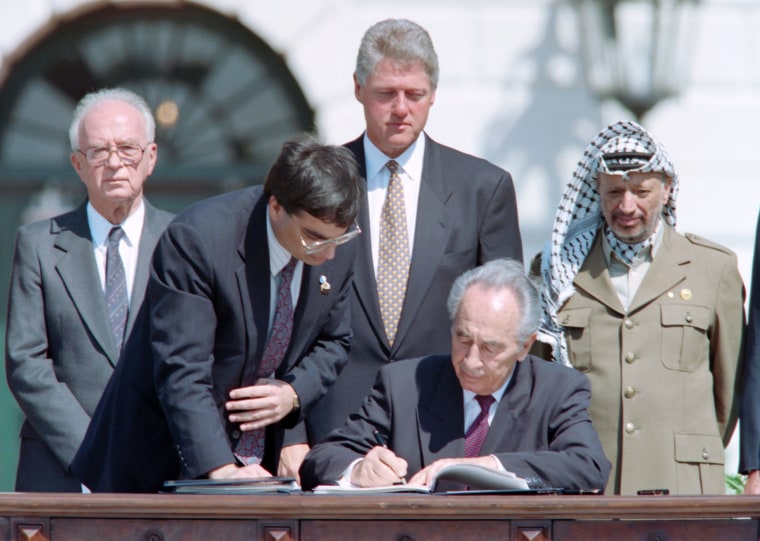 While Peres has been praised for trying to build bridges between Jews and Arabs, some regular Palestinians felt this was window dressing.
"Peres is one of the Israeli leaders who destroyed and stole the Palestinian land. I can't see any peace here, so I can't describe him as a man of peace. It's the opposite, he's a man of war," said Jad Katato, a 48-year-old supermarket owner in Bir Zeit.
"If he was interested in a two-state solution, he could order the occupation army to leave the Palestinian territories immediately," said Maamoun Kasem, an English teacher in East Jerusalem.
Relations between Israeli and Palestinian leaders have also been strained close to breaking point for much of the past year by a rash of deadly attacks by Palestinians and amid deepening frustration at the moribund peace talks.
Peres was a staunch patriot who early in his career supported settlements in the territories occupied by Israel after the 1967 war, but later pursued a more conciliatory path.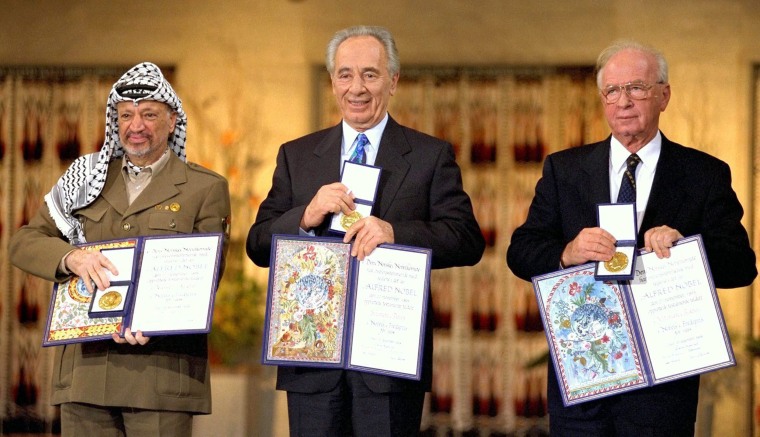 Peres' legacy was also tarnished in the Arab world by the 1996 shelling of a U.N. compound in the village of Qana, Lebanon, during an Israeli offensive. More than 100 civilians sheltering there were killed. Peres was prime minister at the time, and Israel said its forces had been aiming at militants firing rockets nearby.
"He achieved much for the Israeli people at the expense of the Palestinian people," Katato added. "So, I think that the Israeli people should appreciate him and respect him."
Originally from Poland, Peres and his family emigrated to British administered Palestine before the foundation of Israel. He joined the predecessor of the Israel Defense Forces in 1947 and served alongside David Ben-Gurion in the first Arab-Israeli War, which began when Egyptian, Syrian and Jordanian forces attacked on May 15, 1948. That was one day after Ben-Gurion declared the establishment of Israel.
Peres was often referred to as one of Ben-Gurion's "old boys," and the founding prime minister appointed his protégé director of the new country's naval services. He promoted Peres to director-general of the Defense Ministry in 1952, aged just 29.
Yossi Mekelberg, the director of International Relations and Social Sciences at Regent's University, said Peres was both a visionary optimist and a pragmatist Israeli patriot, and pointed to his pivotal role in establishing Israel's secretive nuclear program in the 1950s.
"Here is a guy who was responsible for building the military might of Israel," said Mekelberg, an associate fellow at London's Chatham House think tank.
For Peres, Israel's security and strength was very important and helped it negotiate peace from a position of strength, he said.
"From the Arab point of view, they will look at him with mixed feelings — part positive and some negative," Mekelberg added.