RAMALLAH, West Bank — For a fateful scene in a murder mystery, it was all a little low key.
Steel-gray skies, a modest guard of honor and a somber ceremony as Yasser Arafat's tomb was resealed.
It had taken scientists from Russia, France and Switzerland just a few hours to gather the evidence they came for.
No need to exhume the body. Instead they took samples that they will now examine for the deadly radioactive element polonium.
Already some experts warn that their findings are almost certain to be inconclusive.
Too much time has elapsed, they caution. And even if investigators find traces of toxin, it won't answer this question: Who administered the fatal dose?
Arafat's body exhumed; experts to investigate if he was poisoned
No matter. Almost any Palestinian you ask already has an answer: Israel is the assassin.
After all, a man who was to Palestinians the ultimate fighter for freedom was to Israel too often the odious face of terror.
And in 30 years of conflict the Israelis pursued him to Lebanon before finally cornering him in his West Bank compound, the Muqata'a.
Rebuilt from the rubble left by its destruction by Israel, it now houses the gleaming marble mausoleum that is Arafat's final resting place.
Today it was shrouded in blue sheets to shield the scientists from view as they went about their grim business.
"The time has come to find the proof. And to bring justice. I think he deserves it, and the Palestinian people deserve it,'' says noted Palestinian activist Mustafa Barghouti.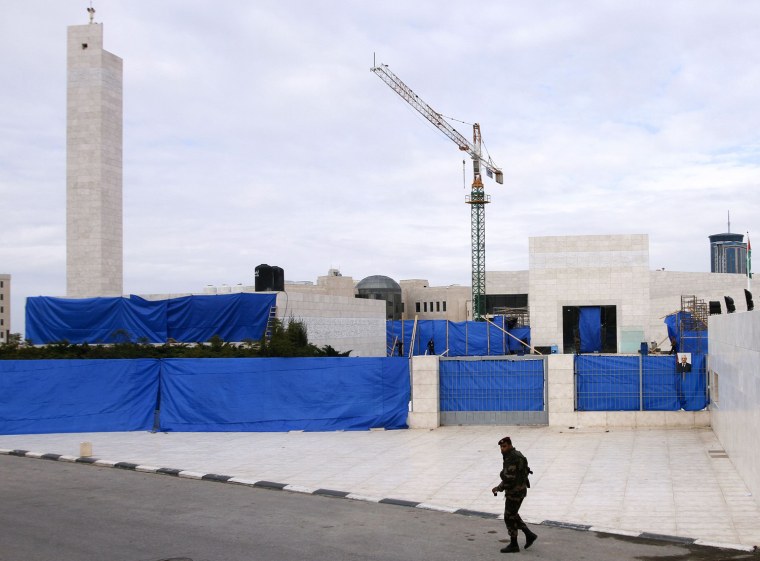 For the record, Israel enters a strenuous plea of not guilty, courtesy of Ra'anan Gissan, who in 2004 was an adviser to Israel's then-Prime Minister Ariel Sharon.
Did Israel order the death of Arafat? I ask him.
"I can tell you, a definite, absolute no,'' he says. "They used to say that our snipers had Arafat in their sights and the decision was not to kill him."
Palestinians: Settlers threaten West Bank's centuries-old olive harvest tradition
Today's examination was prompted by a television investigation that found polonium on samples of clothing, including Arafat's iconic kaffiya headdress, provided by his widow.
But the timing is fortuitous, even if it is, as the Palestinians on the West Bank insist, a coincidence that later this week Arafat's successor heads to the United Nations.
Mahmoud Abbas is to ask the UN General Assembly to grant his Palestinian Authority a form of recognition known as non-member observer status.
It would put the Palestinians on the same diplomatic footing as the Vatican but more crucially on open important legal route to potentially suing the Israel's occupying forces for war crimes through international courts.
The mathematics is looking good for Abbas — good news for a leader who hasn't had much to celebrate of late. 
His Palestinian rivals in Gaza, the militants of Hamas, have been buoyed by the short war with Israel and claim they've achieved more in a week than Abbas has won in nearly a decade of failed negotiation.
Win at the UN on Thursday, and Abbas has something to show for his strategy. 
Perhaps then even Yasser Arafat's spirit might be permitted to rest a little more peacefully.
More world stories from NBC News: