Archaeologists have unearthed a new cave associated with the famed Dead Sea Scrolls, filled with ancient storage jars and lids, marking the first successful excavation of its kind in 60 years.
Until Wednesday, researchers assumed only 11 caves contained scrolls. But the discovery of a twelfth cave in the Judean desert cements a longstanding belief among archaeologists that looters stole the artifacts in the mid-1900s, referencing pick ax heads found deep inside a tunnel at the new cave's rear as proof.
Hidden along the cave's walls, excavators found numerous broken jars and lids. Among the other findings were fragments of scroll wrappings, leather and string.
The Dead Sea Scrolls are a collection of nearly 1,000 manuscripts written in Hebrew, Greek and Aramaic dating back to 4th century BC. The texts were first discovered in 1947 near modern-day West Bank by a Bedouin shepherd.
"This exciting excavation is the closest we've come to discovering new Dead Sea Scrolls in 60 years. Although at the end of the day no scroll was found... the findings indicate beyond any doubt that the cave contained scrolls that were stolen," Dr. Oren Gutfeld, an archaeologist at the Hebrew University's Institute of Archaeology and director of the excavation, said in a statement.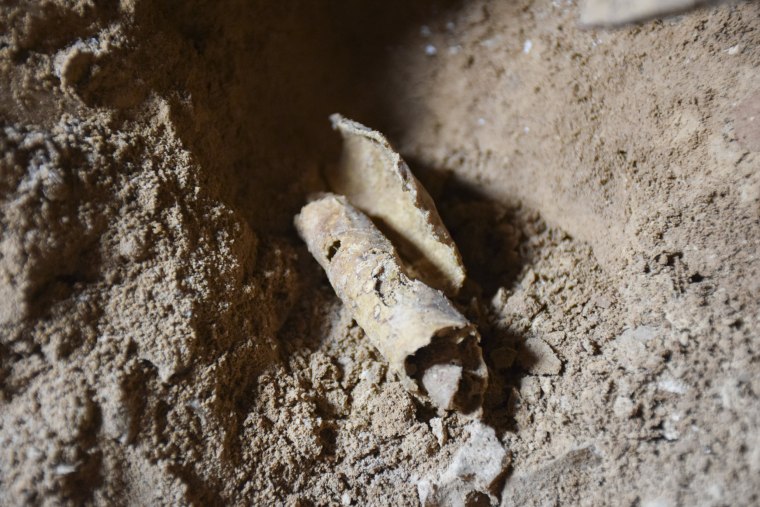 The discovery of pottery, flint blades, arrowheads and semi-precious stone suggest the new cave was used during the Neolithic period — an era that began in 10,200 BC and ended between 4,500 and 2,000 BC.
Israel Hasson, Director-General of the Israel Antiquities Authority, said "work remains to be done" in the Judean Desert, with archaeologists in a "race against time as antiquities thieves steal heritage assets worldwide for financial gain."
"The important discovery of another scroll cave attests to the fact that a lot of work remains to be done in the Judean Desert and finds of huge importance are still waiting to be discovered," Hasson said. "The State of Israel needs to mobilize and allocate the necessary resources in order to launch a historic operation, together with the public, to carry out a systematic excavation of all the caves of the Judean Desert."
Excavations into the caves of the Judean Desert will continue as part of Israel Antiquities Authority's "Operation Scroll," officials said.