LONDON — Donald Trump may have endorsed a two-state solution to the Israeli-Palestinian conflict, but one of the architects of such a plan doubts the president is capable of delivering.
"What does he know? What did he do in life?" said Yossi Beilin, a former Israeli official who conducted secret talks that resulted in the 1993 Oslo Peace Accords.
While Beilin spoke to NBC News days before Trump announced that he believed an independent Palestine "works best," his skepticism reflected that of many who believe two states would help bring long-term peace.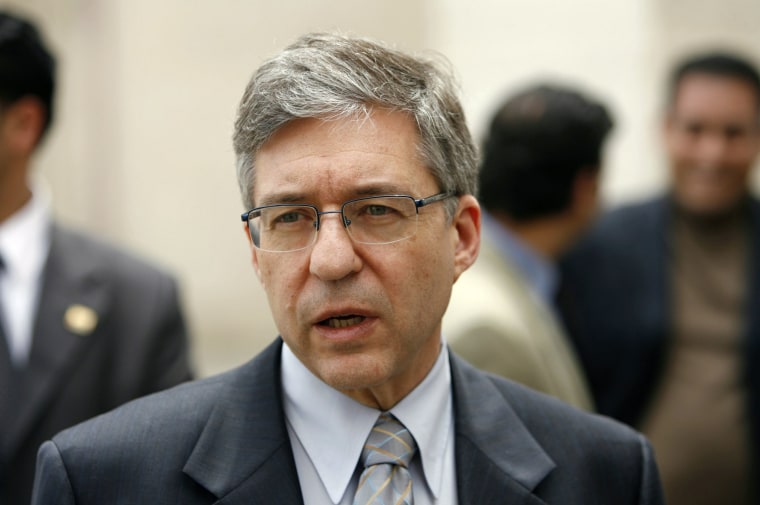 "It is tragic comedy. When I saw the leader of the free world say, 'If my son-in-law cannot solve the Israel-Palestinian problem, nobody can do that,' I didn't know whether to cry or to laugh," Beilin added, referring to Jared Kushner who is in charge of efforts to craft a long-awaited plan.
Beilin spent decades negotiating with Palestinians, who have boycotted Washington's recent efforts, and was in London discussing the possibility of a confederation between Israel and a future Palestinian state.
On Wednesday, Trump said he was confident his Mideast peace plan would be presented in the next two-to-four months.
Despite Trump's comments, Palestinian President Mahmoud Abbas on Thursday said the White House's decision to recognize Jerusalem — which Palestinians see as their own capital — as the capital of Israel, and aid cuts to Palestinians, threatened plans for a future state.
"With all of these decisions, this administration has reneged on all previous U.S. commitments, and has undermined the two-state solution," Abbas said in his address at the U.N. General Assembly, an annual gathering of world leaders.
Yossi Mekelberg, a professor of international relations at Regent's University and senior consulting fellow at Chatham House think tank in London, called Trump's comments at the U.N. vague "dinner table talk."
He said they were far from the concrete plans required from a "president of country that is expected to broker the peace."
Trump's decision last month to slash all U.S. funding for UNRWA — the U.N. agency for Palestinian refugees which the administration calls "irredeemably flawed" — and programs aimed at promoting coexistence, further alienated some Israelis and many Palestinians.
As hope for a practical and just resolution to the conflict wanes, Mekelberg warned, the possibility of violence grows.
"Everything that [Trump] has done is to undermine the two-state solution either by ignorance or intent," he said. "What Trump is doing together with the Israeli government could lead to bloodshed and the end of Israel as a democratic state."
The funding crisis at UNRWA, which provides schooling, health and food assistance to around 5 million refugees in the West Bank, Gaza Strip, Syria, Jordan and Lebanon, is acute.
After warning that it was just weeks away from ceasing operations, UNRWA got a reprieve with $118 million in new pledges this week at the U.N. General Assembly. However, this leaves a shortfall of $68 million in its annual budget.
The U.S. was previously UNRWA's single biggest donor country and the Trump administration shows no signs of going back on its decision.
Key to the White House's criticism of UNRWA is the way it counts the descendants of refugees as refugees themselves.
By undermining the agency, the administration is attempting to remove a pervasive Palestinian belief in the right of return. The conviction that those who were driven from their homes when the state of Israel was established — and their descendants — should one day return to ancestral homes is a cardinal and unifying belief among Palestinians.
Concerns for the plight of Palestinians in Gaza, the blockaded enclave run by the Palestinian militant group Hamas, are running especially high.
On Tuesday, the World Bank warned that the decade-long blockade and a "recent drying up of liquidity" because of aid cuts was pushing the economy into "free fall."
"The result is an alarming situation with every second person living in poverty and the unemployment rate for its overwhelmingly young population at over 70 percent," the report said.
Over the weekend, Abbas warned of potential violence in the Palestinian territories.
"The situation is very serious," President Abbas said in statements to Voice of Radio Israel.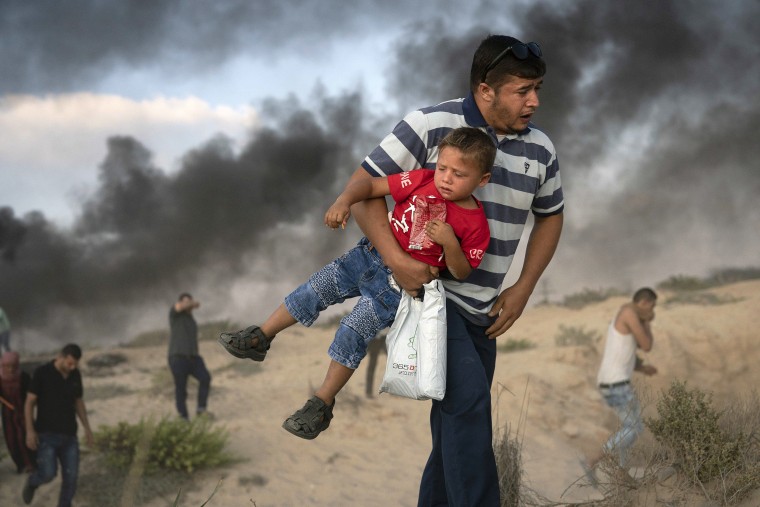 Trump maintains that there will be a payoff for Palestinians, and Israel would have to make concessions too in any negotiations.
"Israel got the first chip and it's a big one," he said Wednesday.
The American moves come after years of negotiations and bouts of violence. During this time, the Israeli occupation of the West Bank, which Israel captured during the 1967 war, has deepened.
There are now some 600,000 Jewish settlers in eastern Jerusalem and the West Bank, 60 percent of which is controlled by Israel. Most of the world's governments see Israel as an occupying power, although Israel rejects this.
Mekelberg warned that Trump's White House was burying the "last chance of peace" by pushing away Palestinians willing to negotiate and giving in to the extreme of the Israeli political spectrum.
"Trump is not going to pay the price for this," he said, reiterating the potential for violence in Israel and the Palestinian territories as well as the eroding of basic democratic values. "The people who live there will pay the price for this."
F. Brinley Bruton reported from London, Lawahez Jabari from Jerusalem, and Paul Goldman from Tel Aviv.