YEREVAN, Armenia — Protesters blocked some routes into Armenia's capital and a road to the airport on Wednesday after an opposition lawmaker who led weeks of anti-government rallies was blocked in parliament from becoming prime minister.
Days of protests in the small ex-Soviet state have created a standoff between Nikol Pashinian's supporters, who have mobilized thousands of people to take to the streets, and a ruling elite which is determined to hold on to power and still controls the security apparatus.
After a nine-hour session, the National Assembly of Armenia voted 55-45 on Tuesday against appointing Nikol Pashinian as prime minister. He was the only candidate nominated to replace long-time leader Serzh Sargsyan, who stepped down because of the protests.
Pashinian later called for a nationwide campaign of civil disobedience, but pledged that the movement would remain non-violent.
"The peaceful revolution goes on," Pashinian said. "We're not going to let them steal our victory."
Hundreds of students started to march in Yerevan on Wednesday, waving flags and shouting "Nikol — prime minister!" Drivers also sounded their car horns in support.
"We will paralyze the whole city and the whole country," said Sargis Babayan, a 22-year-old student wearing a T-shirt featuring Pashinian's portrait.
Police tried to persuade protesters to open roads, but did not use force.
Sarksyan's resignation as prime minister seemed to signal a dramatic shift in power in Armenia, the South Caucasus state closely aligned to Russia that has been run by the same cadre of people since the late 1990s.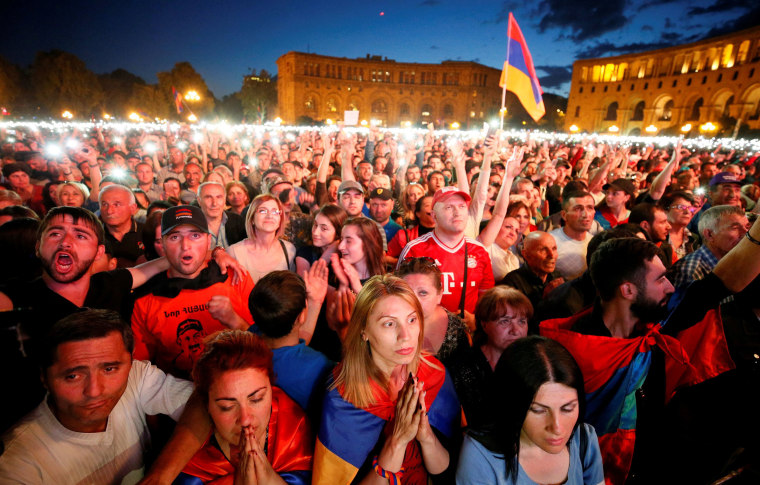 Sargsyan led Armenia as president for 10 years until term limits forced him to step down and he was made prime minister in mid-April. The opposition saw the move as aimed at keeping Sargsyan in power indefinitely.
The crisis in Armenia, which has a population of only about three million people and has Russian military base on its territory, is being closely watched in Moscow.
Officials there are wary of a repeat of a popular revolt in Ukraine in 2014 that swept to power new leaders who pulled away from Moscow's orbit.
Pashinian, a 42-year-old former journalist who spent two years in jail for fomenting unrest after the presidential election in 2008, was put forward to parliament on Tuesday as the only nominee for the vacant prime minister's job.
But the Republican Party, which is allied to Sarksyan, has a majority in the legislature and withheld its support for Pashinian. That left him short of the votes he needed.
Another attempt to elect a new prime minister is due in a week. But if parliament fails to elect a new prime minister with majority support twice, elections must be held.