OUAGADOUGOU — Burkina Faso's army cleared thousands of protesters from the capital and fired warning shots at state TV headquarters on Sunday as it sought to tighten its grip on power following the resignation of President Blaise Compaore two days ago.
Compaore's 27 years in charge of the landlocked former French colony ended abruptly on Friday after two days of mass protests aimed at thwarting his bid to change the constitution to extend his rule. The army then selected Lieutenant Colonel Isaac Zida as transitional leader, overriding an earlier claim by the army chief of staff.
But on Sunday there were signs of discontent with the appointment as thousands gathered in the capital Ouagadougou to demand a return to civilian rule, in line with the West African country's constitution. Witnesses said prominent opposition leader Saran Sereme and an army general, along with a crowd of their supporters, headed to the RTB Television on Sunday afternoon to declare themselves in charge of the transition but were thwarted by the army.
Gunshots rang out at the station and the channel was taken off the air. There were no reports of anybody being injured. Shortly afterwards, presidential guards moved in to prevent access to Ouagadougou's central Place de la Nation — the site of violent demonstrations against Compaore last week in which three people were killed and the parliament set ablaze.
Washington has also called for a power transfer to civilian authorities and a U.N. official warned on Sunday of possible sanctions if Zida did not relinquish power. Military sources close to Zida said on Sunday he planned to meet with more than 40 opposition parties during the day ahead of an announcement at 6 p.m. local time (1 p.m. EST).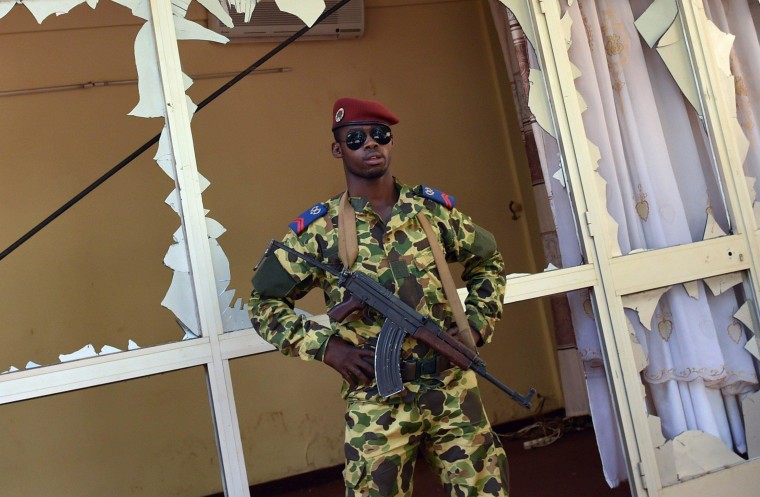 IN-DEPTH
— Reuters