PESHAWAR, Pakistan — Pakistan's top court on Wednesday overturned the death sentence of a Christian woman who was convicted under the country's blasphemy laws.
The Supreme Court concluded that it was "inescapable" that the prosecution had failed to prove its case against Asia Bibi, a mother of five who was convicted in 2010 for insulting Islam's Prophet Muhammad during an argument. She remained on death row while appealing the case.
The federal government in Islamabad deployed security personnel to prevent possible violence ahead of the verdict being handed down, and hardline groups that had called for her execution announced protests across the country shortly after it was announced.
In Punjab, where Bibi lived along her family, the provincial government banned any kind of gathering or procession.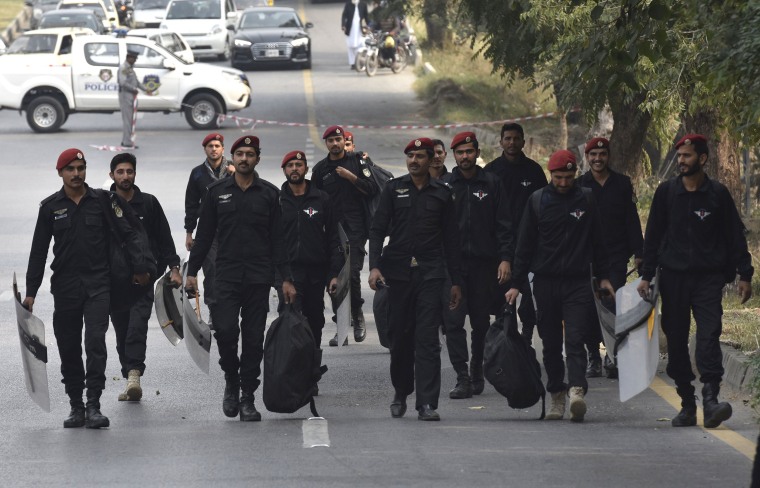 The death penalty was introduced for blasphemy against the Prophet Muhammad in 1986.
Human rights groups such as Amnesty International say the laws are increasingly being exploited by religious extremists as well as ordinary Pakistanis to settle personal scores.
Salman Taseer was serving as the governor of Punjab province when he was assassinated by his own bodyguard in 2011 for defending Bibi and speaking out against the laws.
The killer, Mumtaz Qadri, was seen as a hero by many in Pakistan for defending the blasphemy law and had a mosque named after him. Qadri was convicted for the governor's death and executed in 2016, but the sentence sparked violent protests in the capital of Islamabad.
Bibi's lawyer Saiful Malook told NBC News it could be three or four days before Bibi was released. He added that her family has moved to the United Kingdom.