An American woman living in a besieged suburb of Damascus, Syria, described eight days of "constant bombardment" in an interview with NBC News at her home on Tuesday.
Bombing and artillery fire has not stopped in eastern Ghouta, she said, despite Russia's promise to implement a daily five-hour cease-fire starting Tuesday to allow aid deliveries.
"We're supposed to be in a cease-fire, and there's still bombing and artillery," she said, as explosions rang out in the background.
"They've targeted medical facilities. They've targeted shelters. They've targeted everything that moves here," she said, referring to the forces of Syrian President Bashar al-Assad.
The woman, Deana Lynn, who asked to be identified by her first and middle names only, was born in Michigan and has lived in Syria with her husband and eight children since 2000.
She taught English for nine years until schools closed because of the war. Her husband, who worked in the food industry before fighting erupted, is now affiliated with the local faction of the Free Syrian Army, a group of moderate rebels.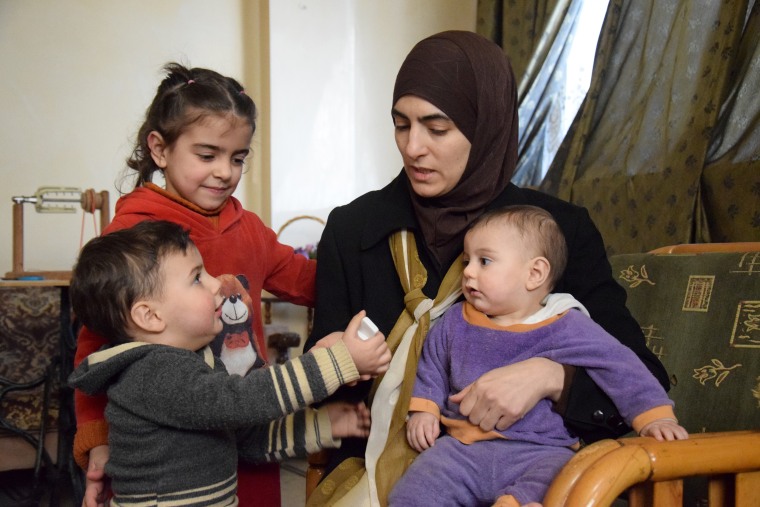 "The missiles, when they come, they come one after another," Deana Lynn said. "If I'm in the house, I have to gather the kids. We have to lay on the floor."
Deana Lynn, 44, said she and other families have sought shelter in basements — in some instances, 60 people together share one toilet. She described shortages of food, drinking water and electricity.
"Right now no food is being let in. We have very high prices. The children here are not eating well, if they're eating at all," she said.
She described living at the mercy of the Assad regime. "If he wants to let food in, he lets food in. If he doesn't want to, like now, he's closed completely the food and medicine routes."
"They're giving us two choices: we'll either bomb you or you can leave with a so-called safe passageway, which isn't safe if we're going to see Assad's regime at the other side," she said.
Deana Lynn explained that she has remained in eastern Ghouta because it's where her family is. She wants to be able to stay and live without fear of bombardment.
"It's been very, very terrifying," she said.