LONDON — After President Barack Obama commuted the sentence of former Army leaker Chelsea Manning, attention turned Wednesday to WikiLeaks founder Julian Assange and his earlier promise to travel to the U.S. to face any potential charges.
WikiLeaks posted on Twitter last week that Assange would "agree to U.S. extradition" if Obama granted clemency to Manning, who is serving a 35-year sentence for giving classified information to the anti-secrecy site in 2010.
There no sign Wednesday of any movement from Assange, who has been holed up for more than four years at Ecuador's Embassy in London.
He has refused to meet prosecutors in Sweden, where he remains wanted on a rape allegation, saying he fears being extradited to the U.S. to face espionage charges if he leaves the building.
However, the Department of Justice has never announced any indictment of Assange, and it's not clear that any charges have been brought that remain sealed.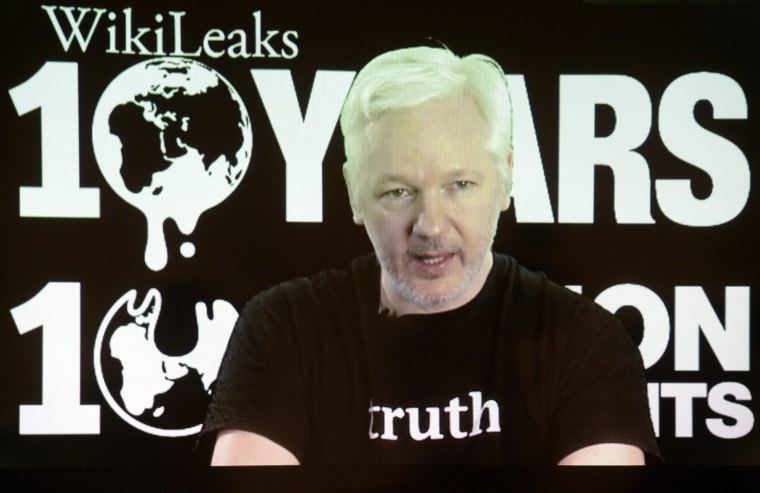 In a court filing last year about Manning's case, Department of Justice lawyers wrote that the investigation into the 2010 leak "concerns potential violations of federal criminal laws, in the form of serious threats to the national security, and the investigation continues today."
Assange lawyer, Melinda Taylor, said on Twitter that she was seeking clarification from the Justice Department and that U.S. authorities have "consistently affirmed [there is an] ongoing national security prosecution" against Assange but have refused to confirm or deny the existence of an extradition request.
"U.K. also refuse to affirm or deny that they have received an extradition request — not the same thing as there being no extradition request," she wrote.
In a statement, Assange praised Manning as "a hero, whose bravery should be applauded" and called for an end to what he called a "war on whistleblowers such as WikiLeaks and myself."
Elaine Pearson, Australia director for Human Rights Watch, said any U.S. case against Assange "should be dropped."
"[The] Espionage Act shouldn't be used to punish those who publish leaks," she wrote.
Swedish prosecutors interviewed Assange at the Ecuador's Embassy in London in November and asked him to provide a DNA sample. They have yet to decide whether Assange is to be formally charged.
Authorities launched an investigation in 2010 after two women came forward accusing Assange of rape and sexual assault.
Related: Assange's Arrest Warrant in Rape Case Upheld by Swedish Court
Prosecutors dropped two cases of sexual assault against Assange last year after a time limit for questioning him expired, but they have pressed ahead with the case involving allegations of rape.
Assange denies the allegations and maintains that, if he were sent to Sweden, U.S. would extradite him.
He previously promised to leave the embassy "soon" — in August 2014.