CAIRO — Gunmen killed at least nine people in an attack on a Coptic Christian church south of Cairo on Friday, authorities said.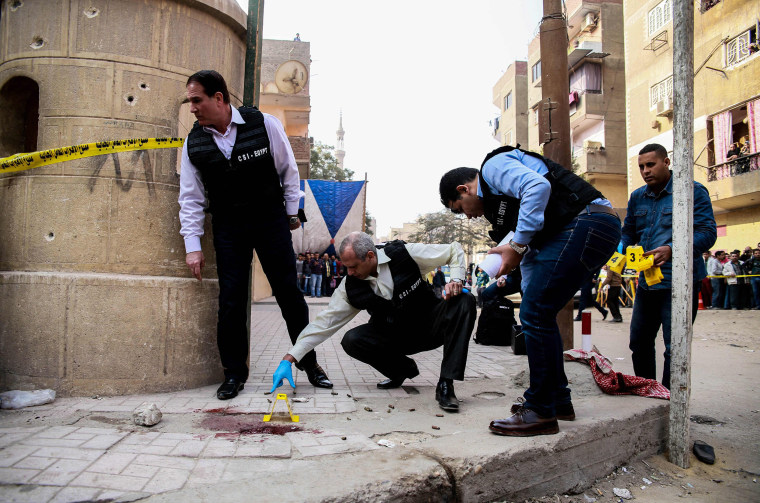 Two attackers opened fire at the entrance to the church of Mar Mina in Helwan district, which was being guarded by police in the run-up to Orthodox Christmas celebrations next week, security sources told Reuters.
One attacker was shot dead by security forces, the state-run news agency MENA reported. State television said the second had been captured.
Local media reported the dead attacker had been wearing an explosive belt, and that two other bombs had been defused near the church.
Church officials said those killed ranged in age from 43 to 90.
Samir Gerges, a witness, told the Associated Press that people inside the church closed the gates when the shootout began but bullets from the gunfire still entered the building. Gerges said he was walking in a nearby street when the shooting happened. He saw people running and some of them went to hide from the gunfire inside a nearby restaurant.
Islamist militants have claimed several attacks on Egypt's large Christian minority in recent years, including two bomb attacks on Palm Sunday in April and a blast at Cairo's largest Coptic cathedral last December that killed 28 people.
Christians, who make up about 10 percent of Egypt's population, have long complained of discrimination in the Muslim-majority nation, and say authorities have often failed to protect them from sectarian attacks.
Police have stepped up security measures around churches ahead of the Coptic Christmas celebrations on Jan. 7, deploying officers outside Christian places of worship and setting up metal detectors at some of the bigger churches.