CAIRO — Security forces foiled a terrorist attack on a popular tourist site in Egypt, authorities said, shooting dead two assailants and injuring a third.
Egypt's Interior Ministry said the attackers, armed with live ammunition and explosive devices, were confronted by security forces when they attempted to pierce a security checkpoint at the Karnak Temple in Luxor. Two of the attackers died in the confrontation — with one of their deaths caused by an explosive device — while the third was injured by gunfire, the ministry said in a statement posted on its Facebook page.
Authorities said the the scale of the intended attack was unclear.
Five people — all Egyptian civilians or security personnel — were injured, according to Ministry of Health spokesman Hossam Abdul Gaffar. He said of the injured had been shot while the others suffered abrasions and bruises.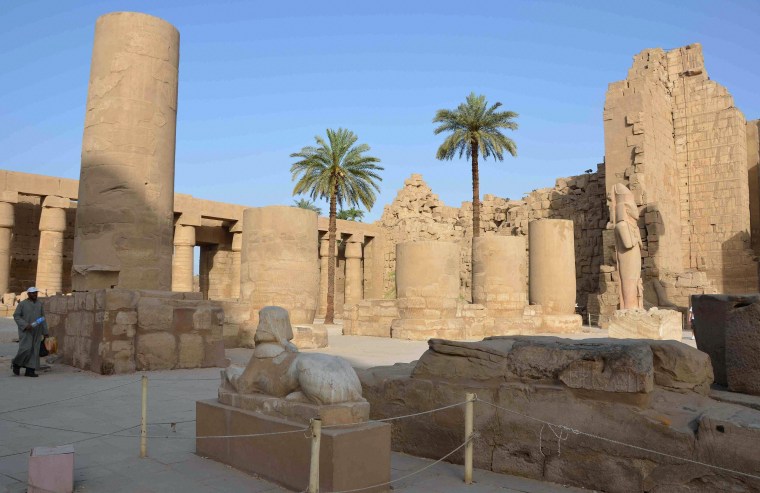 Earlier, Luxor's Ministry of Antiquities manager Mohamed Abdelaziz told NBC News that three attackers had been killed by police in a parking area near the temple. Conflicting death tolls are common in the aftermath of a terror attack.
Abdelaziz said the temple — along the Nile and one of Egypt's main tourist attractions — did not suffer any damage in the incident.
There was no immediate claim of responsibility for the attack, which was the first to target Luxor since extremist Islamist group Jamaa al Islamiya massacred 58 tourists there.
Analysts suggested it could be the work of ISIS-linked extremist groups such as Ansar Bayt al Maqdis, which renamed itself as the Sinai province of ISIS several months ago.
ISIS — which views temples as idolatrous — has destroyed historic sites in Iraq and Syria. IHS Janes said in a report that if the attack was in fact tied to ISIS, it would "reflect the inability of the Egyptian military to contain and defeat the [ISIS] insurgency in Sinai, and the growing risk Egypt faces from the group's expansion in Libya."