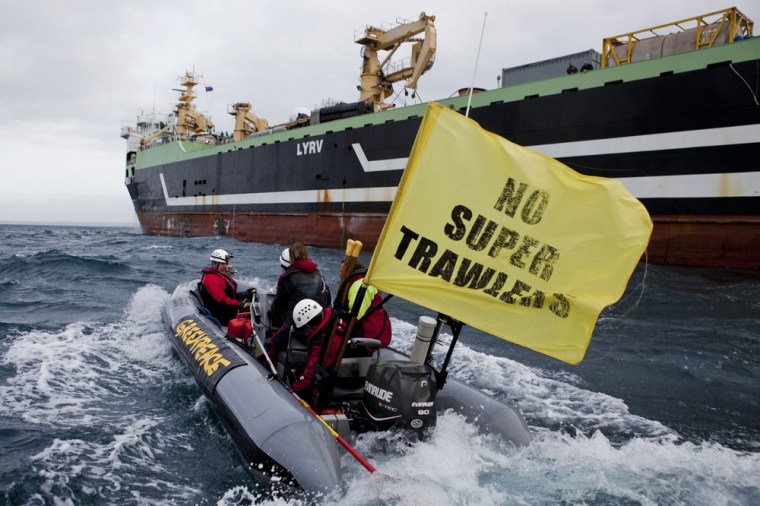 The world's second-largest fishing trawler, which can process 250 metric tons of fish a day using a 900-foot-long net, will likely be banned by Australia for two years so that experts can study whether it would deplete fish stocks and worsen the accidental bycatch of sea turtles, dolphins and seabirds.
"There has never been a fishing vessel of this capacity in Australia before and the Environment Protection and Biodiversity Conservation Act needs to be updated so that it can deal with it," Environment Minister Tony Burke said before House lawmakers agreed to review the law and the science. Australia's Senate is expected to take up a vote next week.
"When you have a vessel with a large freezer capacity that therefore is able to remain through extended periods of time in the same part of our oceans, there are a different set of environmental considerations," Burke said. "When the law falls short, you change the law."
The nearly 500-foot vessel, named the Abel Tasman, is registered in Australia and can hold up to 6,200 metric tons of fish.
Seafish Tasmania, an Australian company, brought the Abel Tasman to Australian shores last month in a joint-venture with the boat's Dutch owners. The venture had initially been awarded a quota to catch up to 18,000 metric tons of jack mackerel and red bait fish under strict conditions. 
The partners and a commercial fishing group complained Australia was being unfair.
"Changing laws in response to emotive campaigning and 'trial by media' undermines the credibility of Australian fisheries management, creates uncertainty and insecurity for fishermen and deters investment that is needed to support regional jobs," Seafish Tasmania and the Commonwealth Fisheries Association (CFA) said in an open letter to lawmakers on Wednesday.
CFA spokesman Brian Jeffries said a counterargument could be made that large, strictly regulated trawlers are better than many small, less-regulated ones that "have to fish for much longer a period" and thus are "more likely to take, for example, bycatch."
Greenpeace, which had attempted to stop the ship from docking when it arrived in South Australia in late August, hailed the environment ministry's move as a "sensible response to the threat of the Abel Tasman."
The world's largest trawler is the Annelies Ilena, a slightly bigger Dutch ship that's now in the North Sea. 
More world stories from NBC News: