More than 2,000 weapons including assault rifles, rocket-propelled grenade launchers and mortar tubes were found hidden under nets aboard a small fishing boat bound for Somalia, American and Australian officials said Monday.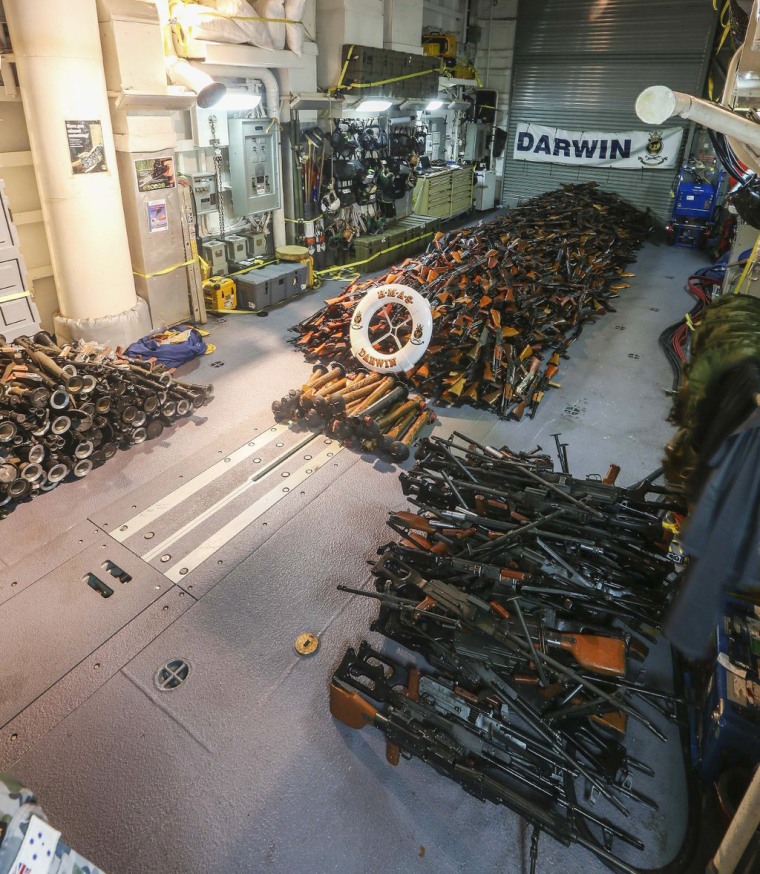 A team from Australian frigate HMAS Darwin discovered the cache last month some 195 miles off the coast of Oman.
The U.S. Navy believes the boat had set off from Iran and that the crew were Iranian, Lt. Ian McConnaughey, a spokesman for U.S. Naval Forces Central Command, told NBC News in an email.
McConnaughey said an initial assessment indicated the weapons were destined for Yemen to be used by Iran-backed Shiite Houthi rebels in the country's civil war.
The weapons were discovered aboard a dhow on Feb. 27 but the find was only announced Monday.
The guns were seized under United Nations sanctions the prohibit the delivery of illegal arms to Somalia. They are expected to be transferred to U.S. custody for further analysis and disposal, McConnaughey added.
The Australian ship that found the hoard was part of Combined Task Force 150 - an anti-terror, piracy, and smuggling operation whose membership include the U.S., Canada, the U.K. and others.
It uncovered 1,989 AK-47 assault rifles, 100 rocket-propelled grenade launchers, 49 PKM machine guns, 39 PKM spare barrels and 20 mortar tubes, according to a statement from the Australian Navy.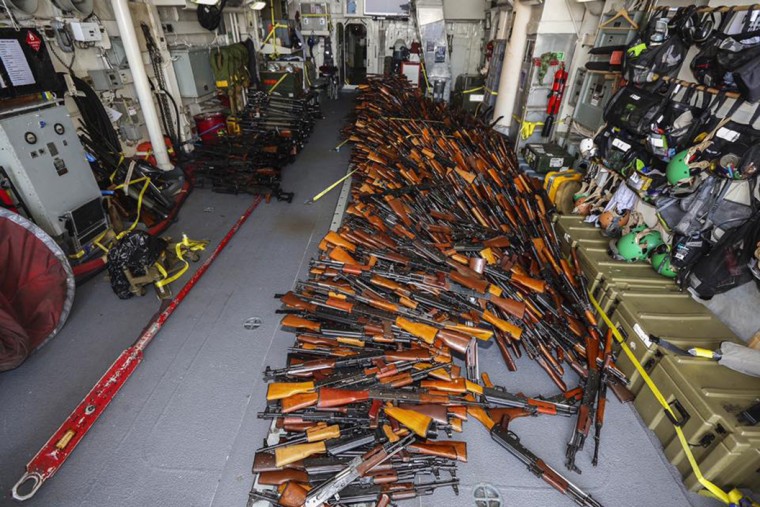 The task force does not have authority to detain traffickers in international waters and the crew of the dhow was released after the weapons were seized.
Yemen is locked in conflict between the Shiite Houthi rebels, who are allied with Iran, and the internationally recognized government, which is backed by Saudi Arabia.
Saudi Arabia said in October that it had intercepted another fishing boat laden with weapons destined to be used by the Houthis, according to Reuters.