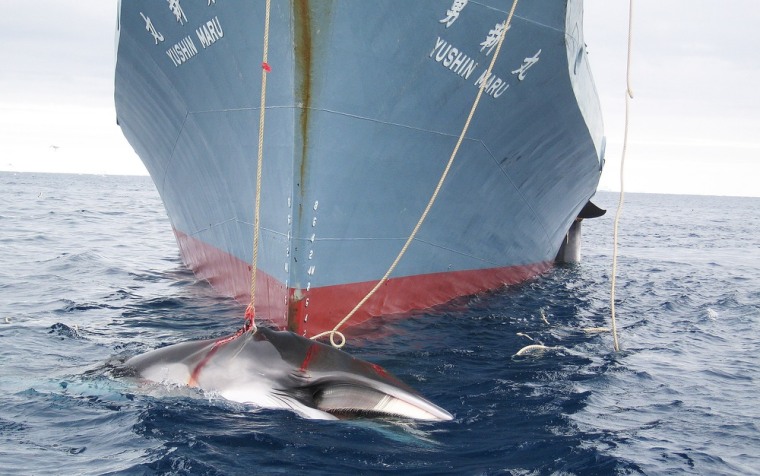 Australia took Japan to the International Court of Justice on Wednesday over the hunting of whales in waters off the Antarctic.
The country's attorney general Mark Dreyfus, told The Associated Press that he was hoping for a ruling that would stop the Japanese fleet from harpooning the creatures in the area, which Australia declared a whale sanctuary in 1999.
"We want commercial whaling to stop and that includes the so-called scientific whaling program that Japan has been carrying on for many years," he said.
"We're hopeful of a decision from the International Court of Justice before the end of the year and certainly before the start of the next whale hunting season."
Dreyfus added that Japan had killed more than 10,000 whales since 1986, when commercial hunting of the creatures was banned around the world under an International Whaling Commission moratorium.
But the Japanese government can bypass the ban and is allowed catch up to 935 minke whales and 50 fin whales every winter for scientific research. 
They say this is needed to provide data on whale populations so that the international ban on the commercial hunt can be re-examined or possibly lifted.
But once the research is complete the meat can be then be legally sold, which the Japan fleet does.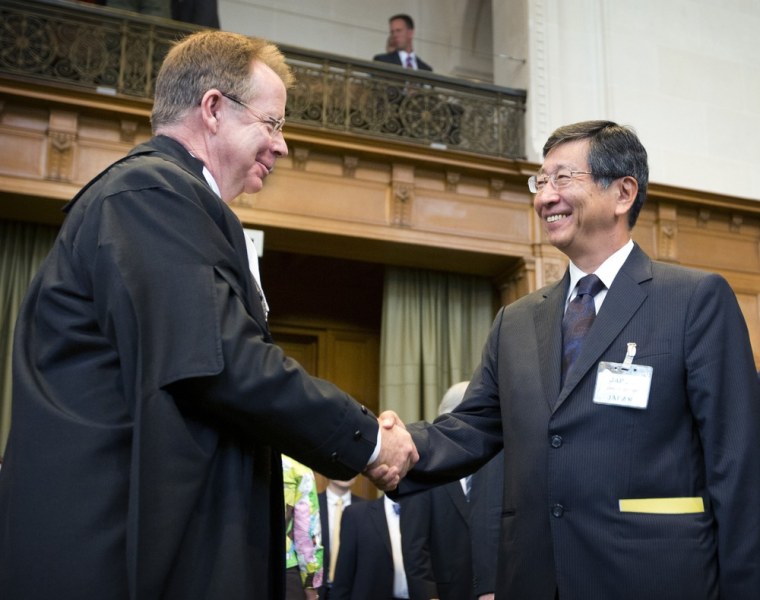 "Japan seeks to cloak its ongoing commercial whaling in the lab coat of science," Bill Campbell, an Australian government lawyer, told judges of the International Court of Justice in The Hague, Wednesday, according to Reuters.
A spokesman for Greenpeace USA, Phil Klein, called the Japanese research "pointless."
"When you look at what they have actually discovered, it is actually very little," he said.
"Whereas the Australians, who launched their own projects, that didn't involve killing whales, have made some remarkable discoveries, particularly about the deep-lying blue whale."
He added that the environmental activist group had no role in the "creative case" but he hoped Australia was successful with the challenge.   
Australia initiated proceedings against Japan in The Hague court in 2010 alleging Japan's "large-scale" whaling program breached their international obligations, including for the preservation of marine mammals and the marine environment.
Along with New Zealand, which supports the case, the Australians are pushing to withdraw all whaling permits from the Japanese fleet.
Japan's delegation will be led by the deputy foreign minister, Koji Tsuruoka, U.K. newspaper The Guardian reported.
He is the chief negotiator in Japan's possible participation in the Trans-Pacific Partnership, a region-wide free trade agreement that includes Australia.
A Japanese foreign ministry official declined to speculate about the outcome of the legal bid, The Guardian Reported. 
"Japan and Australia have different opinions about whaling, but we enjoy strong bilateral ties and I do not expect the whaling issue to undermine our relationship," the official said.
The Associated Press and Reuters contributed to this report.
Related: