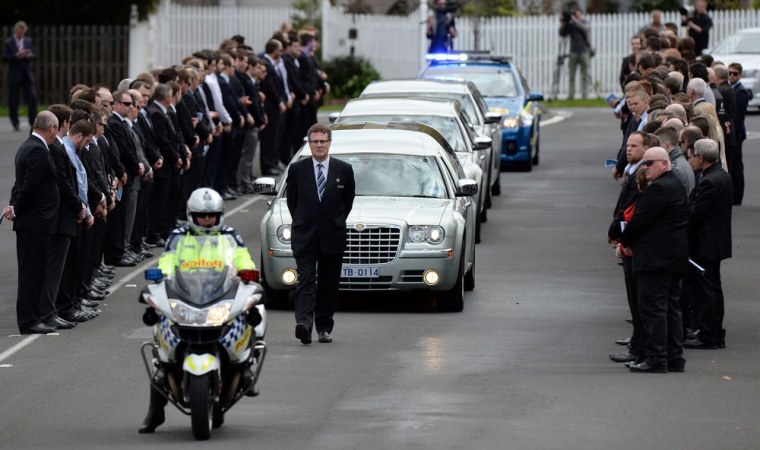 Christopher Lane, the Australian baseball player who was shot and killed while jogging in Oklahoma, was remembered Wednesday for his fierce competitiveness on the field and compassion for others off it that was just as strong.
With his girlfriend, Sarah Harper, among those in attendance, St. Therese's Church in Essendon, Australia, overflowed with mourners at a Catholic funeral Mass before Lane, 22, was laid to rest in a private burial.
"Sometimes, I don't think human beings appreciate the gift of life enough," Father Joe Giacobbe said before a large photo of Lane with a big smile on his face.
Parishioners hugged his mother, Donna, as they returned to their pews after receiving communion.
Lane attended East Central University in Ada, Okla., and it was in nearby Duncan, thousands of miles from his home in Melbourne, that he was fatally shot in the back while jogging. Three teenagers have been charged in connection with the killing, which investigators have said was committed because the boys were "bored."
Lane was the youngest of four siblings, and his sister Andrea recalled his all-consuming love of baseball, which took him to the U.S. She told of how he once started crying when he thought he might be late for T-ball practice.
"Christopher was competitive, which was great for sport but often made it difficult off the field," she said. "He loved winning and always thought he was right."
At the same time, "he was always looking out for the underdog and hated for anyone to be disenfranchised," his sister said. "Ever since primary school, Christopher was always the one who went out of the way to make sure everyone was included."
Only family members spoke at the Mass, but Harper was a major part of the service in the words of Lane's relatives.
"Christopher was lucky enough to have not one family but two," Andrea Lane said. "We cannot express how lucky we were that Christopher had such a supportive second family."
Lane's father, Peter, also paid tribute to Harper, saying, "We were all so pleased to see her wonderful influence on Chris."
"When someone as young as Chris loses their life, it's always a tragedy," Peter Lane said, fighting back tears. "When the life is lost for no purpose and no logic, it makes it much harder to understand and accept."
But in a lesson he said he learned from his son, he added: "What has happened to Chris is just not fair, but holding on to it will not help."
Related: