Australian Sen. Larissa Waters, deputy co-leader of the Australian Greens party, became the first woman in Australian political history to breastfeed a baby during a Parliament session on May 9.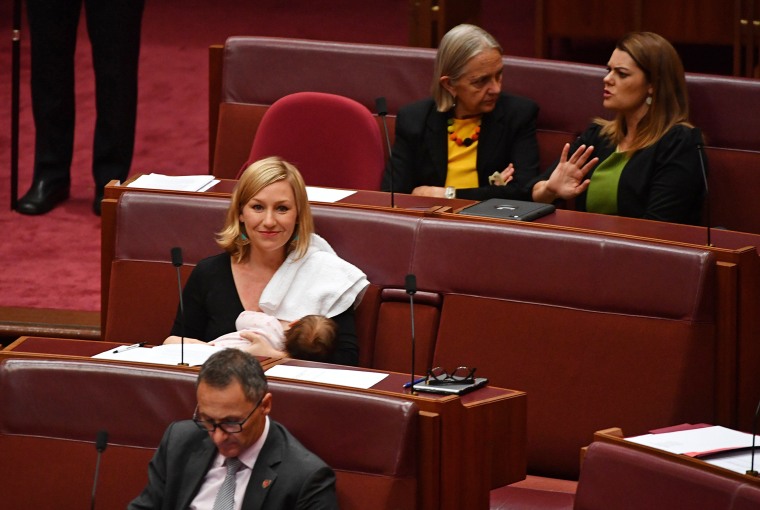 Waters returned to the Parliament after 10 weeks of maternity leave, and breastfed her 2-month-old daughter and second child, Alia Joy, during a vote for a Greens policy motion on a federal budget.
"So proud that my daughter Alia is the first baby to be breastfed in the federal Parliament! We need more #women & parents in Parli #auspol," Waters tweeted.
Fellow Greens senator Janet Rice tweeted a swift congratulations to Waters for making history, and Labor Party Sen. Katy Gallagher told Sky News that it was "refreshing to see Australia follow suit in the global trend and accommodate the idea of woman doing their job, being at work and looking after their babies."
The milestone comes after Waters played a prominent role in pushing the Senate to allow female politicians to bring their children into Parliament for breastfeeding. Prior to an amendment to the house rules enacted on Feb. 1, 2016, children were banned from entering the parliamentary chambers and breastfeeding mothers were given a proxy vote.
Coalition MP Andrew Southcott opened an inquiry into the matter and began revisiting "antiquated" parliamentary rules in November 2015 after more than 10 parliament members welcomed babies into their families.
"As the numbers of breastfeeding members in the House have increased, the need for adequate provisions to support these women has become apparent," Southcott told ABC News.
The senator announced the arrival of her daughter in a Facebook post on March 7 and foreshadowed her daughter's landmark appearance.
"I'll be having a few more weeks off but will soon be back in parliament with this little one in tow. She is even more inspiration for continuing our work to address gender inequality and stem dangerous climate change. (And yes, if she's hungry, she will be breastfed in the Senate chamber)," Waters wrote.
Waters' actions have come as a welcome surprise, given Parliament's past treatment of female members who have tried to breastfeed in the past. In 2015, Chief Government Whip Scott Buchholz asked Parliament member Kelly O'Dwyer if she'd considered expressing more milk as a means to avoid missing parliamentary sessions.
In 2003, a sergeant-at-arms told Parliament member Kristie Marshall that she had committed a parliamentary transgression by breastfeeding her 11-day-old daughter, Charlotte, before the start of question time and was escorted into a room to continue feeding her baby. "You can't have a stranger in the House, and she hasn't been elected to parliament," he reasoned with Marshall.
However, a chain of women lawmakers globally have set off a trend to make it acceptable to breastfeed while working in government.
Italian politician, Licia Ronzulli brought her then 7-week-old daughter to European Parliament in September 2010 and still takes her along during voting measures.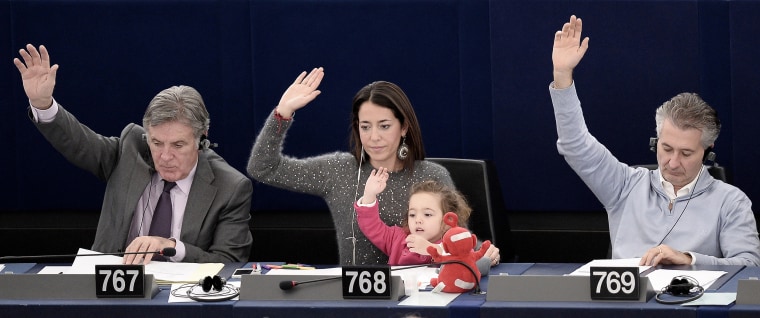 "It was not a political gesture. It was first of all a maternal gesture — that I wanted to stay with my daughter as much as possible, and to remind people that there are women who do not have this opportunity [to bring their children to work], that we should do something to talk about this," Ronzulli told The Guardian at the time.
Spanish MP Carolina Bescansa provoked criticism on January 13, 2016, when she breastfed her baby during a parliamentary session, with some calling it "lamentable" and "frankly unnecessary."