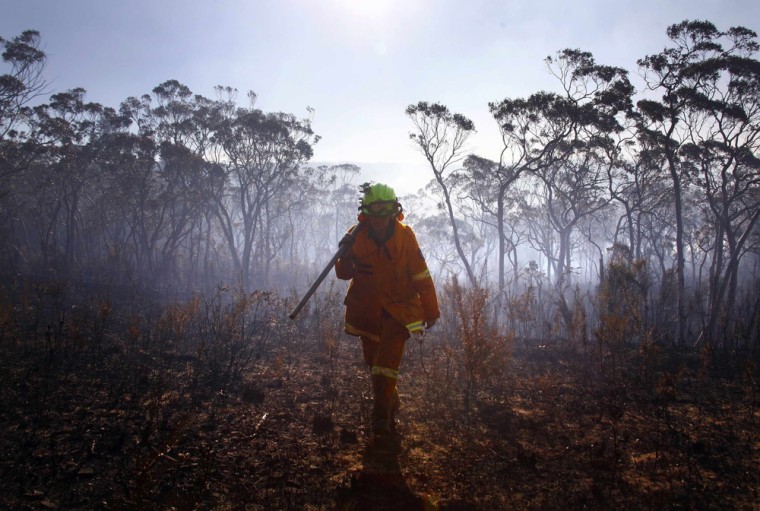 Wildfires that threatened the western suburbs of Sydney eased Wednesday, but Australian officials said the situation continued to be dangerous.
Sixty-nine fires continued to burn in the country's New South Wales region Wednesday, including 27 which remained out of control.
Residents in the path of the fires were given a stark warning to "pack the car" and leave their homes.
A drop in temperatures brought some relief, aiding firefighters' efforts but strong and dry winds were expected on Thursday.
Several emergency warnings for blazes in the Blue Mountains were downgraded to watch-and-act alerts, meaning they are being controlled by crews battling the flames but the situation remained "dynamic."
"We need people in that area to remain particularly vigilant," New South Wales Rural Fire Service Commissioner Shane Fitzsimmons said. 
Fitzsimmons said that while temperatures are expected to be cooler Thursday, strong winds and dry conditions would continue to fan flames. Gusts of up to 55 mph were expected in some areas.
"We are expecting those winds to be very strong and particularly dry," he added.
More than 200 homes have been destroyed in New South Wales since last week, when fires tore through scattered communities on Sydney's outskirts, razing entire streets. One man died after suffering a heart attack trying to protect his home.
Meanwhile, authorities announced Wednesday that explosives training by military personnel caused a fir near Lithgow, which scorched more than 116,000 acres of the Blue Mountains, according to Australia's ABC News.
Related: