VIENNA — In a 19th-century kaffeehaus here, a handful of political activists nod their heads while sharing opinions many would consider racist, homophobic and awash with conspiracy theories.
One topic is never far from their lips: These men believe that historically neutral Austria should turn its back on the West and embrace Russian President Vladimir Putin.
"It's our aim to somehow counter this negative image of Russia propagated in Western media," Alexander Markovics, 26, says between sips of fizzy apple juice.
"We have to take the side of Russia," the stocky and bearded Markovics adds. "Russia is a country that gets oppressed and is actually the victim of Western imperialism."
Here in Austria, pro-Kremlin views aren't just confined to fringe political meetings.
"If you have an East-West confrontation, you basically have parts of your enemy behind your own lines."
The country's government appears to be drifting closer to Putin. With Vienna widely regarded as the spying capital of the world, that has serious implications for Washington and its allies.
One factor is at the heart of these concerns: the far-right Freedom Party of Austria (FPÖ) — which is openly supportive of Russia.
"Austria is economically and politically integrated in the West, but the FPÖ is trying to play the card of being part of the East," says Gustav Gressel, a former desk officer at the Austrian Ministry of Defense. "If you have an East-West confrontation, you basically have parts of your enemy behind your own lines."
Founded by former Nazis in the 1950s, the FPÖ has been a junior member of the country's coalition government since December. As part of that deal, it was given responsibility for Austria's defense and interior ministries, and with them the domestic and military intelligence services.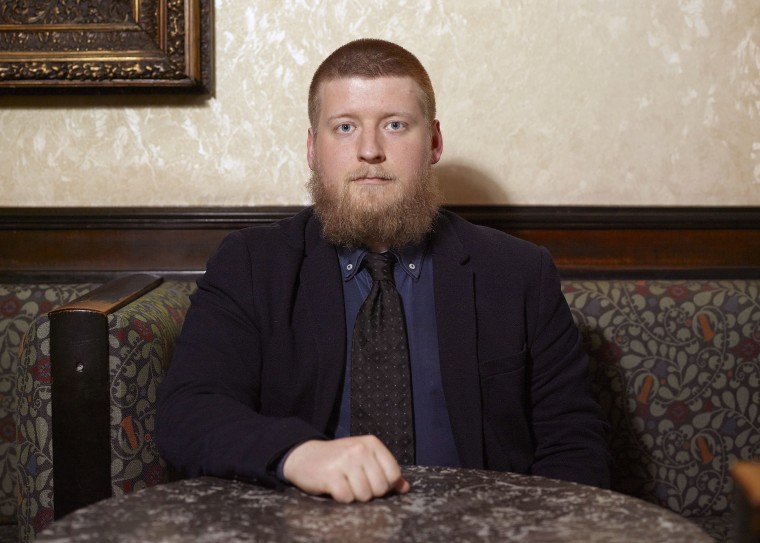 The FPÖ won 26 percent of the vote in last year's legislative elections by deploying anti-establishment, anti-immigrant populist rhetoric that was condemned by opponents as racist, Islamophobic and anti-Semitic.
The party and its leading figures are also unashamedly fans of Putin. The idea of a pro-Russia party controlling intelligence services has led to fears that Western secrets aren't safe any more if shared with Vienna.
"Austria is part of the European Union defense policy, and whatever is agreed and discussed there will be leaked to Moscow," predicts Gressel, who is now a senior policy fellow at the European Council on Foreign Relations in Berlin.
"The issue is trust and mistrust," says Siegfried Beer, a leading espionage expert at the Austrian Center for Intelligence, Propaganda and Security Studies, who added that in terms of security and dealing with partners, giving the FPÖ control of the intelligence services "was not the best solution."
Austria's tradition as a playground for espionage dates back to the 19th century and was immortalized in the 1949 film, "The Third Man." Spying is legal here unless it's against the Austrian state itself.
It was therefore no coincidence that Vienna was the venue for a high-profile spy swap between the U.S. and Russia in 2010 involving renowned Russian agent Anna Chapman.
The country's neutral status — neither part of NATO nor allied to Russia — means it's home to a large number of nongovernmental and international organizations. Experts say many diplomats working in the city are actually spies, with Beer and others estimating the number at around 7,000.
'It stinks to high heaven'
The FPÖ is not shy about its affection for Russia.
In 2016, party leader Heinz-Christian Strache signed a formal "cooperation pact" with Putin's United Russia party — unprecedented for a mainstream political group in Western Europe.
It was not just symbolic. After the deal, the parties agreed to "reinforce the links between our parties and countries, including in the field of international security," according to United Russia politician Sergei Zheleznyak.
"There's a cause for concern," says William Eacho, who served as U.S. ambassador to Austria from 2009 to 2013. "It's certainly going to give other nations pause when it comes to sharing intelligence with the Austrians."
Both Eacho and Beer say there is no concrete evidence that the FPÖ has so far used its position in government to help Russia.
But the point, they say, is that Russian links alone would be enough to prompt concern among Western powers.
"In the Austrian Ministry of Defense and the Ministry of Interior, which are controlled by the FPÖ, you have people collaborating with the power you are preparing yourself to go to war against. That's not very reassuring," says Gressel, the former defense official.
Others allege that the FPÖ's fondness for Russia has already had a measurable effect. Austria was one of the few European Union countries that refused to follow the U.K. and others in expelling Russian diplomats after the poisoning of ex-spy Sergei Skripal and his daughter on British soil in March.
The FPÖ's senior coalition partner is the conservative People's Party (ÖVP), led by Prime Minister Sebastian Kurz. Kurz, 31, explained that he wouldn't expel diplomats because he wanted Austria to be a "builder of bridges between East and West" and "to keep the channels of communication to Russia open."
The FPÖ has also called for an end to anti-Russia sanctions and backed a referendum on leaving the European Union — an institution Putin has long sought to destabilize.
In February, the country's domestic intelligence service was raided, a move the FPÖ-controlled Interior Ministry said was to investigate alleged misuse of data by officials.
But Austria's president and others demanded an explanation after it emerged the police team that carried out the operation was a street crime unit not used to dealing with such cases, and was headed by an FPÖ member.
The scandal dominated the Austria's news cycle for weeks, and according to media reports some of the material seized related to "extremist" far-right groups with FPÖ links.
"The whole thing is outrageous," the leader of the liberal NEOS party, Matthias Strolz, told state broadcaster ORF. "It stinks to high heaven."
A rebalancing act
Austria's warmth for Russia is neither new nor confined to the far-right, however.
The Allies and Soviets withdrew from the country in 1955 on the condition it wouldn't take sides in the Cold War. It entered the E.U. in 1995, but never joined NATO.
Many Austrian citizens appear to have a fondness for Russia, too. More than one-third said they favored softer sanctions after the annexation of Crimea in 2014, according to a poll by the Austrian market research company OGM.
Back in the kaffeehaus, Markovics and his friends say that "heavy" Western "propaganda" over Crimea spurred them into creating their activist group, called the Suworow Institute after a Russian military leader from the 1700s.
The institute employs seven people and has around 100 members, according to its founder, 31-year-old Patrick Poppel.
"We try to present a different perspective especially on Russian foreign policy," Poppel says, peering through his small, wire-rimmed glasses.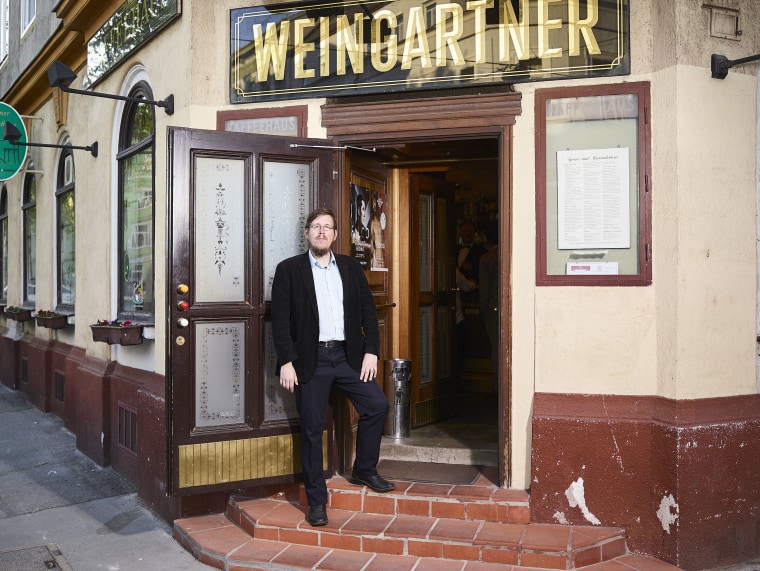 Poppel and Markovics were both members of the FPÖ, but quit because they feel the party hadn't gone far enough in supporting Moscow while in government. They also say the FPÖ has been too soft on what they call the "Islamization" of Europe by refugees.
They deny any links to the Russian state, and say they are not racist or fascist.
However, Poppel talks of defending "Christian civilization" by closing Austria's borders to immigrants and Muslims. He also wants to repatriate all those deemed non-indigenous — even though his wife is from Armenia — and speaks out against liberals who advocate "extreme homosexuality and feminism."
Ultimately, Markovics says, the group believes that "elites" in the U.S. and its allies are dominating Europe, and "making profit out of actions that could lead us directly into nuclear apocalypse."
They see greater ties with Russia as a way to rebalance that.
'Definitely not a threat'
The FPÖ insists its links to Moscow are not problematic.
Johannes Hübner is a lawyer, former FPÖ lawmaker and member of the Austrian-Russian Friendship Society. He withdrew his candidacy in last year's legislative elections after giving a speech some claimed had anti-Semitic overtones — something he denies.
Speaking to NBC News over eggs and avocado on the veranda of his spacious Vienna apartment, Hübner recounted his time in Parliament.
"As a politician, I used a lot of my energy to lobby for more understanding for Russia and to lobby against cutting ties with Russia again," he says.
Unlike the fringe Suworow Institute, the Austrian-Russian Friendship Society boasts high-profile politicians, businessmen and academics in Vienna and Moscow among its members.
Its board includes prominent FPÖ lawmaker Johann Gudenus, 41, a square-jawed speaker who studied in Moscow. He is often cited as the prime example of his party's deep ties with Russia. When contacted by NBC News, Gudenus' spokesman said he was not available.
Does Hübner see any problem or malice in fostering ties to a country often criticized by Western watchdogs as undemocratic and a human rights abuser?
"It is definitely not a threat," he says, smiling gently. "I was in politics for almost nine years here and I would have realized if [Russia] tried to influence policy ... or if they bribed people for a dark network. It doesn't exist."
Like many in the FPÖ, he says building bridges to Russia is important to counterbalance the "overwhelming American influence," which is too often presented as the "white knight" of global affairs.
"The Moscow influence in Europe is zero," Hübner adds. "It would be good if we had more influence from Russia. Not 50 percent, but maybe 10 percent or 15 percent. Now it is maybe 1 percent."