MAINZ, Germany — The integration of Syrian and Iraqi refugees is facing a terrifying challenge in rural Austria this holiday season.
Officials in the village of Virgen worried about how new arrivals from the Middle East would react to the local tradition of meeting so-called "Christmas Devils" who pretend to abduct kids.
"In the first week of December, the good, gift-bringing St. Nicholas wanders through the streets with his evil, scary companions called Krampus," Kurt Glaenzer, the head of a local Krampus club, explained to NBC News.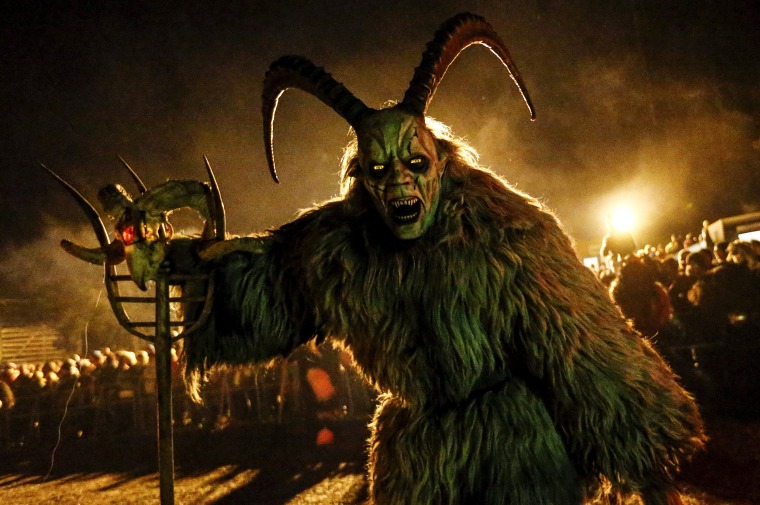 Some of Virgen's around 2,000 residents wear animal skins and don carved wooden masks on nights leading up to St. Nicholas Day on December 6. Loud bells tied to their costumes clank through the darkness of the night as the creepy creatures wander the streets searching for poorly behaved children.
"When the Krampus roams the town, he often wrestles people to the ground, symbolizing the abduction of bad children," Glaenzer added
Fearing the spectacle would be misunderstood, community representatives last week visited the 22 migrants — including 12 children — who have been housed in the Alpine village since the end of October.
They were shown the frightening masks and given insight into the event's history with the help of an Arabic translator. The verdict? The newcomers had "lots of fun," according to social worker Nicole Kranebitter.
The migrants "will now know what to expect when St. Nicholas and the Krampus creatures knock on their door," Kranebitter added.
She said the next event planned for the families who fled war-torn homelands will be traditional cookie baking.