VIENNA — The last time the anti-immigration Freedom Party entered government in Austria, protests were so big that the cabinet took a tunnel from the chancellery to the swearing-in ceremony at the president's office across the street.
There were no such inhibitions on Monday when, almost 18 years on and to a significantly more muted reaction, the country once again became the only one in western Europe with a far-right party in its ruling coalition.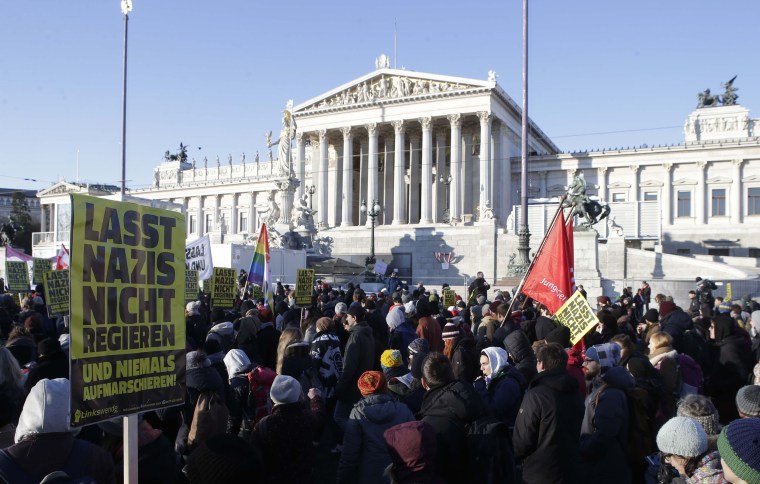 Protests held as the Freedom Party's (FPO) ministers were sworn in drew only a fraction of the tens of thousands who gathered in 2000 — and criticism from across the continent has also been more restrained.
"We will certainly not be going underground to the Hofburg, but rather with our heads held high in the street," FPO leader Heinz-Christian Strache said earlier in an interview with regional newspapers, referring to the former imperial palace that houses the president's office.
This time, police cleared a large area around the president's office in central Vienna, keeping several thousand protesters about 110 yards away on a nearby square. Chants could be heard as the new ministers from the FPO and the conservative People's Party (OVP) crossed the street quietly to the ceremony.
OVP leader Sebastian Kurz, who is just 31, was made chancellor after his party won a parliamentary election two months ago, having campaigned with a hard line on immigration in a country that was swept up in Europe's refugee crisis in 2015.
The two parties reached a coalition deal on Friday that hands control of much of the country's security apparatus to the FPO, which came third in the election with 26 percent.
The agreement, under which Strache becomes vice chancellor, includes plans to slash public spending, cut taxes and curb benefits for refugees.
No longer an outlier
The FPO's success made it an outlier in Europe in the 1980s and 1990s when it was led by the late Joerg Haider, who praised Adolf Hitler's employment policies.
Now it is one of many anti-establishment parties making electoral gains, capitalizing on voter frustration at mainstream politicians' handling of the economy, security and immigration. Its allies and sister parties this year entered the German parliament and made the French presidential run-off.
Swearing in the new government on Monday, President Alexander Van der Bellen made a point of highlighting safeguards built into the coalition agreement.
"We have achieved a clear consensus that [involvement in] Europe or the European Union and continuity in our foreign policy as well as respecting our fundamental rights and freedoms are important fundamental principles," he said.
That was a reference both to Austria having ruled out a referendum on EU membership, and to the country's support for EU sanctions against Russia despite the FPO's pro-Moscow stance.
European economic affairs commissioner Pierre Moscovici, a Socialist, said the events in Austria called for vigilance by "democrats attached to European values."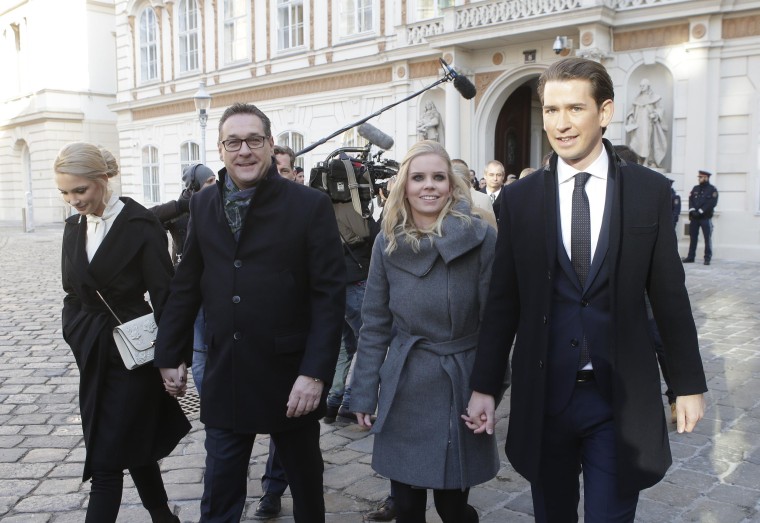 "The situation is no doubt different compared with the precedent of 2000. But the far right being in power is never insignificant," he said on Twitter.
Other European countries imposed sanctions on Austria that year in protest at the FPO coming to power. There is no such action being taken this time.
Police said 1,500 officers were deployed in Vienna to deal with nine demonstrations that had been registered. Several thousand people marched peacefully, carrying placards saying "Nazis out" and chanting "Strache is a fascist."
"Both parties, FPO and OVP, are forcing a shift to the right. I want to take a stand against that," said Karina Neusteurer, a 31-year old nurse who was protesting with her young son.
The FPO, which was founded in the 1950s by former Nazis, has backed away from calling for Austria to follow Britain in holding a vote on European Union membership. Polls show most Austrians want to remain part of the bloc.
While handing the foreign ministry to an independent who will work for the FPO, Kurz has taken control of European policy and obtained a guarantee that there will be no Brexit-style referendum.